BOZEMAN — The Montana State football team just finished its best regular season since 2012, and it was rewarded with 13 All-Big Sky selections.
The Bobcats had the same number of all-conference players in 2019 but fewer first-teamers: five that year, six this year. The last time they had that many was also 2012, when they finished the regular season with a 10-1 overall record.
The Cats would have the same record right now if they won last Saturday's Brawl of the Wild, but Montana rolled 29-10. The All-Big Sky teams, announced Tuesday, provided some good news in what's been an otherwise difficult week for MSU.
One of MSU's first-team selections was senior linebacker Troy Andersen, the Big Sky defensive player of the year. When asked what makes Andersen most impressive, MSU defensive coordinator Freddie Banks replied, "How much time we got?"
"I would say his leadership, his calm demeanor, but he also kind of gets after guys in his own way," Banks said Wednesday. "Guys listen to him when he speaks, so it makes my job easy."
Banks added that Andersen studies hard, and "his athletic ability speaks for itself." Andersen played running back and linebacker in 2017, switched to quarterback in 2018, played outside linebacker and wildcat QB in 2019 and is a middle linebacker now. The Dillon native was an All-American and All-Big Sky first-teamer in each of his previous two seasons.
"He's one of the best players I've ever been around at any level," MSU offensive coordinator Taylor Housewright said Wednesday.
Andersen was joined by two other Cats on the first-team defense: redshirt senior nose tackle Chase Benson and senior defensive end Daniel Hardy.
Benson was a third-team all-conference selection in 2019.
"People can't block him. Probably need three (blockers). Three might work but two hasn't been successful this year," Banks said. "He's a beast in there."
Banks and MSU head coach Brent Vigen both praised Hardy for his seamless transition from outside linebacker to defensive end. Hardy is tied for second in the Big Sky this season in sacks (11) and sixth in tackles for loss (17 ½). Vigen called Hardy, who has delivered several thunderous hits on kickoffs, "our best guy in kickoff cover."
"He's grown a lot from just seeing his keys, playing fast, understanding backfield sets, just becoming a student of the game," Banks said. "Obviously his athletic ability helps that a lot. He's been blessed with some gifts that not all of us have."
MSU's three first-team players on offense were running back Isaiah Ifanse, offensive lineman Lewis Kidd and wide receiver Lance McCutcheon.
Ifanse sits fourth in the FCS with 1,258 rushing yards, and he has eight touchdowns runs and a yards per carry mark of 6.0. The now-junior was a Big Sky honorable mention in 2018.
"I never hear a peep out of him, whether we get him the ball enough or don't get him the ball enough," Housewright said. "He's a strong kid. He probably would've been a damn good wrestler. He gets in weird positions and somehow he gets out of it."
Kidd was an all-conference third-teamer in 2019, his third season at right guard. The redshirt senior switched to left tackle this season.
"Lewis has been our rock, in addition to being our best offensive lineman," Vigen said Tuesday, via MSU. "He's been there every rep, every practice that he could. His physicality has continued to improve along with the athleticism he has for his size."
McCutcheon is second in the Big Sky with 904 receiving yards and has caught 50 passes, six for TDs. The senior from Bozeman came into this season with 31 catches, 522 yards and four TDs in his MSU career.
Housewright called McCutcheon "one of the hardest workers on our team" who is "obsessed with getting better every week."
MSU's second-team selections were nickelback Ty Okada, linebacker Callahan O'Reilly and right guard Taylor Tuiasosopo. Kicker Blake Glessner and safety Tre Webb made the third team, while safety Jeffrey Manning Jr. and defensive end Amandre Williams were honorable mentions.
"Callahan is an unsung guy because he's playing next to Troy. He had a very high season-long level of play," Vigen said. Okada "made plays every week, and I'm so pleased with all the different types of plays he made. Blitzing, playing in open space, covering, he's done whatever we've asked.
"Taylor was a steadying force in there, physical, always showed up."
Cats preparing for talented offenses
MSU's defense has been better than the offense this season, especially recently, but the D might have the toughest task in the Cats' playoff opener at 2 p.m. next Saturday, Dec. 4 at Bobcat Stadium.
The Cats, who are on a bye, will face the winner of Saturday's first-round game between Missouri State (8-3) and UT Martin (9-2).
Missouri State, coached by well-known Montana native Bobby Petrino, is the 15th-best FCS team in scoring offense (34.5 points per game) and is 16th in total offense (440.5 yards per game). Bears starting quarterback Jason Shelly, a Utah State transfer, has the 11th-most passing yards in the FCS at 3,068. The redshirt junior has completed 59.5% of his passes with 19 touchdowns against six interceptions, and he's rushed for 349 yards and 10 TDs.
Shelley is a Walter Payton Award finalist and the Missouri Valley Football Conference offensive player of the year. Banks coached against him last year, when Banks was a defensive backs coach at Nevada.
Shelley's favorite target is Tyrone Scott, who is sixth in the FCS with 1,039 receiving yards. The Central Michigan transfer has 60 catches and eight TDs.
Missouri State's Kevan Latulas (a Kilgore transfer) and Tobias Little (a Louisville transfer) have combined to rush for 1,205 yards and 12 scores.
"They're a talented team," Banks said. "The quarterback makes plays with his feet, the receivers are good and Petrino is a well-respected coach. He does really, really, really good things offensively to challenge our scheme, so we'll have to be ready to go."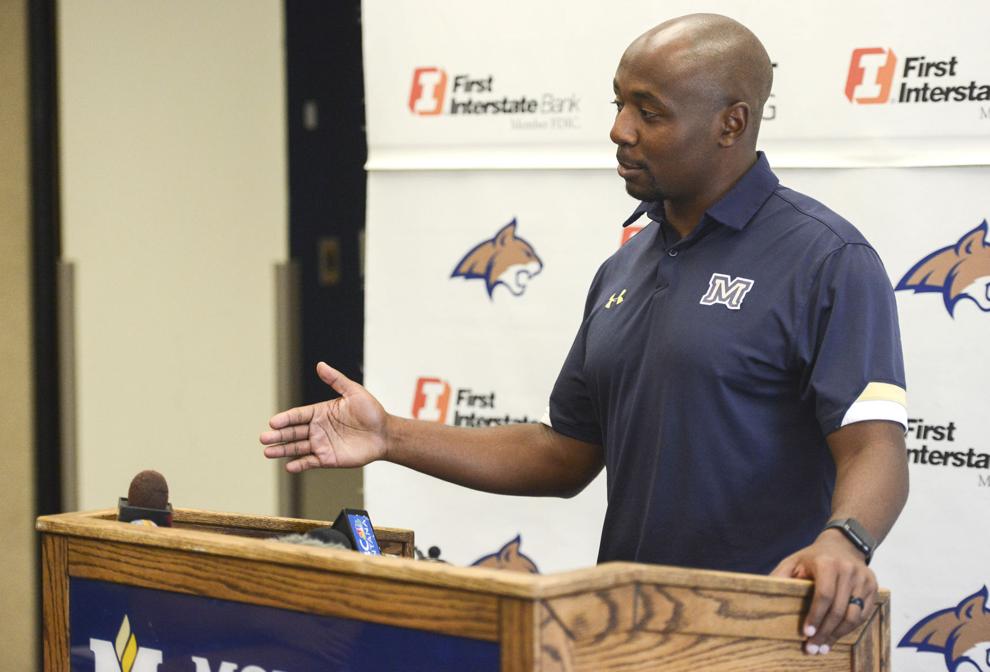 Like Shelley, UT Martin QB Keon Howard is a Payton Award finalist and a dual threat: 59.7% completion rate, 1,811 yards, 15 TDs, seven INTs; 472 rushing yards, 10 TDs. The Tulane graduate transfer was named the Ohio Valley Conference offensive player of the year.
"He makes them go. You've got two backs that are really good, but it's about the quarterback for UT Martin," Banks said. "They've got good skill guys, a tight end that catches the ball well, so it'll be a challenge either way."
Those two running backs are Peyton Logan and Zak Wallace, who have combined to rush for 1,727 yards and 17 TDs. The Skyhawks have 2,544 total rushing yards, which rank seventh in the FCS, one spot ahead of the Cats. UT Martin has the FCS' 27th-best scoring offense (31.9 ppg) and the 33rd-best total offense (406.9 ypg).
Ifanse partners with Ford
Ifanse continues to benefit from the NCAA's new name, image and likeness legislation.
MSU's star running back has partnered with Kendall Ford of Bozeman, he announced Wednesday on Instagram.
Ifanse has also done a commercial for the Rocking R Bar with teammate Willie Patterson.
This is the first year the NCAA has permitted athletes to be paid for their NIL.