BOZEMAN -- The Montana State spring rodeo field cleared up Friday night, as cowboys and cowgirls from across the Big Sky Region scored their way into Saturday's short go and a chance to kick off the spring session with a win.
For Montana Western's Ruger Piva, he can thank the draw in part for his clear path to Saturday's short go in bull riding.
With only two cowboys earning scores from Thursday's performance, both at 70, the road to Saturday was just about open for anyone who could last eight seconds.
But Piva drew the same bull he had at the Brick Breeden Fieldhouse last year, and took the bull for what was by far the top performance of the night with 82 points.
His score on this same bull last time out? 82.
"I like it when they come back into my hands," he said as the second night of the rodeo closed out in Bozeman.
While most of his teammates have been itching to get back into the swing of things, Piva is coming off a winter full of pro rodeo. He came back this season for the opportunity to win a national championship after placing second last season. 
He said he made outgoing head coach Olie Else a promise, and that's why he's back.
"I want to win it, that's why I came back for another year," he said. "I told Olie I was going to win a national title and that's what I plan on doing."
Piva is one of a number of Montana Western cowboys that enter Saturday on top.
In bareback riding, Big Sky Region No. 1 Tristan Hansen took his horse for 76 points, the top score of the weekend so far. Teammate Troy Kirkpatrick, who scored a 68 on Thursday, added a 73 Friday with many cowboys yet to take their second horse.
"I've been watching all these horses, and they're colts, they're young horses," Hansen said. "Some of them may have not had riders on them. You've got to just feel that horse out, and help that horse out as much as you can."
Hansen will be joined Saturday by Cole Snider, who topped Thursday's field with a 74.
You have free articles remaining.
You're out of free articles
Sign in or create a FREE account to keep reading.
"I am happy as hell for that kid," Hansen said. "He's had a lot of ups and downs but he's figuring it out and I hope he can take it farther than just college rodeo too.
"Hopefully all the Western kids that have a second horse out tomorrow can show up and put on a ride. … They could all, depending on the horses and luck of the draw, they could all make it to the (College National Finals Rodeo).
Meanwhile, Montana State's Will Powell, a tiedown roper, team roper and steer wrestler, qualified for Saturday's round with a time of 6.7 in steer wrestling.
He trails Zane Marcenko of MSU-Northern, who threw down a 6.4 in the morning's slack session.
Powell, who is second in the Big Sky all-around standings, got a solid hold on his steer to start, but one leg caught underneath so his initial roll to the ground didn't take. It was a steer he had not seen before, and one that went flying out of the chute.
"I caught him a little late, had a really good head catch as soon as I hit, it felt so good," Powell said. "I hooked his nose … he didn't take it. He wasn't sure what to do (and) I had to keep rolling. That's what caused me to be 6.7 instead of 4.5.
"It was a good steer … it's just that the steer didn't take it."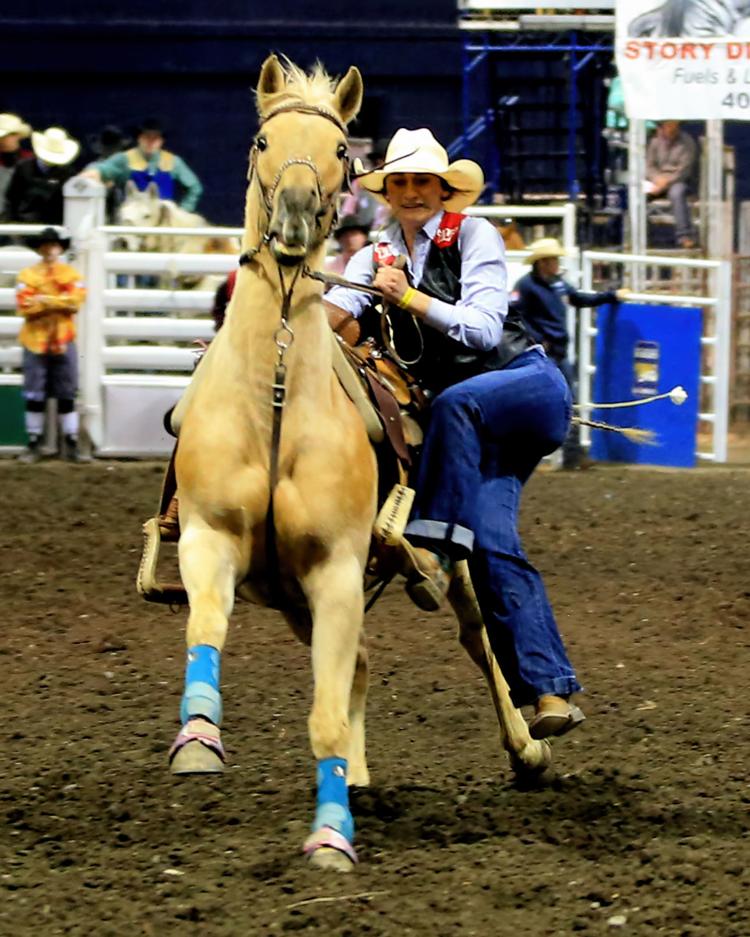 In breakaway roping, Montana Western's Lorrie Ann Smith and Darby Yeager both set the high mark for Friday, each posting 3.1 seconds. They'll both join teammate Tess Turk on Saturday.
Celie Salmond of Montana State posted the quickest barrel racing time in 15 seconds, University of Montana's Tyler Turco notched a 74 score in saddle bronc, and Marcenko took the top time in tiedown roping at 12.1 seconds.
Saturday's short go is the culmination of the first rodeo of the weekend. Sunday's events are scored as a separate event.