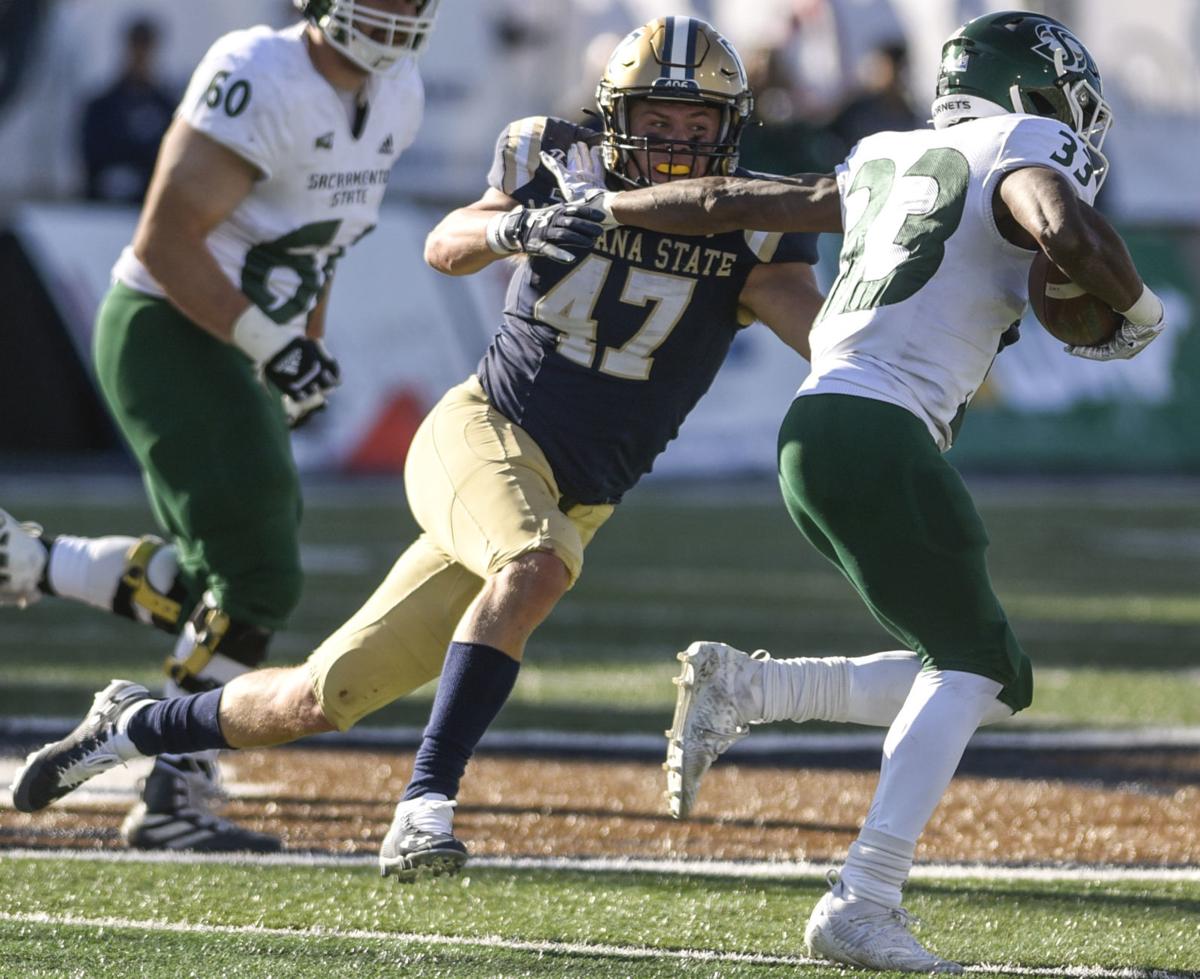 BOZEMAN — Last summer, Bobby Daly thought Montana State's linebackers were mostly incalculable.
Troy Andersen was moving back to the position. Josh Hill was coming off an injury-plagued year. Daly, MSU's linebackers coach, was dealing with a group loaded with further inexperience and more questions than answers.
Fast forward a few months, and Montana State was in the FCS semifinals thanks in part to its linebackers. By losing at North Dakota State and a game away from a national championship appearance, the Bobcats realized how close they were to a title.
If MSU is to secure that championship berth in 2020, assuming the FCS playoffs happen in the wake of the coronavirus pandemic, the program may require another boost of improvement from its linebackers.
"Linebacker needs to be a more dominant position for us than it has been," Bobcats head coach Jeff Choate said, "because that's a veteran group."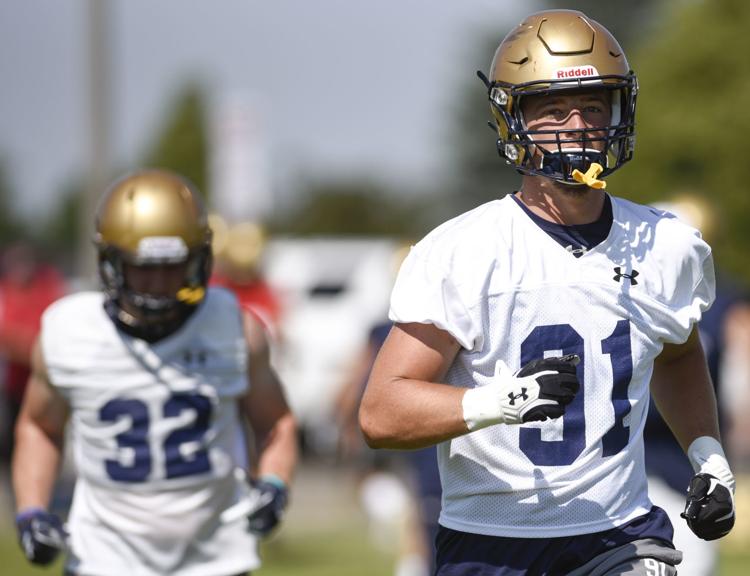 MSU returns three inside linebackers with significant starting experience from last season.
Nolan Askelson earned the starting middle linebacker role after a fall camp competition with Callahan O'Reilly. Michael Jobman started the first six games of the year as Hill dealt with injury.
But O'Reilly, who played quarterback in high school at Bozeman and was a sophomore last year, steadily improved. Bobcats defensive coordinator Kane Ioane noticed how much his confidence built as he grasped MSU's defensive schemes in totality.
By Week 6, O'Reilly was in the starting lineup. By the end of the season, he was the team's leader with 91 tackles.
Daly pointed out how quarterback is one of the hardest positions to play and that, in Montana, high school coaches usually place their best athletes behind center. O'Reilly's intelligence as he better comprehended run fits and pass drops, as well as his prowess with making calls and quick decisions, translated to linebacker.
"I noticed (O'Reilly) just continued to get better the longer he was on the field. He was diagnosing plays better. He was anticipating things very well," Daly said during a video press conference Tuesday. "So at that point as a coach, I just kind of realized, 'Look, I need to keep this guy on the field. He's going to get better for us as the game goes on.'
"And he showed to be a very intelligent football player. And between his smarts, his physicality and just his will to get to the football, he had a very productive second half of the season."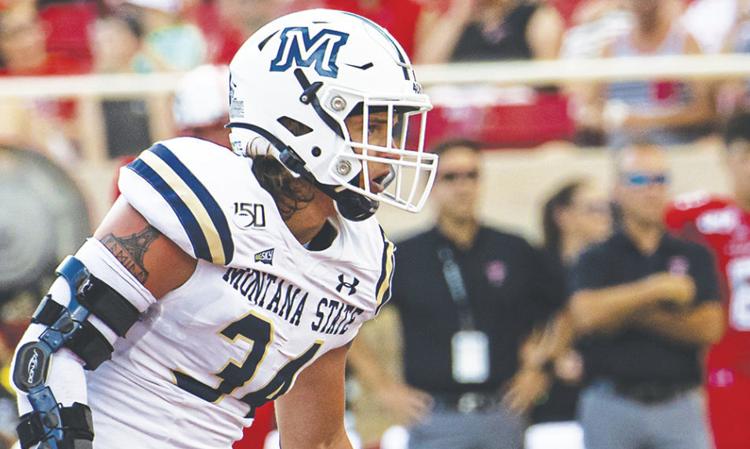 Hill won't be easy to replace. The Kalispell native started the final seven games of the season and became an all-Big Sky first-team pick.
But Bobcat coaches remain confident in their returners. Askelson, an upcoming sophomore, finished his freshman campaign with 32 tackles. Jobman, who has started games at middle linebacker, outside linebacker and buck throughout the last three years, added 40 tackles as a junior in 2019.
Ioane said last year the Bobcats could rotate linebackers depending on if they're facing a team that relies on the run or pass. The Big Sky features a variety of offensive philosophies, so depth could be vital.
Ioane called O'Reilly (6-foot-2, 228 pounds) and Jobman (6-5, 241) two "big-body inside linebackers" who are physical. Ioane boasted of Askelson's athleticism in space and could be relied on more against passing teams.
"There's a lot of playing experience there," Choate said. "There's some guys coming back who should be able to fill some voids."
Andersen is likely locked into outside linebacker again after an all-American junior season in which he played offense and defense. However, he missed the final four games of the season — MSU's defeat over rival Montana and the entire playoffs — so depth could be vital.
Choate and Ioane commended Daniel Hardy for how he stepped in when Andersen was out. The 6-3, 233-pound upcoming senior totaled 2.5 tackles for loss in the final four contests of 2019.
Ioane noted Hardy has the athleticism and size to play linebacker or buck.
"He has the physical tools and abilities and talent to really blossom. You really saw that as the year progressed," Ioane said. "He's a guy we're continuing to look for to develop and really expand his role for us."
Blake Flovin and Jory Choate contributed on special teams last year and add depth at inside linebacker. Jeff Choate added true freshman Brody Grebe, though listed as a defensive linemen when he signed in December, could make an impact as well as an outside linebacker. At 6-3, 220 pounds, Grebe was an all-state player at Roundup.
Daly often tells his younger linebackers that if they begin to perform like the best players at their position, like Askelson did last offseason, they could emerge and earn playing time.
"Excited about that group because it's another year under the tutelage and development of Coach Daly," Ioane said. "I think he's done a great job. You saw that progress as the year went last year, and that's what you want. You want guys to continuously get better."
Ioane stressed the importance of MSU's linebackers because they must understand what is going on in the secondary and up front. They ultimately create cohesion in the Bobcats' defense.
That's why Ioane lauded Daly, an MSU Hall of Fame linebacker himself, for developing the position group going into his second season back in Bozeman.
"I think we're going to be just fine where we're at at linebacker," Daly said.
Be the first to know
Get local news delivered to your inbox!