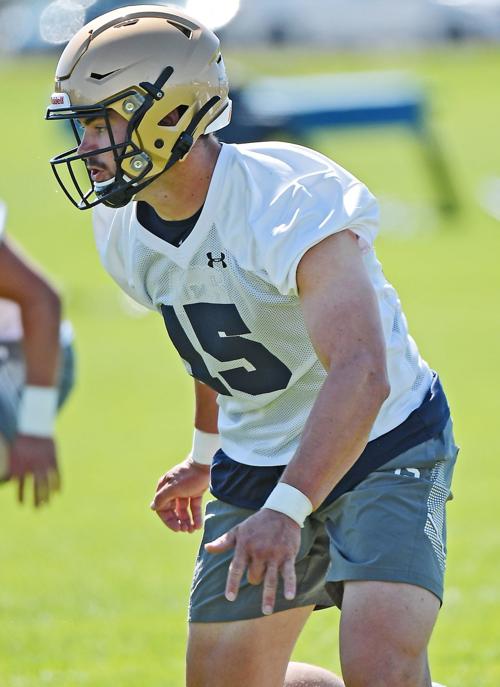 BOZEMAN — Everyone knows what Troy Andersen can do with the football in his hands. In just two seasons at Montana State, either as a quarterback or running back, Andersen has already put up 1,927 rushing yards and accounted for 29 total touchdowns.
But how Andersen adapts to his new role chasing the football from his outside linebacker position has been a big topic of fall camp. By all accounts it's been a peaceful transition due to his mix of athleticism and coachability.
"Athletically he does some amazing things, but what I've really been impressed by with him is how detailed of an individual he is," linebackers coach Bobby Daly said. "There's a lot of things that I coach other guys up on and he picks it up. I don't necessarily have to coach him through every rep.
"He just adds length, speed, athleticism, smarts … you go down the list of characteristics you want out of a football player on the defensive side of the ball and he checks all those boxes."
Early in camp, Bobcats coach Jeff Choate noted how quickly Andersen was learning on the fly, whether it was reading his keys in the passing game, rushing the quarterback or grasping the nuances of engaging blockers.
Andersen, a junior from Dillon, was originally recruited to play linebacker, and now everyone is craning their necks to see what he can do.
"I think he'll have a great year. He's fun to watch," Choate said. "He kind of transcends a lot of the game. It'll be fun to watch how he produces and plays.
"The best thing about Troy is he's probably one of the must humble and hungry guys that we've got on our roster, and that's one of the reasons why his teammates love him."
Despite his production at quarterback last season, Andersen was battered and bruised at the end of the year. So he jumped at the opportunity to play on the defensive side of the ball this season, even though he'll still have a role on offense.
"They kind of gave me that choice there a little bit, which I really appreciated," Andersen said.
"At the end of (last) year I think everybody was a little beat up, and I was certainly in that boat," he added. "I'm coming in feeling pretty good in fall camp here, and hopefully we can carry it through the season."
QB update
Before fall camp commenced, Choate and the coaching staff drew up a timeline for picking a starting quarterback and hoped to make a decision sometime after the team's first scrimmage Saturday.
Choate held firm to that timeline on Thursday, even though neither Tucker Rovig nor Casey Bauman, the top contenders for the starting job, seems to have separated himself too much from the other.
"We had a discussion about that in our staff (meeting) today, and I think obviously we've got to let it play out, keep an open mind and see what goes on certainly today, tomorrow and Saturday, have a discussion on Sunday and see if we feel like we're ready to make a decision," Choate said following MSU's seventh fall practice.
"Do I have my mind made up right now? The answer is no. I'm hopeful that there's a clear choice for us to make (after the scrimmage), but if there's not we're going to continue to move forward in the way that we have."
Choate said this about the battle between Rovig, a sophomore, and Bauman, a redshirt freshman:
"I think it's a very tight competition. It's very level. I think the most true test is going to be Saturday, because we're going to mix and match those guys.
"They'll each get opportunities to roll with the ones, against the ones, roll with the twos, against the twos. We may make them live (for contact), which you don't do very often, but I think we need to see how these guys are going to respond when the bullets are flying for real and then sit back and evaluate it."
Erickson likes the look
Present at Thursday's practice was Bobcats hall of famer Dennis Erickson, who is now retired after 50 years in coaching. Erickson won three Big Sky Conference titles as a quarterback at MSU and was a part of a legendary victory over Montana in 1968.
Erickson, who makes his home in Coeur d'Alene, Idaho, gave his opinion of the 2019 Bobcats.
"They look a lot better than I've seen in the last couple three years as far as the athletes are concerned and the type of athletes that they have," said Erickson, who in December will be inducted into the College Football Hall of Fame.
"In the last three years this team's changed, there's no question about it."
Erickson began his coaching career at MSU as a grad assistant in 1969, then took his first head job at Billings Central in 1970. He returned to the Bobcats as a full-time assistant in 1971 and that spawned head coaching stops at Idaho (twice), Wyoming, Washington State, Miami — where he won two national championships — the Seattle Seahawks, Oregon State, the San Francisco 49ers and Arizona State.
After a four-year stint as an offensive assistant at Utah, he was most recently the head coach of the Salt Lake Stallions of the ill-fated and now-defunct Alliance of American Football earlier this year. But now he's simply a spectator.
"I've always wanted to come and watch practice but I've never been able to do that over the years," Erickson said. "So this is a good chance for me. I decided to come over and see what's going on and see where they're at.
"I've got a lot of fond memories and I try to help in any way I can."
More accolades
Three MSU players were named to the Phil Steele preseason FCS All-America team on Thursday:
Left tackle Mitch Brott and defensive end Bryce Sterk were picked for the third team, while Andersen was named to the fourth team as a fullback.
Be the first to know
Get local news delivered to your inbox!