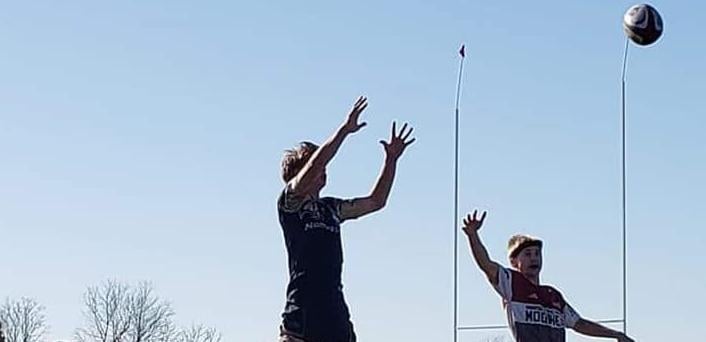 BOZEMAN — Montana State is nationally ranked by a prominent rugby website.
Goffrugbyreport.com, a site that has covered college and high school rugby for 20 years, rated the MSU club 11th nationally in its five-year ranking of Division II college teams. The ranking consists of the 50 best teams from the 2015-19 seasons and is based on a points system, awarded for a team's ranking at the end of each season, plus an extra point each year they appear in the ranking at all.
"This ranking is pretty awesome. Our team has definitely come together to earn this, and with that national ranking, it shows we've been competitive year in and year out the last five years," Thomas Kling, president of the rugby club, said.
The honor speaks to the team's previous success and consistency in the national rankings. The MSU rugby club has earned recent top 10 finishes in the USA Rugby national championships, including 2019 when it placed eighth in the Club 15 national championships — 15 versus 15 players for 80 minutes of play. In 2018, the team finished ninth in the Club 7 national championships — seven versus seven players with 14 minutes of play. Rugby plays two seasons, its Club 15 season in the fall and its Club 7 season in the spring, and 16 teams nationally make the playoffs.
The MSU club has won the Rocky Mountain Conference three times each in 15s and 7s and has been ranked as high as eighth in both formats nationally. According to the team's coach, Joe Williams, the team has also beaten larger Division I programs in tournaments such as Oklahoma, Minnesota, Michigan State, Utah, Utah State, Boise State and Wyoming.
Kling, a senior criminology major, has been a part of the team's roster since his freshman year and has seen firsthand why the MSU squad has remained competitive each year.
"Being a part of this team has been such a phenomenal experience because when I first came in, they were trying to drive home this culture of being a winning team and taken seriously on a national level," he said. "The first year I was here, we lived up to that expectation, and you can see that every single person on the team wanted it. It's been great to be a part of a group that is like-minded and goal-oriented."
Williams has been the club's coach since its inception as an official club team in 2011. What makes his team special on the field, he said, is their well-balanced game. Despite their lack in physical size compared to larger programs, they can keep up because of their fitness levels. Williams added that the team's closeness and connection aids in their success.
"The thing I like about coaching this team is the family atmosphere," he said.
"Coach Williams cares as much as everyone else about the sport and has been one of the biggest people pushing for this culture of winning and success," Kling said. "He has played rugby most of his life, and he brings a lot of knowledge to the team to make sure we are successful at the national level."
The team would normally be practicing and getting ready for its fall season in August and September, but USA Rugby canceled its Club 15 season due to the coronavirus pandemic. Kling said the decision is disappointing, but he is looking forward to competing in the spring and building off the team's previous success.
"Obviously having the whole team together is something I look forward to, and I hope we can start practicing soon and getting our freshmen involved," Kling said. "Rugby is a great place to go and clear your mind, and as a college student, you get super busy and it's a good way to disconnect for a minute and focus on being part of a team."
Be the first to know
Get local news delivered to your inbox!