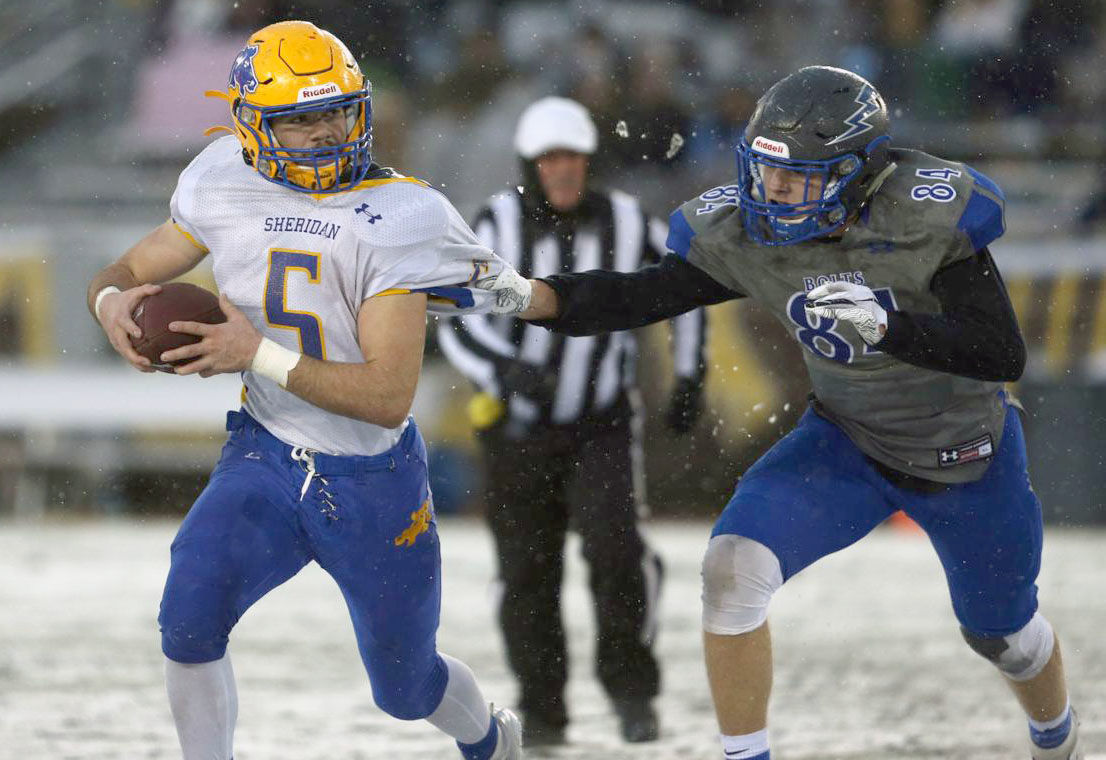 BOZEMAN — After landing the bulk of his 2020 recruits less than two months ago during the early-signing window, Montana State football coach Jeff Choate's mission entering this recruiting cycle's late period was clear.
"We're at a place now where we're really filling needs," the Bobcats' fifth-year coach said in a press release after signing eight players Wednesday, "and I don't think we've deviated from our DNA. These are each outstanding young men who are great fits for our program. Taken in total, this is a deep and balanced class."
On Wednesday, Choate and his staff added from the high school ranks two running backs, a defensive back, an offensive lineman, a placekicker and a punter. They include running back Garrett Coon of Sheridan, Wyoming, the state's 2019 Gatorade player of the year.
Choate also announced that safety Jeffrey Manning Jr. and receiver Tayvian Williams are among the eight newcomers enrolled for the spring semester. Manning is a transfer from Oregon State and Williams from Laney College in Oakland, California.
The newcomers join the 18 recruits the Bobcats signed in December, which included eight Montanans. 
Coon rushied 196 times for 1,589 yards and 29 touchdowns as a senior for Sheridan. He also caught 21 passes for six TDs and was a three-time all-state linebacker.
It's the second time in four years MSU has signed Wyoming's Gatorade player of the year. Wide receiver Coy Steel, also from Sheridan, was the pick in 2016.
You have free articles remaining.
"He is a little different body type but is reminiscent of Coy Steel in terms of his production as a high school player from the great state of Wyoming," Choate said.
Manning played four games as a sophomore at Oregon State this past fall and all 12 as a redshirt freshman in 2018. He was an all-academic selection in the Pac-12 Conference.
"He has great energy about him," Choate said of Manning, a childhood friend of current MSU defensive back Tyrel Thomas. "We're looking at him as a post safety for us, a guy that can really cover ground and be a good open-field tackler."
Williams is the brother of current MSU player Amandre Williams. He had three tackles and a blocked kick for Laney this past fall.
"I think he'll bring good value to us not just on offense as a backup slot receiver but also on special teams," Choate said.
The other five newcomers are defensive back Devin Davis of American Canyon High School in Vallejo, California; kicker Blake Glessner of Woodinville, Washington; running back Minaya Olivo of Central Catholic High in Modesto, California; offensive lineman J.T. Reed of Valley Christian High in San Jose, California; and long snapper Tommy Sullivan of Archbishop Murphy High in Everett, Washington.
Choate said he is pleased with the class he and his staff assembled.
"I think that we're recruiting at a very high level," he said. "However you want to rank a class, I believe this one comes out as one of the best in the FCS, and that is because of the three most important elements we have to offer.
"First, we have a world-class place to live. When you look at the best places to live online, Bozeman always pops up. Second, this is a world-class academic institution. And third, we offer a nationally ranked football program that young men are able to grow with and thrive in."
The Bobcats won 11 games in 2019 and advanced to the semifinal round of the FCS playoffs. They finished the year ranked No. 4 in the final STATS Top 25 poll.