BOZEMAN — A friend of Justin Udy was impressed by one of Montana State's wide receivers during the Bobcats' game at Portland State on Sept. 25.
The friend wasn't referring to Lance McCutcheon, who finished with 161 yards and a touchdown on eight catches. The receiver in mind was Jaden Smith, who caught one pass for 10 yards.
"Man, No. 17 plays hard," the friend said, per Udy. "You should've seen him blocking downfield."
Udy, who is in his first season as MSU's receivers coach and pass game coordinator, gets more pride from remarks like that than anything about yards or catches.
No one on the No. 9-ranked Bobcats has receiving numbers anywhere close to McCutcheon's so far this season, and Udy praised his star senior. But he believes the other wideouts have played bigger roles in MSU's 5-1 start (3-0 in Big Sky play) than the stats indicate, and he expects their stats to improve.
"The guys that get bitter, those are on bad football teams, and we're not a bad football team," Udy said on Sept. 28. "We're a group that's very unselfish and knows that our time will come."
Smith's ability and willingness to block can be traced back to his days at Kennedale (Texas) High School. Kennedale's football team used the Wing-T, a run-heavy offense that requires receivers to block much more often than catch passes.
"My goals were to go to a Division I program, (so) if I wanted to do that I had to take a lot of pride in my blocking, knowing that the ball wasn't going to find me that much," Smith said last week. "It feels good to see my teammates running down the field, especially when it's my block that made that happen."
Blocking has continued to be Smith's biggest contribution at MSU. In 2019, he caught one pass (that went for a 47-yard touchdown) in three games and ended up redshirting. This season as the starting "X" receiver, he's made eight catches for 106 yards and no TDs.
McCutcheon, the starter at "Z" receiver, has 578 yards and four TDs on 30 receptions this fall. The rest of MSU's receivers, Smith included, have combined to make 29 catches for 410 yards and four scores.
McKay's 10-yard pass to Smith against Portland State was his only completion to a receiver other than McCutcheon in the game. McCutcheon accounted for all but six catches and 64 of MSU's passing yards in the 30-17 win.
McCutcheon's production is a bit of a double-edged sword. No team wants to be too reliant on one receiver because that makes the offense predictable and allows defenses to slow down the No. 1 option with double teams or other methods. It's also been clear since MSU's season opener at Wyoming that McCutcheon is McKay's favorite target, and no defense has slowed down the Bozeman graduate.
"You don't want to out-trick yourself. You just want to find the good matchups and take your good players versus their bad players and do what you do well versus what they do poorly," Housewright said three days after the PSU game. "We can go in other directions, but that's what the game played into."
The Bobcats used a heavy dose of 21 and 12 personnel in that game, Udy said.
"Those are more heavy run sets and play-action shots, and that's why Lance ended up benefiting from it," he said.
McCutcheon was MSU's top receiver against Wyoming, with 71 yards and a TD on five catches, but McKay completed 14 passes for 129 yards to other players. McKay connected with tight end Treyton Pickering three times, including the go-ahead score in the fourth quarter.
Tight ends, running backs and fullbacks have accounted for 42 receptions, 416 yards and six TDs this season. Altogether, McKay has completed 71 passes for 826 yards and 10 scores to players not named McCutcheon.
The loss of Coy Steel, who suffered a serious injury against PSU, has limited McKay's wideout options, but others have stepped up in Steel's stead. One week after PSU, Smith caught four passes for 75 yards in a blowout win over Northern Colorado.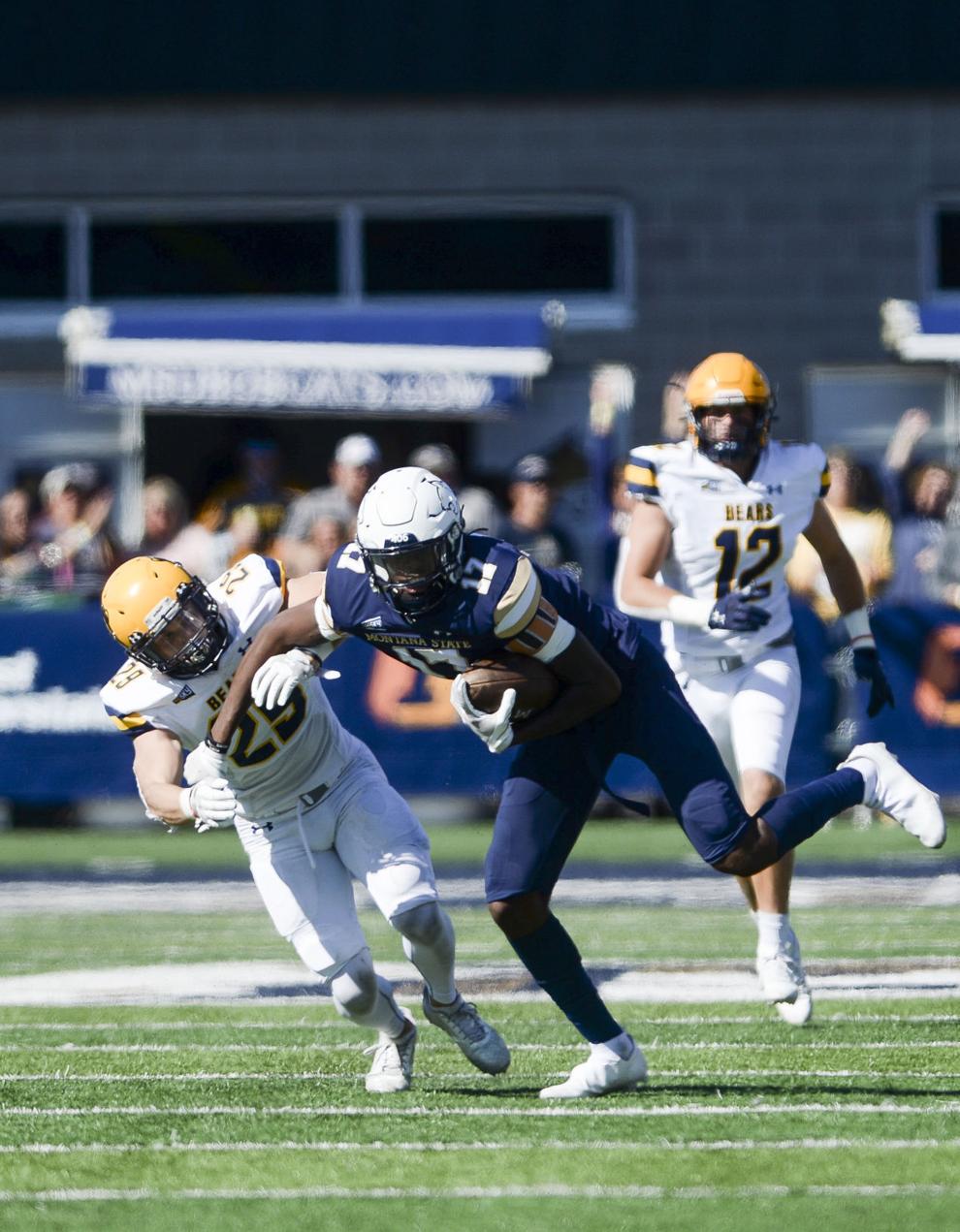 "He hasn't really proven himself yet," McCutcheon said of Smith after the UNC game. "I told him, 'This is your day. This is the time for you to do it,' and he did exactly that, so I was really happy to see him making plays down the field."
Andrew Patterson had a 44-yard touchdown against UNC for his first catch as a Bobcat. Willie Patterson, the starting "H" receiver, caught two touchdown passes against Drake and finished with three catches for 43 yards a week later against San Diego. Cam Gardner, a Utah transfer, has shown flashes of productivity.
The Bobcats have only played two games that were close going into the fourth quarter, so they might show more variety in the pass game if/when they get into more passing situations against tougher opponents.
"We have a bunch of guys that are really, really reliable and are in a very similar situation that Lance is in," Udy said. "They've waited for their chance, and they've put in just as much work for the opportunity to be out there and have the chance to make the play, so there's a lot of trust with other guys in our room."
No matter what happens, Smith and other wideouts will continue to block with pride. Subtle contributions like that might be the difference between a win and a loss against tough opponents like No. 19 Weber State, which will host MSU on Friday night.