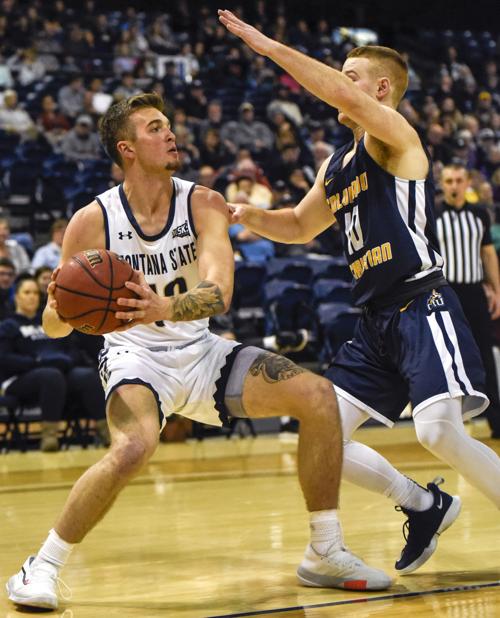 BOZEMAN — Caleb Bellach, a sophomore at Montana State and former star at Manhattan Christian High, has decided he will transfer from MSU, he announced Monday.
When he confirmed this to the Chronicle on Monday afternoon, Bellach wanted to first emphasize how grateful he was for Montana State, its coaches and players.
"They were nothing but great my whole time there, and I'll always be a Bobcat, and I have a family for life," he said. "What really led me to where I am today, just wanted to get back on the court and play. It doesn't matter who I play for or what level, I just want to get back on the court playing the game I love."
Bellach was 11th on the team with just under 30 total minutes played and appeared in four games this past season. The 6-foot-6, 195-pound guard made four of the nine shots he took for 10 points and added three rebounds, two assists and a steal for the season.
As a freshman, he played in 25 games off the bench. He scored a career-high 10 points on 3-of-7 shooting, including 2 for 4 from 3-point range, in a game against Eastern Washington.
He said he didn't talk through his decision much with head coach Danny Sprinkle and his staff. But they were supportive, Bellach said. He added that he's grown and learned as a player because of MSU.
He added "it doesn't really matter" where he goes, whether that's in state or out of state.
"I want to go somewhere I'm wanted," Bellach said. "I just want to go somewhere who wants me for who I am. Montana State was awesome, and they were that way as well. It's just a better opportunity for me to go somewhere else."
As a three-time all-state player, Bellach was a standout at Manhattan Christian. During his senior season in 2018-19, the Eagles went 26-0 and won their first state championship since 1984. He was the Class C tournament MVP after he scored a career-high 42 points in the title game.
Bellach averaged 23.5 points, 6.5 rebounds, three steals and 2.2 assists his final year with Christian. He graduated as the program's all-time leading scorer with 1,553 points.
Bellach noted his family, including his father Jeff, who was his head coach at Manhattan Christian, was supportive of his decision to move on from MSU.
"They want what's best for me," Bellach said. "As well as a couple of my closest friends, they've been so supportive. They'll love me no matter what my decision is."
"They're my family for the rest of my life," he said of his teammates. "I can't forget that as well. … Those relationships have been awesome, and I'm so thankful to get to be a part of that."
"There's been so many great memories," Bellach said. "So much fun, and we've gone through so much together. Being able to see from where this program has been not too long ago and how it is now, and being a Bobcat fan and seeing the energy around Bobcat basketball is awesome. That's what I'm most happy about is seeing how far this program has come and where it's going to go in the future."