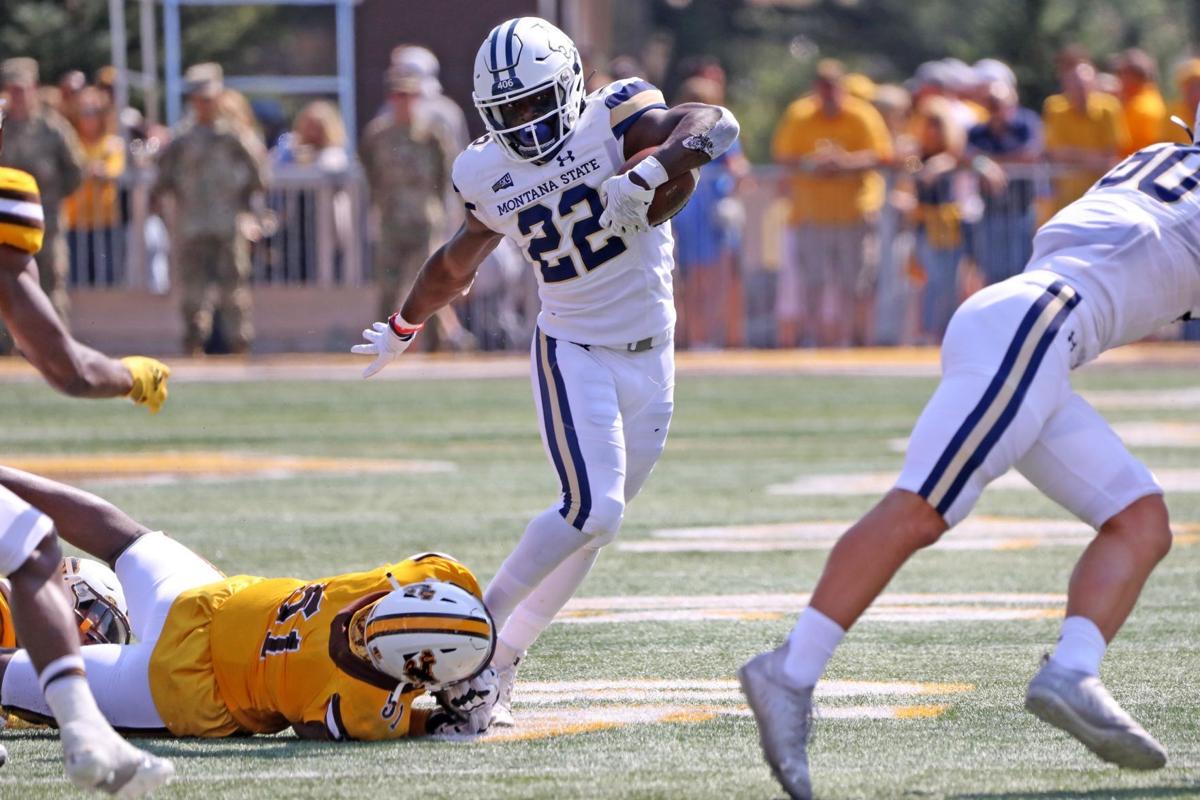 Live coverage as the Montana State Bobcats visit the Wyoming Cowboys in the season opener to the 2021 season Sep. 4, 2021 from War Memorial Stadium in Laramie. 
PREGAME: It's the first time the Bobcats have played a game since the FCS semifinals in 2019, and it's the first game for Brent Vigen as MSU's head coach. MSU didn't play last season because of the coronavirus pandemic.
It's MSU's first game against Wyoming since 2003, also at War Memorial season. The Cowboys hosted the Bobcats in War Memorial Stadium's inaugural game on Sept. 16, 1950. UW won that day 61-13.
UW is 13-6 all-time against MSU and has won eight straight games over the Bobcats, whose last win over the Cowboys was in 1933. 
FIRST QUARTER: MSU got the ball first and was forced to punt on its second series. MSU safety Jeffrey Manning intercepted a pass from Sean Chambers on Wyoming's opening drive and returned it to UW's 15 with just under 12:00 left on the clock. On the next play, Bobcats quarterback Matthew McKay completed a back-shoulder pass to Lance McCutcheon on the right side of the end zone for a touchdown. That was the only scoring of the quarter.
MSU had a good chance to score again midway through the quarter, but wide receiver Willie Patterson fumbled shortly after making a first-down reception. It was so soon after the catch that MSU's players and coaches argued it was incomplete, but the referees stuck with the fumble call. Wyoming recovered at its own 25 and punted a few plays later.
SCORE: Montana State 7, Wyoming 0
SECOND QUARTER: Both teams traded punts and turnovers on downs to begin the second half, with MSU stopping Wyoming on fourth down and 1 with 11:11 left in the half. Shortly before the stop, MSU starting defensive tackle Kyle Rygg was helped off the field with an apparent lower-body injury. He remained on the sideline for the rest of the half.
UW scored its first points of the game on a 37-yard field goal from John Hoyland with 3:15 on the clock.
A 29-yard run from Isaiah Ifanse and a facemask penalty on the Cowboys put MSU in good field position on the ensuing drive, but the offense sputtered after that, and Blake Glessner came up way short on a 47-yard field goal attempt with 1:24 remaining. The miss was due largely to a bad snap from Tommy Sullivan.
Despite Rygg's injury, MSU held UW's well-regarded running game to 54 yards on 19 carries (2.8 ypc). All-Mountain West senior Xazavian Valladay had 23 yards on six carries (3.8 ypc). The Bobcats rushed for 54 yards on 17 carries (3.2 ypc), with Ifanse running eight times for 46 yards (5.8 ypc). 
McKay, a redshirt junior North Carolina State transfer, completed 10 of 15 passes for 76 yards and the TD to McCutcheon. Chambers was 5 of 10 for 55 yards and the INT.
SCORE: Montana State 7, Wyoming 3
THIRD QUARTER: Defense continued to control the game, as the first four drives of the quarter ended with punts. Wyoming nearly scored its first touchdown on a deep third-down pass from Chambers to Alex Brown with about 4:30 on the clock, but Chambers overthrew him. If completed, it would have been a 60-yard TD.
Willie Patterson returned the ensuing punt for an 87-yard score, but it was negated because of a block in the back penalty. MSU went three-and-out on the next drive.
SCORE: Montana State 7, Wyoming 3
FOURTH QUARTER: Wyoming scored its first TD on a two-yard run from Valladay with 13:36 left. A bad snap on the point after attempt kept the score at 9-7 in UW's favor. Shortly before the score, MSU defensive end Daniel Hardy was called for two penalties on one play: pass interference, then taunting for signaling an incomplete pass in front of a Wyoming player.
Sparked by two 21-yard Ifanse runs, the Bobcats got into UW territory on the next drive. The Cowboys held firm, but Sullivan and Glessner made up for the earlier field goal miss — Glessner drilled a 53-yard attempt to put MSU up 10-9 with 10:23 left.
UW went back on top with a field goal of its own at the 4:03 mark. Hoyland converted from 25 yards out, one play after a pass breakup from MSU linebacker Troy Andersen. The score was set up by a first-down run by Valladay on fourth down at MSU's 40-yard line and a 31-yard pass from Chambers to Ayden Eberhardt on the next play. 
MSU marched down the field on its next drive, thanks in part to a facemask penalty. McKay completed a 20-yard pass to tight end Treyton Pickering and a 30-yard pass to Lance McCutcheon. One play after the McCutcheon pass, McKay completed a one-yard TD pass to Pickering to put MSU up 16-12 with 2:17 left. McKay ran for a two-point conversion but was tackled short of the end zone.
Wyoming took the lead for good on a 21-yard TD pass from Sean Chambers to Treyton Welch with 0:47 left. MSU drove into Wyoming territory late, but the clock ran out before the Bobcats could attempt a field goal.
FINAL SCORE: Wyoming 19, Montana State 16