FRISCO, Texas — Two latecomers to an unprecedented blue-and-gold gathering arrived at the Toyota Soccer Center practice field gate Friday afternoon, where they were greeted by two security guards.
Inside, behind a black wrought-iron fence, the Montana State football team was about to stage its final practice of a magical season. The Bobcats have been kept at arm's length from well-wishers, even their parents, but first-year coach Brent Vigen made a special exemption on championship-game eve.
Some 150 former players, dating to the 1960s, were allowed to share in what has to be the most unifying moment in the history of a program with three national titles.
"Are you a former player?" one of the security guards asked with a Texas twang.
"Yes," came the reply from one.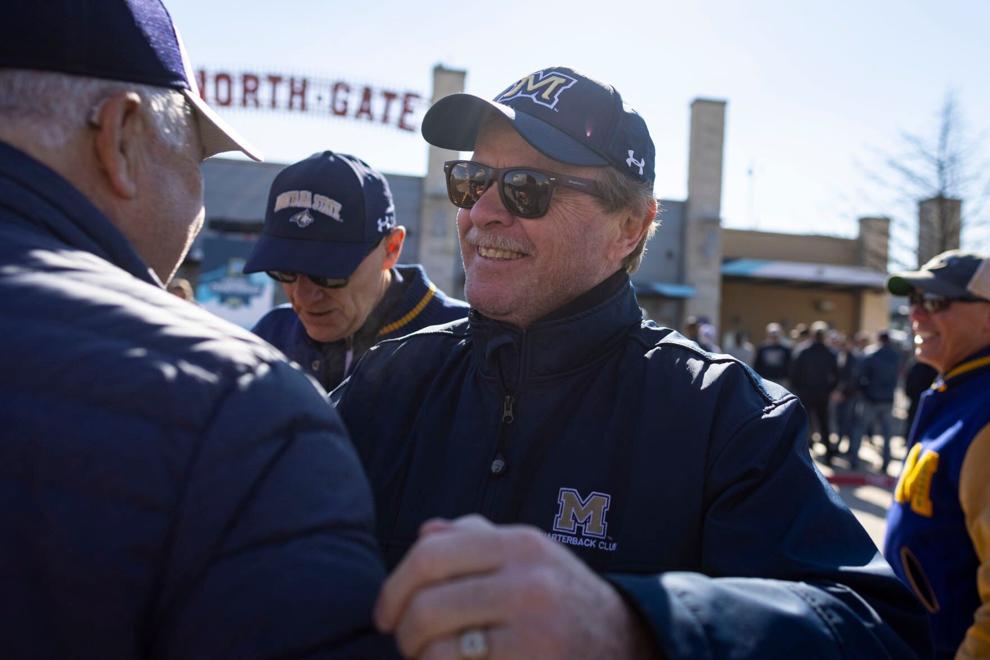 "You swear — cross your heart?" the guard responded with a smile to go along with the twang.
The ex-Cat thrust his left arm toward the guard.
"Yup," he said. "Here's my ring: 1984 … national champions."
Moments later, the two were inside with kindred spirits, basking in a sunny moment that has been 37 years in the making.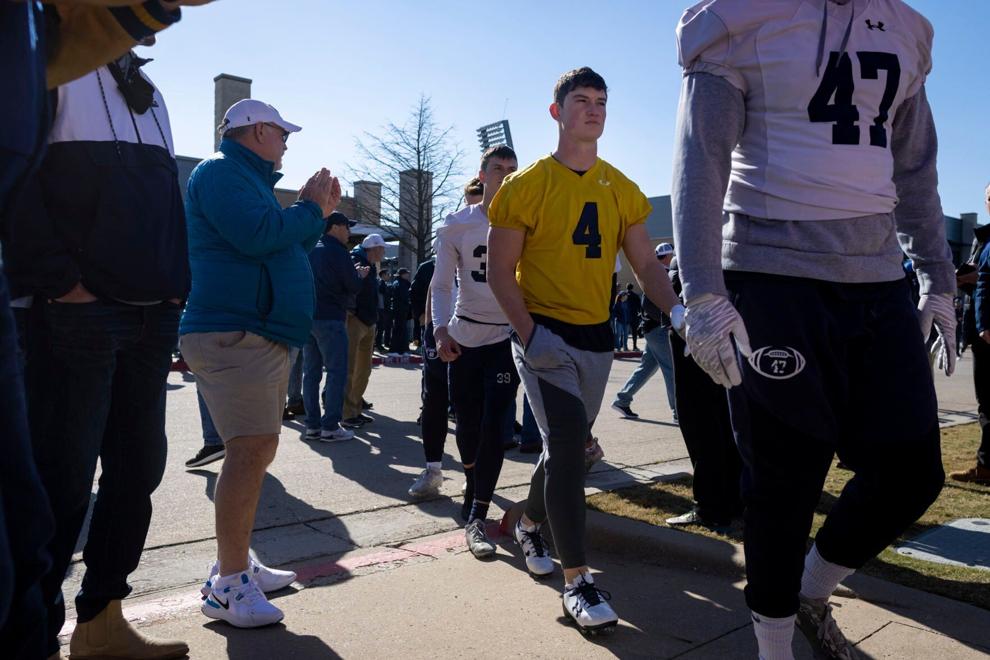 Battle-scarred alums, many of them wearing old-school bright blue and yellow 1984 national championship jackets, started gathering outside Toyota Stadium two hours earlier. Nobody was allowed inside, but Bobcats of all stripes milled around outside anyway, just wanting to touch, feel and smell the moment under bright Texas skies.
By the time the players emerged in jerseys and shorts, a who's who of Bobcat legends had shared hugs, back slaps, laughs and memories.
Over there was Kelly Bradley, quarterback of the '84 NCAA Division I-AA magic-carpet ride under Dave Arnold — a championship sandwiched between one- and two-win seasons. A few steps away was Travis Lulay, MSU's most famous redhead and the artful dodger QB who set school records for total offense and passing and, most important, brought the Great Divide Trophy home to Bozeman in the mid-2000s.
Across the drive was Paul Dennehy, the first quarterback legend from Butte and the architect of MSU's 1976 NCAA Division II title run under Mr. Bobcat and Butte icon Sonny Holland. Almost lost in the crowd of tall and wide bodies was 81-year-old Chuck Karnop, the diminutive trainer for the '76 and '84 teams and an MSU enrollee from Harlowton two years after the 1956 team won the NAIA crown.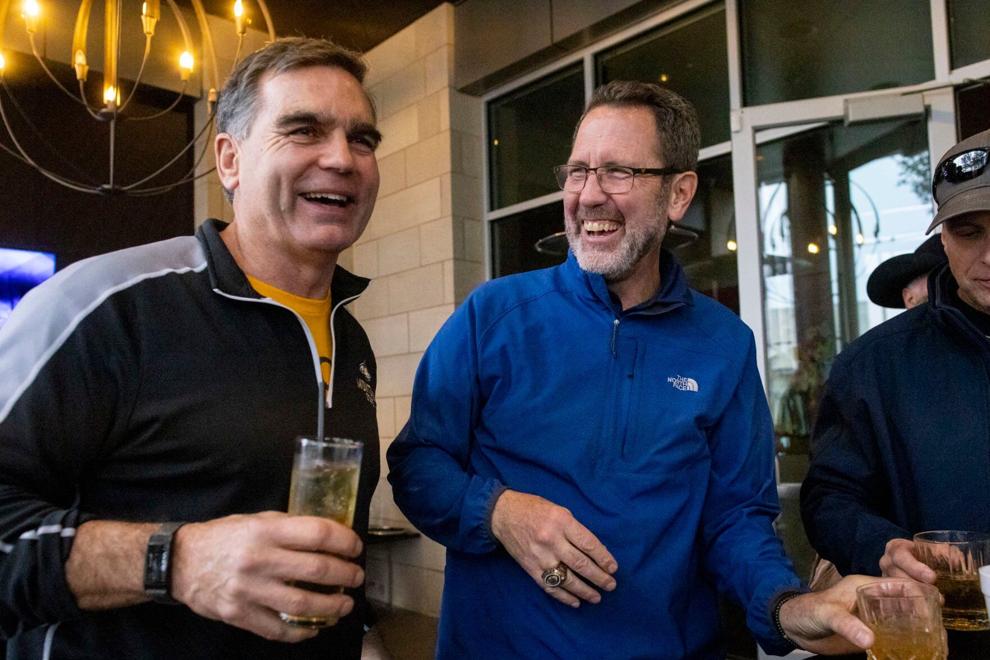 "Amazing," Karnop described the scene, using a word spread liberally among the alums all afternoon Friday, along with "awesome," "cool" and "incredible."
You also couldn't miss Travis Jonsen, recently cut from the Tampa Bay Buccaneers and Detroit Lions practice squads two years after helping the Cats to the national semifinals. Or Mike Person, the Glendive native and recent Super Bowl participant.
All had heard the cheers as Bobcats, but now roles were reversed. They clapped and whistled and yelled "Go Cats!" as the current generation of title chasers walked past.
It was, many of the alums acknowledged, the largest reunion of Bobcats past and present.
After practice, Vigen addressed the former players, noting their importance to the program's success. He talked of the "machine" that is Saturday's opponent, 16-time national champion North Dakota State (eight in FCS), and said with their help they can aspire to a Bison-style juggernaut.
Vigen nodded to the dozens of national champs in a half-circle around him, but tipped his cap to those without title rings and said if the Cats win Saturday "you're all champions."
"It would really validate the program," said Joe Roberts, a hero of the '84 team with a pick-6 interception in a semifinal game that was looking dire.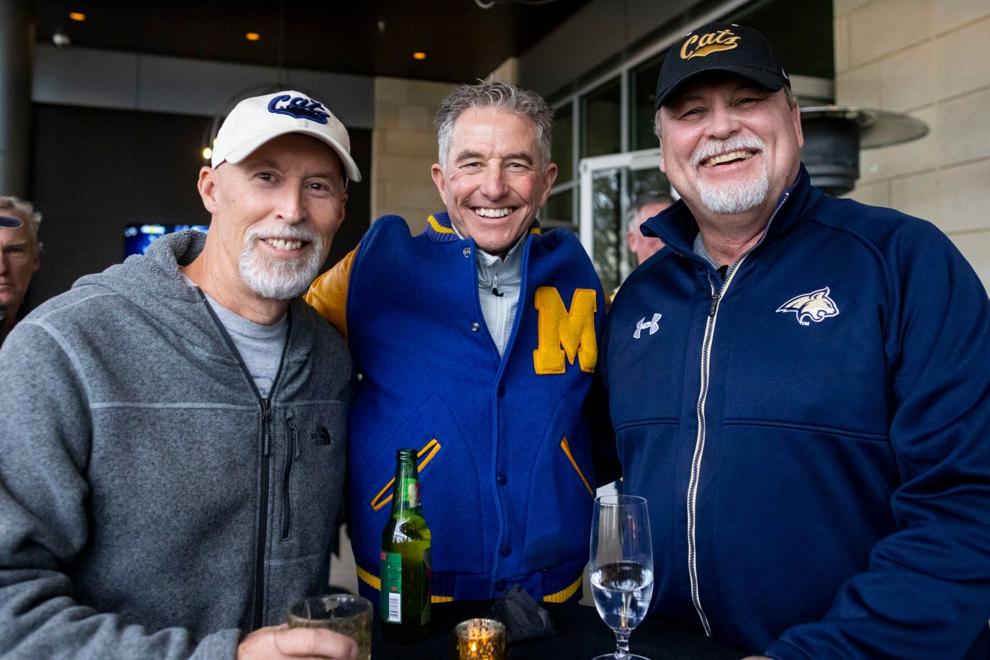 NDSU might be the "machine," but there's no question which program is hungriest.
The Bison are revered in Frisco for typically dominating ticket sales, but the Cats have given them a run for the money, and if the bars and restaurants of Frisco are any indication there's at least a new co-sheriff in town. The upscale and raucous Concrete Cowboy Bar, just a drop-kick from the Dallas Cowboys' glitzy practice facility, is normally bathed in NDSU green and yellow, but on Friday night it was quickly overtaken in blue and gold.
"It was epic," said a smiling Clete Linebarger, who joined well over 50 of his '84 teammates and their spouses for an equally robust reunion orchestrated by Bradley at a swanky steakhouse next door.
There, the ex-players proudly brandished their championship rings they save for special occasions — in Butte receiver Kelly Davis' case, only the annual Cat-Griz game and the FCS semifinal at NDSU two years ago. They talked of "passing the torch" to the 2021 squad in a ritual that dates to the 1929 Golden Bobcats basketball team.
The '84 outfit received three captains' letter sweaters, which had been passed from that '29 team to the '56 champions and then to the '76 champs, who in turn handed them off in a ceremony in the Student Union ballroom.
The three '84 captains, including Roberts, have been guardians for 37 years.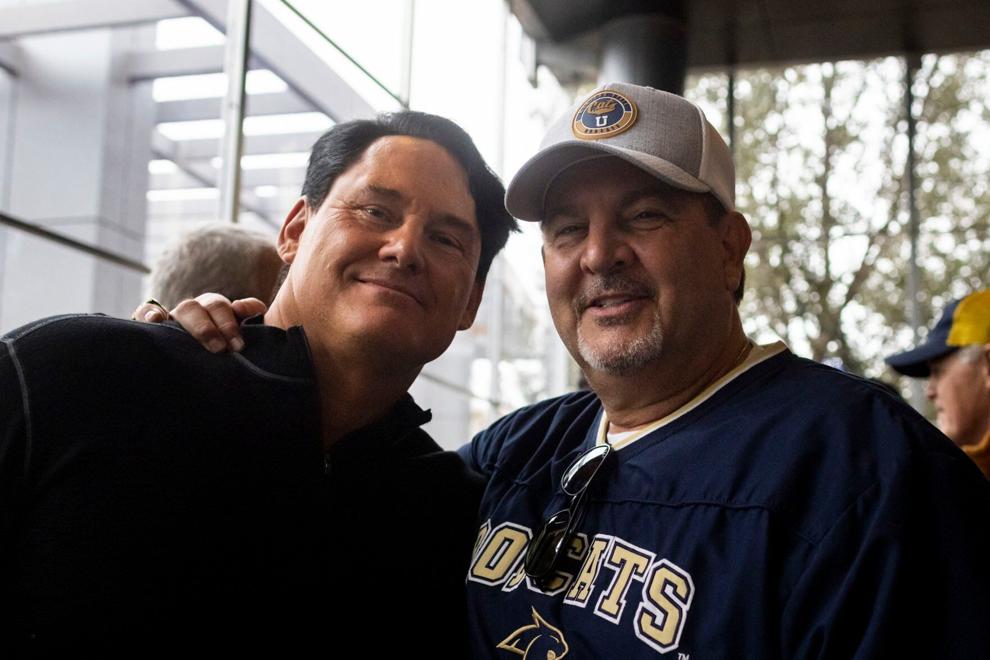 To a man, those former players exude a quiet confidence even with MSU as a touchdown underdog.
The teams are statistically similar. NDSU isn't the Goliath it has been without a Carson Wentz, Easton Stick or Trey Lance at QB. As in 1984, the Bobcats have been on a late-season roll.
And it's a neutral site, with equal numbers of Cat and Bison fans filling each side of 20,000-seat Toyota Stadium.
Above all, there's a magical feeling only those '56, '76 and '84 Bobcats understand.
Of the two teams, the Bobcats are the latecomers to the title party, but this much is certain: If they win, they won't even need rings to go anywhere in Montana.