BOZEMAN — Dylan Snyder's lifelong goal was to play football at Montana. The Butte senior started to think it would actually come true after UM coaches showed interest in signing him.
Snyder isn't sure why. The Grizzlies weren't offering a scholarship, so maybe he became less of a priority. Perhaps his brutal injury years ago made them hesitant.
Fortunately for Snyder, UM's rival maintained interest. On Nov. 24, the wide receiver announced his commitment to Montana State as a preferred walk-on.
The Griz-caused disappointment has morphed into motivation for Snyder. He's not merely thankful to be playing football, something that was far from certain a couple years ago. He wants to be an important contributor for the Bobcats, especially on a specific Saturday each November.
"MSU offered me, and I took that opportunity right up," Snyder said. "I just want to go out there and beat the Griz now. That's all I want to do."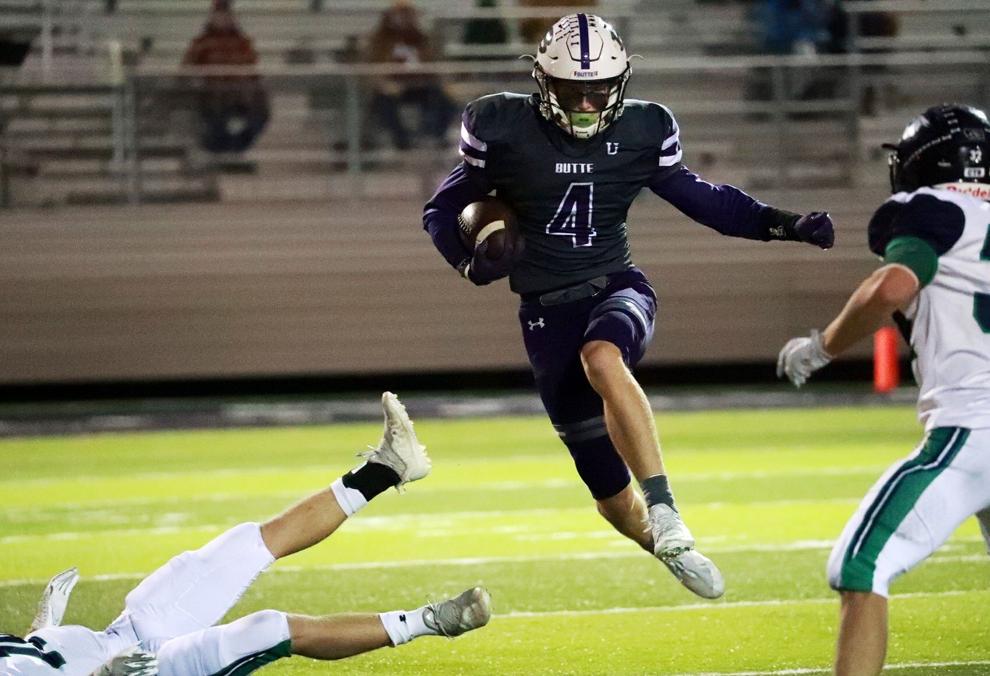 Snyder was playing at a basketball tournament on St. Patrick's Day in 2019. An opposing player stole the ball and sprinted down the court for a fast break layup. Snyder caught up to the player and slapped the backboard as he tried to block the shot.
As he landed, "the worst pain ever" jolted through his right leg, he said. He fell to the floor and screamed in agony.
Snyder broke his tibia and fibula, and part of the growth plate in his ankle was damaged. He couldn't get surgery until days later, he said, and that exacerbated the nerve damage he'd already suffered. It took him about six months to get feeling back in his right foot.
He also lost his appetite for a long stretch. The physical pain and the mental toll made many foods look unappealing to him. He fell from about 170 pounds to 150.
The injury forced Snyder to miss his sophomore football season, but he was cleared to compete in track and field that school year. As he was readying to return, the coronavirus pandemic began, and it caused the cancellation of the 2020 spring sports season.
"It was definitely heartbreaking for me because I was just so stoked to get back into everything," he said.
Snyder's junior football season was not canceled. He still felt (and still feels) some lingering pain in his right leg, and he finished the 2020 season with 15 catches for 158 yards and no touchdowns in seven games, according to MaxPreps.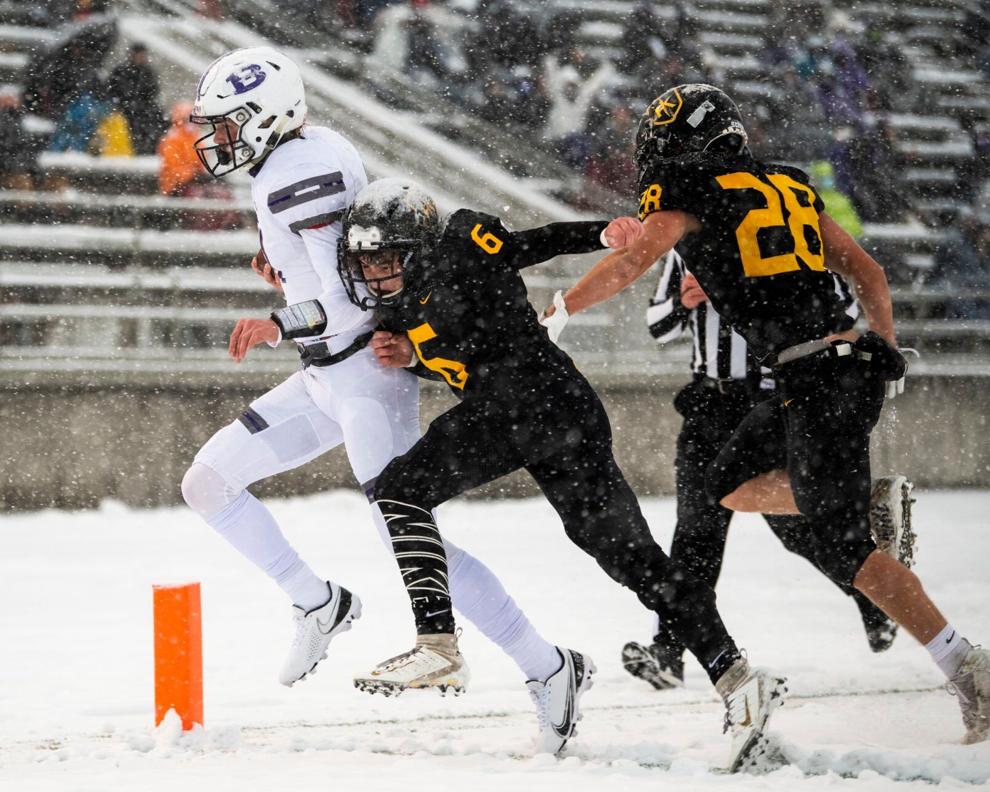 This fall, Snyder caught 37 passes for 571 yards and seven touchdowns. At defensive end, he recorded 38 tackles, five sacks and four tackles for loss. He also returned a kick 88 yards for a TD. That all-purpose performance resulted in a Class AA first-team all-state honor.
Snyder is 6-foot-2 and now weighs about 195 pounds, he said, and his 40-yard dash time is around 4.7 seconds.
"When I broke my leg, I thought there was no way I was ever going to do anything again. I lost a ton of weight and my leg atrophied terribly. I lost a lot of muscle. It constantly hurt, and I'm like, 'Oh, I think my sports career's over," Snyder said. "I just started working, started getting a little bit better day by day, and then pretty soon I'm like, 'Damn, I'm on the football field again. How did this happen?'"
Carroll College and Montana Tech offered scholarships to Snyder, he said. Tech, his mother's alma mater, showed some interest in using him on that side of the ball, but he was mainly recruited as a receiver.
"All he knows how to do is go hard. It's all gas pedal for him," said Butte head football coach Arie Grey. "He's so fun to watch on film, he's so fun to watch in a game, because his motor is unbelievable. He's so competitive, which I think is just going to benefit him so much as he goes over to Montana State."
Snyder's commitment is extra meaningful to Grey because he played wide receiver for the Cats in the late 1990s and early 2000s. Former Butte star Tommy Mellott also signed with them two years ago and is now their starting quarterback. Mellott, who's lined up at receiver and on special teams this fall, rushed for 180 yards and two TDs in a 26-7 FCS playoff win over UT Martin on Saturday.
Snyder never caught a pass from Mellott as a Bulldog, but they've played together in casual settings with friends over the last couple summers in Butte. Snyder praised Mellott's accuracy and intelligence.
"He has so much football IQ. I don't know, it's just something about him and football, it's crazy," Snyder said. "I never would have thought he would have played this much or anything. I always knew he was a stud football player, but it's been crazy watching all the things he's been doing for them."
Snyder has understandably thought about catching passes from Mellott at MSU. A big game from those two in a Brawl of the Wild would send the town of Butte into a frenzy.
Growing up, Snyder's family members joked that he would end up playing for MSU.
"I never really thought I was ever going to play for them," he said. "The hatred in this house for that team was just all the time."
That hatred is gone now that Snyder is a Cat. His family would've supported him wherever he went, he said, especially after his injury. UM's ghosting certainly made it easier to switch allegiances.
"All the Griz gear's in a Goodwill bag now," Snyder said with a laugh.