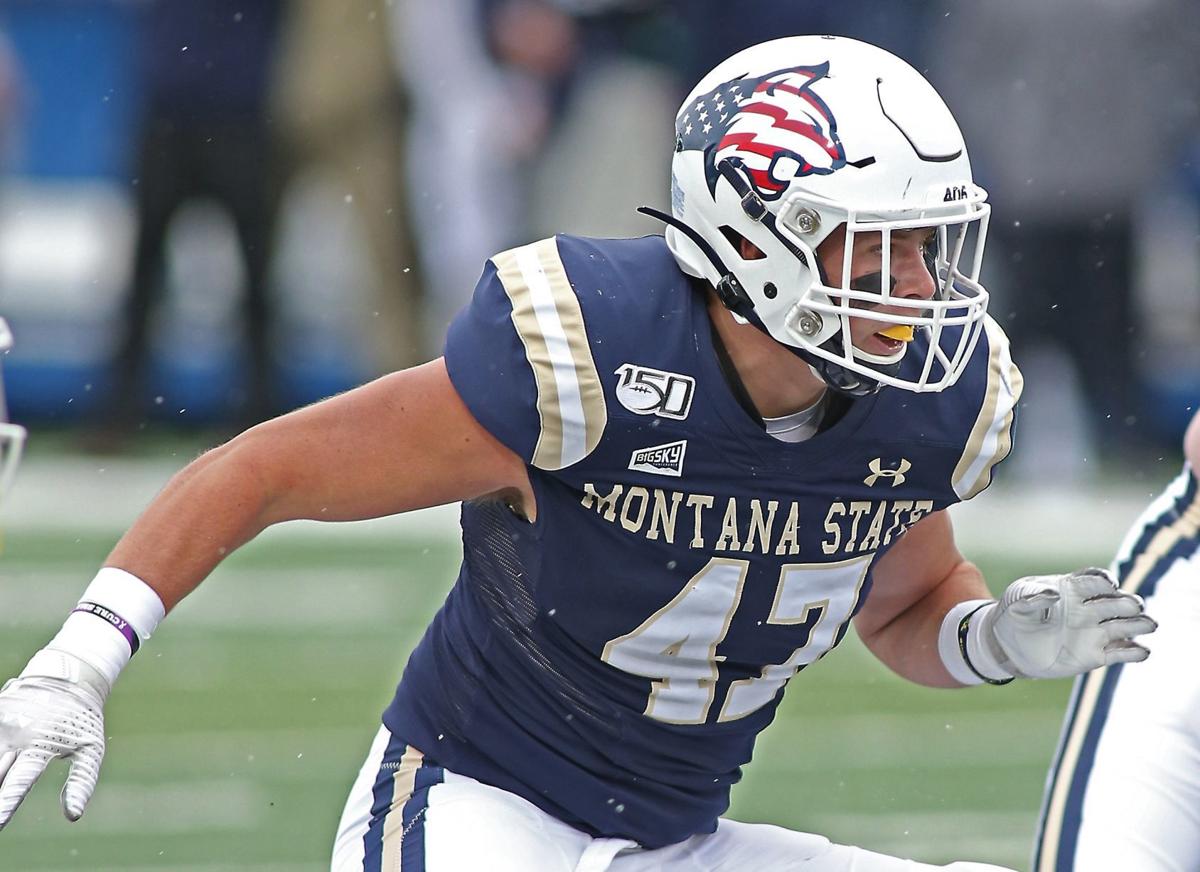 BOZEMAN — Callahan O'Reilly laid flat on his back on the turf at Jones AT&T Stadium in Lubbock, Texas, the victim of a ferocious and illegal blindside block while covering a punt early in Montana State's Week 1 matchup with FBS Texas Tech.
The initial thought was that O'Reilly simply got the wind knocked out of him when he absorbed the hit from 245-pound Red Raiders linebacker Jordyn Brooks. But for the amount of time MSU's athletic trainers spent tending to O'Reilly on the field, the more it seemed as if something more serious was at play.
Not so. O'Reilly finally got his wind back and was able to return later in the game, though he said Tuesday it was "by far" the hardest he'd ever been laid out.
Brooks, for what it's worth, was flagged for a personal foul.
"I couldn't breathe for like a minute," said O'Reilly, a sophomore and a key cog in the Bobcats' defense. "I was thinking, 'First play of the season, huh? Is this how it's going to go?'
"It wasn't anything serious, I just got the wind knocked out of me. But I couldn't move there for a little bit."
The No. 6-ranked Bobcats (5-1, 2-0 Big Sky) are happy it wasn't anything serious, because O'Reilly has become a fixture at inside linebacker this season, splitting time on occasion with fellow redshirt freshman Nolan Askelson.
O'Reilly, a Bozeman High product, had his biggest game of the year last week, totaling 16 tackles and a sack in a 34-28 overtime victory at Cal Poly while making his first career start. For that, O'Reilly was named the team's internal defensive player of the week.
O'Reilly, Askelson, inside men Michael Jobman and Josh Hill (at times), and strong-side linebacker Troy Andersen and others have been anything but a liability through six weeks, feeding off the play of a stout defensive line to help the Bobcats rank in the top four in the Big Sky Conference in both scoring defense and total defense.
Jobman made 13 stops against Cal Poly's triple option offense, while Andersen, playing exclusively on defense for the first time, had 10 tackles while containing the edge.
In particular, there was some curiosity surrounding MSU's inside linebackers before the season due to some inexperience. So far, those guys are making plays.
"They've done a nice job. I think we're doing a really good job of defending the run, which is obviously the primary job of the inside linebackers and the down guys," Bobcats coach Jeff Choate said recently.
"A lot of that credit probably goes to (linemen) like Chase Benson, Derek Marks and Jason Scrempos, but you see a redshirt freshman in Nolan Askelson, who's playing very efficiently, we already talked about Michael Jobman and the job he's doing.
"Callahan O'Reilly plays about the same amount of snaps as Nolan does, and so we're able to keep those guys fresh and kind of keep them rolling. I think that mix has really helped us."
Montana State's defense has another big challenge with Sacramento State (3-2, 1-0) visiting Bobcat Stadium this week for homecoming. The Hornets, led by dual-threat quarterback Kevin Thomson, are averaging 40.4 points per game and are coming off a sizable victory over Eastern Washington.
The Bobcats had to prepare last week to slow Cal Poly's option. But this, of course, is completely different.
First-year Sac State head coach Troy Taylor is someone Choate referred to as "a well-respected offensive mind," and his reputation precedes him. Taylor previously served as the play-caller at both Utah of the Pac-12 and at Eastern Washington in the Big Sky (with QB Gage Gubrud setting records) before that.
Thomson has thrown 16 touchdowns and just three interceptions through five games, while wideout Pierre Williams is averaging 17.0 yards per reception. Running back Elijah Dotson is one of the league's top pass-catchers out of the backfield, and leads the team with 33 receptions.
"They have a really good quarterback and a really good running back. Just good playmakers all around," O'Reilly said. "Their (run-pass option) game is tough. They just have some really good athletes that we're going to have to contain."
Of MSU's linebacker group, O'Reilly said, "I think we've been doing a good job. Obviously there's room for improvement and I think we'll continue to do that just through our preparation. This week, (it's) just knowing what to anticipate on every play and just doing our jobs.
"I feel like we've been solid, but I feel like we all know we can play better."
NOTES: Jobman is questionable to play this week due to injury, which could mean more time on the field simultaneously for O'Reilly and Askelson. … The Bobcats lead the all-time series against Sacramento State 17-7. That includes a 9-1 record at home. ... The Hornets' only win in Bozeman was a 19-17 victory in 1991.
Be the first to know
Get local news delivered to your inbox!