BUTTE — As the younger brother of a former University of Montana football player, Butte Central senior Aaron Richards understandably had some inherent familial pressure to pursue a gridiron career with the Grizzlies.
He decided to break with tradition.
Richards, a multisport athlete who has been a starting offensive and defensive lineman for Class A Central the past three seasons, announced his commitment to Montana State University football on Monday. He will make his decision official in December when he inks a National Letter of Intent with the Bobcats during the early signing period.
A high school student's senior season is stressful enough, and Richards — who has had a few days to reflect on his commitment — said it's been a relief getting one of the most important decisions settled in the summer before heading into his last year with Central.
"It's really exciting," he said. "It's nice going into my senior season knowing where I'm going and not having to worry about what I need to do to get a college offer."
The 6-foot-4, 280-pound Richards has played right tackle and defensive tackle for the Maroons, earning first-team all-state honors for his role on offense last season. Though he's not yet sure which side of the ball he'll be lining up on with the Bobcats, he's envisioning himself as a college offensive lineman.
Longtime Butte Central football coach Don Peoples Jr. has watched Richards evolve from a "14-year-old freshman to a guy that's on the verge of going to college."
"We're just really proud of Aaron. He's matured physically each year and also mentally," Peoples said. "He's a good leader and a kid that works really hard. Whenever a student-athlete from our program gets a chance to go to college it's a great thing for Butte Central."
After communicating with other colleges, including UM, Montana Tech, Carroll College and Rocky Mountain College, Richards visited MSU on June 22 for a player evaluation and soon received an offer. After mulling his options over with his family for a few weeks, he decided to go with blue and gold.
Richards older brother, Jonathan, played for the Griz after graduating from Butte Central in 2011. While there may be a bit of lighthearted resentment, Richards reasoned that if he's happy, his family will follow suit.
"But we'll be a house divided for sure," Richards said with a chuckle.
Though Jonathan may have been disappointed to see his little brother joining UM's archrival, Richards said it was watching him going through the recruiting process that convinced Richards he wanted to turn his childhood aspiration of playing collegiate football into a reality.
"Since I was little I wanted to play for the Cats or Griz," Richards said. "I've been dreaming about this since I was a kid."
If there's one thing that tipped the scales in favor of MSU, Richards said it was the Bobcats' coaching staff.
"It was the coaches honestly," Richards said, mentioning head coach Jeff Choate, offensive line coach Brian Armstrong and special teams coordinator B.J. Robertson. "They're really good guys."
But before Richards begins his football career with Montana State he has one final year to leave his mark at Butte Central.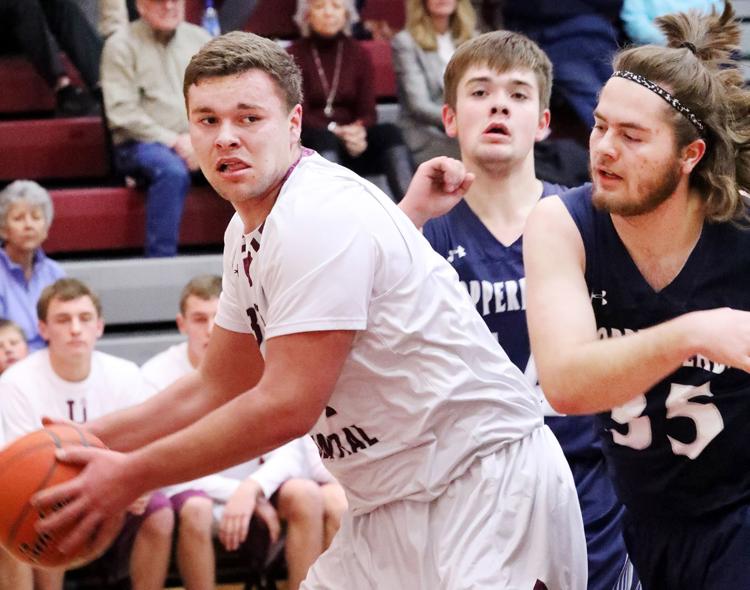 During his junior season, Richards was part of a Maroons' football squad that came up one game short of clinching a berth in the Class A playoffs and was a member of a Central basketball team that advanced into the State A semifinals and eventually claimed third place. He also earned a fifth-place finish in discus at the State A track and field meet in Laurel in May.
"I'm really excited for this year ahead, especially in basketball," Richards said.
With his senior season ahead of him and Bobcat Stadium beckoning when he graduates, Richards has a lot to reflect on. But he's sure of one thing — his high school career has gone by pretty darn fast. 
"It seems like yesterday I was a freshman taking driver's ed," he said.
Be the first to know
Get local news delivered to your inbox!