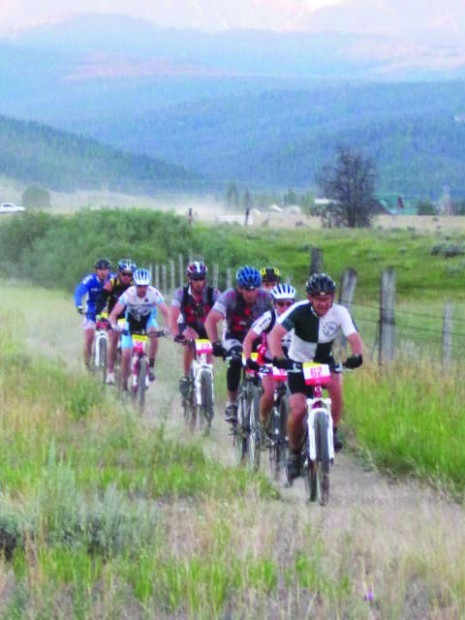 The Butte 100 mountain bike race will likely take a different route next year as race organizers look to make the course more compact and avoid heavily eroded sections of trail. 
Event sponsor Triple Ring Productions is reviewing a range of options for the north half of the route. Jon Wick, who has helped plan and map the route, said one section in particular was really beat up. 
"It was pretty gnarly with downed trees — almost like hiking in a canyon," he said. "There's a big eight-mile chunk where it's almost a hike and bike."
Wick said for recreational riders that might be fun, but racers are trying to make good time. He said those conditions aren't well suited to a race and they had feedback from participants saying just that. 
"When people start complaining about safety, we need to listen," he said. 
The race this summer drew more than 220 riders from throughout Montana, half a dozen states and Canada. It includes 100- and 50-mile options and has received rave 
reviews in cycling publications for the quality, challenge and scenery. 
Gina Evans, race director, said they would like to leave the south loop that encompasses the 50-mile race alone. That heads south from Homestake and passes through Thompson Park while including sections of the Continental Divide Trail. 
Wick said they'd like to keep the Continental Divide Trail in the route because it's excellent trail that riders give high marks. 
"That's our pull," he said. "It's super unique and it's incredible."
The north loop, which is ridden only by riders doing the 100-mile race, has traveled west from Homestake and skirted Interstate 15 before turning east. It continued over the East Ridge and turned south to pass north and east of Delmoe Lake before coming back into the start at Homestake. 
The sections north of Delmoe were some of the roughest. 
Bob Waggoner, co-owner of Triple Ring, said they have numerous trail options in the Pipestone area to reroute the north loop. He said they're looking at a plan to stay east of the Continental Divide and head north from Homestake while passing close to Spire Rock and Ringing Rocks before coming back to the starting point. In order to reach 50 miles, the route may need to add a few miles of the myriad trails close to the Pipestone trailhead but Waggoner said that wouldn't be a problem. 
"It's so easy to get miles in that area because there are trails going everywhere," he said. 
A new, more compact route that is closer to roads has another advantage for putting on a major race. 
"It will be much easier to get volunteers out to key areas on the course," Waggoner said. 
The U.S. Forest Service is evaluating the impact of the race through the public scoping process, said Jocelyn Dodge, recreation forester for the Beaverhead-Deerlodge National Forest. 
Be the first to know
Get local news delivered to your inbox!