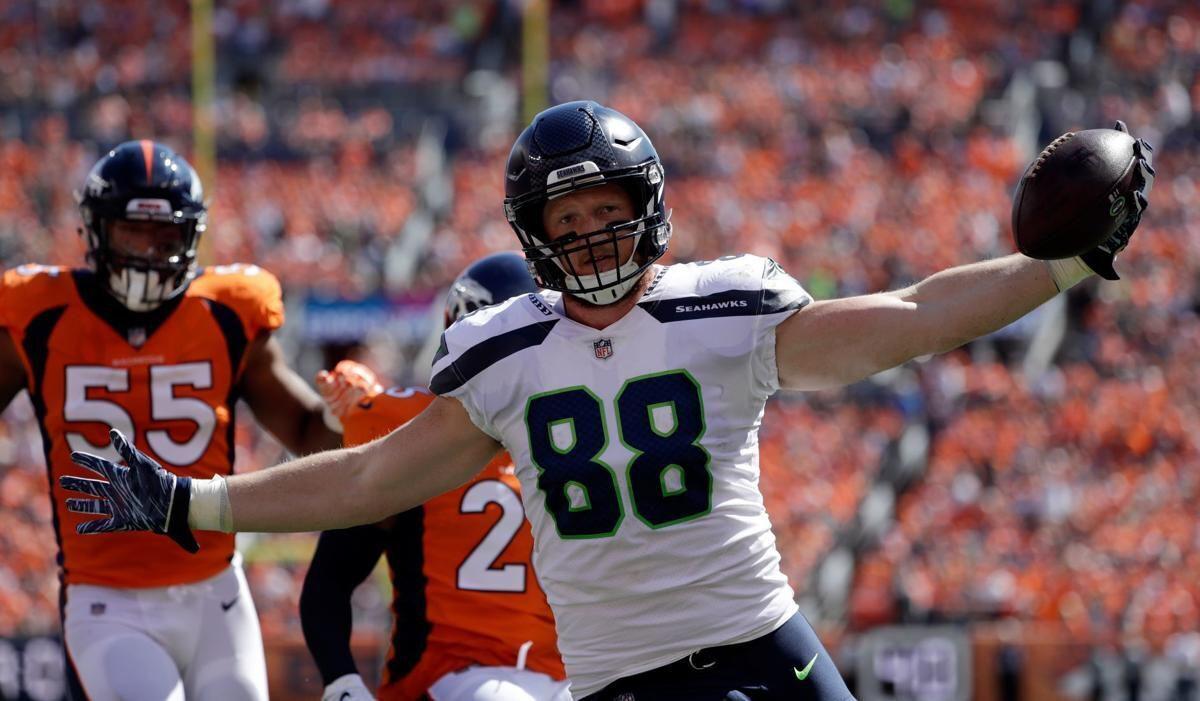 HELENA — Will Dissly, the 2013 Montana Gatorade High School Player of the Year for football, grabbed the internet's attention on Sunday for a play he made, or perhaps kept the defender from making.
A member of the NFL's Seattle Seahawks, Dissly caught a pass from quarterback Russell Wilson and turned to run up field. That is when Colts linebacker Bobby Okereke attempted to make a tackle on Dissly, just to have Dissly seemingly shove him out of the way and pick up a few additional yards.
In his postgame press conference, Wilson, who has seen Dissly do something similar before in a game, said, "I don't know if it's a Montana thing or what, but he's able to do it."
Dissly helped Bozeman High School go undefeated and win a Class AA State Championship in 2013, his senior season. Dissly was a three-year starter at tight end while at Bozeman, and also a two-year starter at defensive end. He is now in his fourth season on the offensive side of the ball with Seattle.
He played collegiately for the Washington Huskies, and in 2018, was drafted in the fourth round of the NFL Draft by the Seahawks.
"Not many people have that opportunity to play at that level," Dissly's high school coach Troy Purcell said. "Ol' Diss, he does a great job. He was very young, I think he was only 17 [years old] his senior year. He was always a very, very hard worker and a team player. He was an Eagle Scout, so he was very involved with the community. He's just a well-rounded individual that was fun to coach and is sure fun to watch on Sundays."
Purcell had not yet seen the clip of Dissly shoving the defender to the side but said he shares the occasional text message with his former player and got to see him a year or two ago at a Montana high school football playoff game.
Purcell also coached former Seahawk and San Francisco 49er Brock Coyle at Bozeman and former Tennessee Titan and Chicago Bear Marc Mariani while at Havre High School.
"You know they're special players, but to get to that level, that's pretty dang special," Purcell said. "I don't know the percentage of high school athletes that actually get to the NFL level, but it's not very high. It just shows hard work and dedication by those individuals striving to be their best ... Just really proud of Dissly and I know he represents the town of Bozeman well and the state of Montana well."
Dissly caught three passes for 37 yards in a win against the Colts on Sunday and has now appeared in 27 career games, racking up 58 receptions, 706 receiving yards and eight touchdowns.