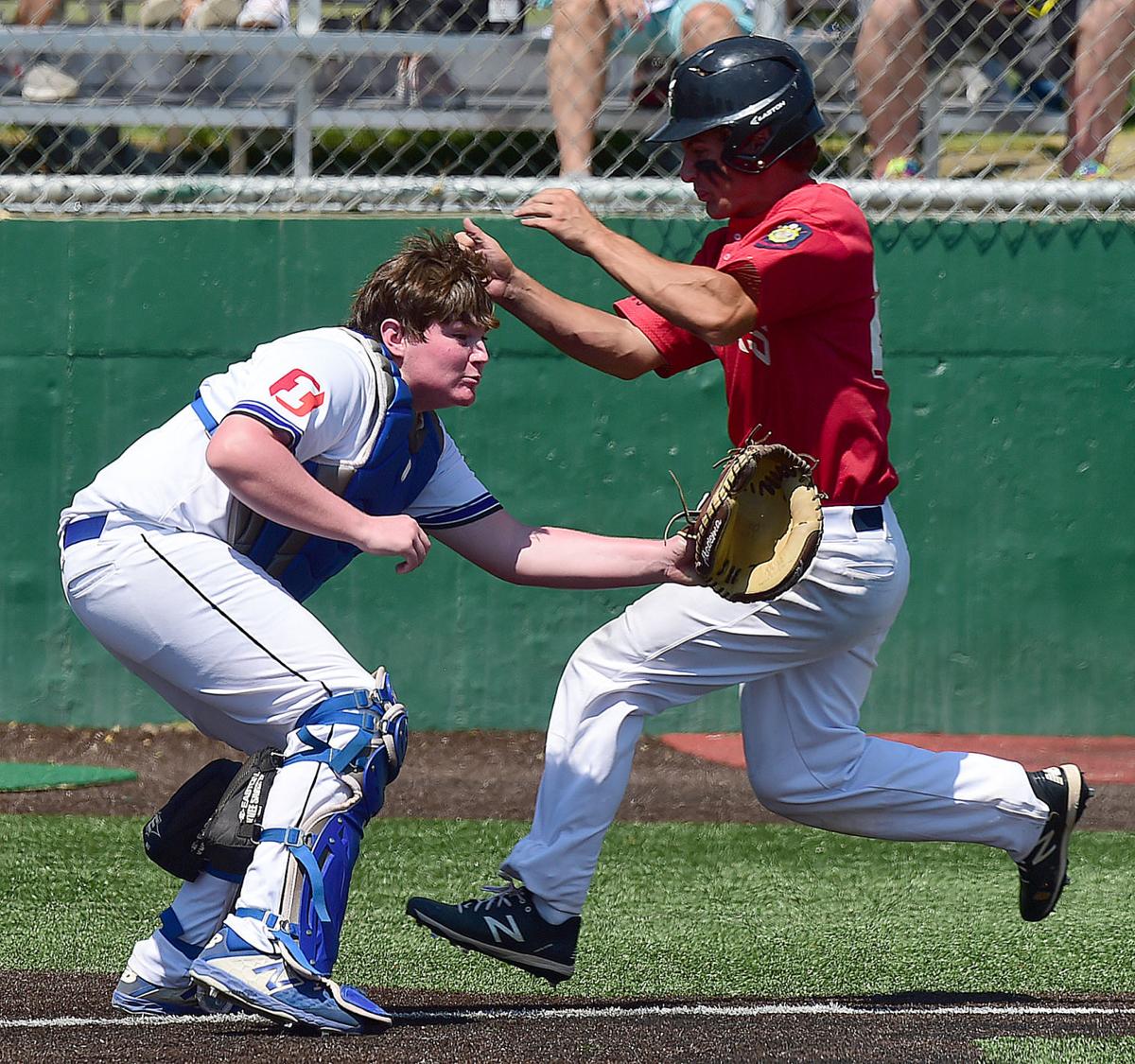 BILLINGS — What at one point may have been considered a longshot, the grand finale now is awaiting eight teams in Lewistown this weekend.
The two best teams from the West, South, North and East will collide to determine the State A American Legion baseball champion at Ryan Sparks Field.
The tourney begins Thursday and concludes Sunday with a semifinal at 10 a.m. and the championship at 1 p.m. An if-necessary contest would be played 45 minutes after the first championship.
First-round games on Thursday are: 10 a.m., No. 1 South Belgrade Bandits vs. the No. 2 West Bitterroot Bucs; 1 p.m., No. 1 East Billings Blue Jays vs. No. 2 North Havre Northstars; 4 p.m., No. 1 West Glacier Twins vs. No. 2 South Gallatin Valley Outlaws; and 7:30 p.m., No. 2 East Miles City Mavericks vs. No. 1 North Lewistown Redbirds.
Miles City coach Conner Brown is confident his Mavericks can be playing on the final day, but said the field is wide open.
"It's anybody's ballgame, especially this year," Brown said.
"This state tournament is usually wide open," Blue Jays coach Calvin Bjorgum said. "You get the top two teams from each district in the state and it always makes for great baseball."
With questions entering the season because of the coronavirus pandemic that altered almost every aspect of daily life, now the state tourney will conclude the year.
"Coming into the year, everyone was wondering if we would get to play or how long it would last; if we would get a week or a month," longtime Lewistown coach Scott Sparks told The Billings Gazette and 406mtsports.com on Wednesday. "To be at the point of the state tourney starting tomorrow, all of the kids are thrilled."
Havre was originally supposed to be the host site for the tournament but instead will host in 2021. At one point, a potential state tournament playoff similar to the high school football playoffs was discussed. But in the end, Lewistown was chosen to host.
"Around the first of June it was decided they were considering a central location where travel could be cut down and it could help social distancing," Sparks said.
Lewistown has a unique park in which fans congregate outside the right-field fence.
The Billings Blue Jays are the No. 1 seed from the East after winning the district tournament 13-2 over Miles City. Bjorgum said along the right-field fence fans can park their cars and watch.
"It's a super environment in Lewistown," Bjorgum said. "When I played there in Legion I enjoyed it and I think these guys will, too."
Sparks said the right-field parking area is one of the features of the facility people enjoy.
"It's been something for years where we've left our right-field area open. On a given night, there might be 200 people out there under canopies and parking with their cars."
This year, the left-field area is also open because sponsorship signs were not sold due to the crisis. So, in that area spectators can distance and sit in their lawn chairs.
"Our ability to host a tournament, we run two big tourneys a year and for us to pull off a state tourney on short notice, we did a good job," Sparks said of the community and baseball supporters.
The tournament bracket was changed to a four-day format instead of five for this year's event. In addition, the time between games was lengthened to give those helping clean the park a little more time to do it, Sparks said.
"We didn't want to keep teams here an extra day," he said. "Everyone's budgets were hit. Teams missed out on some fundraisers, so it will help teams save some money as well."
Also to aid in social-distancing efforts, there won't be an opening ceremonies celebration or banquet. However, the Lewistown American Legion Post 16 will present the United States flag.
"We'll provide an atmosphere for the kids to come out and play for a state championship," Sparks said.
The Redbirds were 47-11 this year and are a "pretty young team" with three seniors, he said. While Lewistown is young, Sparks said the team is looking forward to the test after winning the North.
"We didn't lose two games in a row all season long," Sparks said. "Even if we have a rough game, the ability to move on and refocus has been huge for us. That's been a real strong characteristic of our team, to put a loss aside and refocus and play the next game."
The Blue Jays are 33-10. A feeder team for the Class AA Billings Royals, the Blue Jays are eager to show what they are capable of.
"I'm excited for these guys to go out and play and I think they are, too," Bjorgum said.
Miles City is 30-15 and is looking to get over the hump at the tourney.
"This being our fourth year in a row at the state tournament, we are looking to make a drive this year," Brown said. "The last couple of years we've been bounced a little early."
The Vauxhall Spurs were last year's champions, but the United States and Canadian border is closed to nonessential traffic, so the Canadian teams didn't participate in the conference this year.
"Vauxhall returned almost everybody," Sparks said. "I feel really bad for them. They would have been right there with us and ready to defend the title."
The Montana State A champion would normally advance to regionals. There isn't a Class A World Series. But, the fact that the American Legion World Series and regionals were canceled earlier because of the virus isn't a concern, Sparks said. The goal is still to win a state title.
"This is it. Regionals was supposed to be in Alaska for Class A this year. That is always exciting for the kids," Sparks said. "Overall, I don't think anybody is heartbroken we don't get to go to regionals. As long as we get a state tournament, everyone is happy."
BASEPATHS: The games will be streamed live at montanalegionbaseball.org. … Sparks said usually the North has three Canadian teams — Vauxhall, Medicine Hat and Lethbridge — and he "missed having them come down."
Be the first to know
Get local news delivered to your inbox!