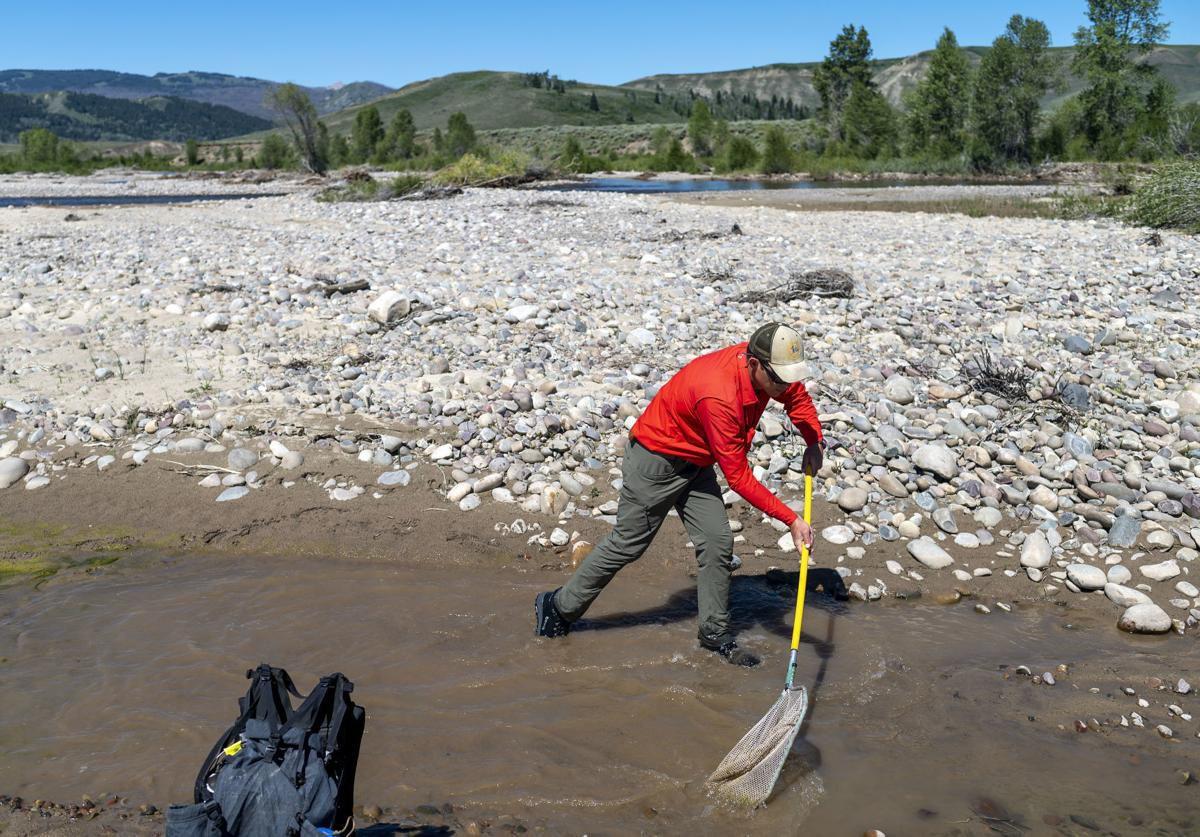 Clark Johnson inched into a knee-deep pool on Fish Creek to see if his trap, baited with dog food, had done the trick.
His hunch that a rare and somewhat mysterious species of minnow, the northern leatherside chub, swims in these waters comes from more than intuition.
A year ago, using a technology called environmental DNA, he'd found microscopic shreds of the chub's genetic material left behind like breadcrumbs in the flowing water. Now he was trying to verify with his own eyes that the river-dwelling minnow actually lived in this branch of the Upper Gros Ventre River watershed.
At the trap, though, waiting in the crystal clear depths of the tributary, he found nothing.
The previous day with colleagues, Johnson had used a backpack "electrofishing" unit that sent a jolt of electricity into the same stream, located about 26 straight-line miles east of Jackson, Wyoming. The electricity netted plenty of fish but no leatherside chubs.
He found one, but in the adjacent watershed of Cottonwood Creek, and the little critter was stranded in a small and disconnected pool of water. After being measured and logged it got a life-saving lift to moving water by a sympathetic biologist in a red shirt.
At Fish Creek the next day Johnson eyed a similar severed shallow pool, where minnows visibly darted this way and that. Using a net he stabbed into the shoe-high water, which quickly muddied.
No dice, however, on the leatherside. The pint-size prize in his net was a mountain sucker so young its trademark mouth was barely distinguishable. Minutes later, water calmed, he rounded up another, this time by shooing it into his ball cap. Crouched over the little seep, he played the game for a while, but time and again the captured quarry in the mesh of his hat turned out to be other, more ubiquitous species of minnows.
"I'm going to call this wild fish chase good for now," Johnson said, "as much fun as that was."
Although they were being sneaky, Johnson all but knew he was looking in the right place. A few years back his predecessor, Tracy Stephens, detected leatherside chubs for the first time ever in the Upper Gros Ventre. Native only to the Bear and Snake river watersheds, the species is rare enough that states, federal agencies and advocacy organizations came together a decade ago to form a rangewide conservation strategy that sought to protect and restore the leatherside within its native range.
The effort hasn't exactly been a headline grabber given that the up-to-6-inch-long minnow has little economic or angling value. But professional fisheries biologists in the region like Johnson know all about it. Simply determining where the chubs exist, and mapping that distribution, has been a centerpiece of the effort.
For his own surveys in 2018, Johnson tapped into environmental DNA technology, eDNA for short. The premise is simple: The leatherside chub, like all other species, sheds its own unique DNA in the form of urine, feces, skin and any other bodily content that might leak off an animal. So much of it comes off, in fact, that a single specimen can be detected from a mile away using no more than a water sample.
Last year Johnson pumped water out of many points on Fish Creek and ran the samples through a filter that accumulated genetic matter from the full array of aquatic organisms dwelling nearby. A lab he worked with had developed a genetic "marker" for the northern leatherside chub. Lo and behold, he had some hits, in Fish and Cottonwood creeks and the Gros Ventre itself near where the feeder streams pour in.
But just upstream of the Fish Creek-Gros Ventre confluence, the same DNA sequence was absent from the watershed.
"For whatever reason," Johnson said, "they aren't turning the corner."
As a technology, eDNA has been around and used in aquatics and fisheries sciences for a couple of decades. It's been used in the Midwest to determine advances of devastating invasive fish like the bighead and silver carp in the Upper Mississippi River and Great Lakes. It has major applications in the oceans and is used for tasks such as determining when in the season great white sharks arrive on coastlines. There are even terrestrial applications: When applied to tracks found in the snow, eDNA is used to verify the presence of rare mammals such as the Northern Rockies lynx.
Locally, the technique comes in handy periodically. Right now is one of those times.
Twice every day for two weeks a drum-shaped machine called an "environmental sample processor" has drawn a water sample from the South Fork of the Snake River's Irwin gauge, run it through a filter and then employed eDNA in an autonomous molecular lab within.
The $150,000 device, nicknamed Waldo, is essentially a lab in a can. Looking at it, there are enough intricacies — wires, tubing, pods, doo-dads — that if you were guessing, a bomb wouldn't be a bad guess.
Waldo was lent free to the U.S. Geological Survey by the Monterey Bay Aquarium Research Institute, and in its current configuration has two main tasks. Those are to detect nonnative zebra and quagga mussels that might be flowing out of Palisades Reservoir, and, second, to pick up the presence of a parasite that's telling of a fish sickness called proliferative kidney disease. The malady, PKD for short, has lethally swept through the South Fork's whitefish populations before. A third target, selected to ground-truth its efficacy at detecting genetic material flowing out of the dam, is kokanee salmon, a species the scientists know exists in Palisades but not regularly in the South Fork.
If Waldo's autonomous tests identify either the noxious mussels or the foreboding parasite, fisheries scientists and managers will learn about it in no time. The results of the twice-daily tests are beamed in real time out of Star Valley to a computer and then to researchers' cellphones.
"It's all on Slack," said USGS aquatic ecologist Adam Sepulveda.
Slack is a cloud-based information-sharing smartphone application that sends real-time notifications. 
Sepulveda spoke July 15 from the Teton County Weed and Pest office, where Waldo had just been configured. Elliot Barnhart, his research hydrologist colleague, likened the robotic eDNA sampler to a smoke detector. It's not going to solve the problem, he said, but it can be a means of early detection that can limit the damage by allowing regulators to respond sooner.
A beneficial by-product of the Waldo's twice-daily samples will be creating an almost limitless reference library of the genetic and environmental material flowing through the South Fork on a daily basis. Those samples are preserved in place, in little canisters stacked within Waldo's bowels, using a solution called RNAlater. Right now it's set up to be on high alert for PKD, zebra and quagga mussels.
Down the road, Sepulveda said, there's no telling how the daily catalog of genetic material could be put to use. Later on in the lab, he said, they could use the preserved daily samples to test for hundreds of species that have had genetic markers developed for eDNA testing.
"We have no idea what the needs are five years from now," Sepulveda said. "There's a lot of capacity to adapt. We're looking for this fish disease, but maybe we'll need to figure out how to culture for E. coli, or look for a certain toxin. It's very adaptive, and you don't have to go and redesign a whole new robot."
Palisades and the South Fork were not selected mindlessly for Waldo's first field operation working with eDNA.
Due to its location, the chemistry of its water and the makeup of its substrate, the reservoir straddling the Idaho-Wyoming border is considered to be one of the highest-risk bodies of water for a zebra mussel invasion in the Northern Rockies. The national parks up the risk level, because they're a draw for boat-towing, mussel-harboring tourists who previously launched on infected waters, like Lake Powell.
"They're getting closer and closer," Sepulveda said of the mussels, which can be an ecological blight. "We have a lot of people coming from the Southwest to recreate in the Greater Yellowstone, and a lot of people coming from the Midwest. They're getting here in one, two days' time, and a lot of them are bringing their boats."
Waldo's present home within the South Fork stream gauge is also an enticing proof-of-concept for the USGS, which maintains more than 8,200 river and stream gauges around the country. Once autonomous eDNA testers inevitably become cheaper and more mainstream, the same network could someday be used as a nationwide biosurveillance system, testing for pathogens and unwanted species in the Potomac, the Columbia and all watersheds in between.
But even at this point, searching for the genetic evidence of the mussels with an automated $150,000 in situ robot is economically sound. The alternative, Sepulveda said, is sending government researchers or university students from afar to conduct the same tests.
"It equals out to roughly 200 sampling events, using traditional manual human techniques," Sepulveda said of the payback. "It doesn't take long for it to pencil out."
Wyoming Game and Fish, likewise, has turned to eDNA partly because it's efficient, especially for the purpose of determining where a hard-to-find species like the northern leatherside chub exists. The way the technology is tracking, it's likely to become even more of a boon for biologists like Johnson.
"At some point," he said, "there's probably going to be somebody that develops a fairly small device that you can just plug into a smartphone and stick into the water."
The native chub he searched for July 25 is uncommon enough as a species that it's watched over by a multiagency state and federal team called the Northern Leatherside Conservation Team. When that group formed a decade ago it came up with a conservation strategy for the species that lists eight goals, from identifying and reducing threats to habitat to maintaining genetic diversity to determining where the minnow ranges on the landscape.
Johnson and his colleagues in other states have already determined that leatherside chubs are widely distributed across the Bear River drainage. It's also found in the Idaho side of the Salt River watershed, Pacific Creek, Triangle X Spring and the Gros Ventre River.
His goal the other week was to further refine where in the Gros Ventre watershed this little species of chub is making its home. Fish Creek, he said, fit the description of ideal habitat: It's a midsize stream, it's cold enough and it has plenty of side channels with pools and woody debris the species seems to prefer. Plus, the eDNA tests already indicated that his minnow traps were set out in a waterway that harbors the chub's genetic material.
At the second Fish Creek minnow trap Johnson checked, a pinky-length minnow awaited. Upon seeing the dainty fish, the Wyoming fisheries biologist's instinct was that the species of minnow in the net was a commonplace redside shiner. Slowly, it dawned on him that he was likely looking at a northern leatherside chub.
He paused, carefully reviewed the gray and bronze-tinted baitfish in his hand, and at 11:56 a.m. made the call.
"We have a leatherside!" Johnson said. "That is actually the first leatherside that's ever been found in Fish Creek."
Later, when Johnson was in the office, the task would be to update the official Game and Fish database.
"It's good to actually verify that the eDNA hits were good," he said, "because after a while I was starting to think that they weren't actually in there."
Be the first to know
Get local news delivered to your inbox!