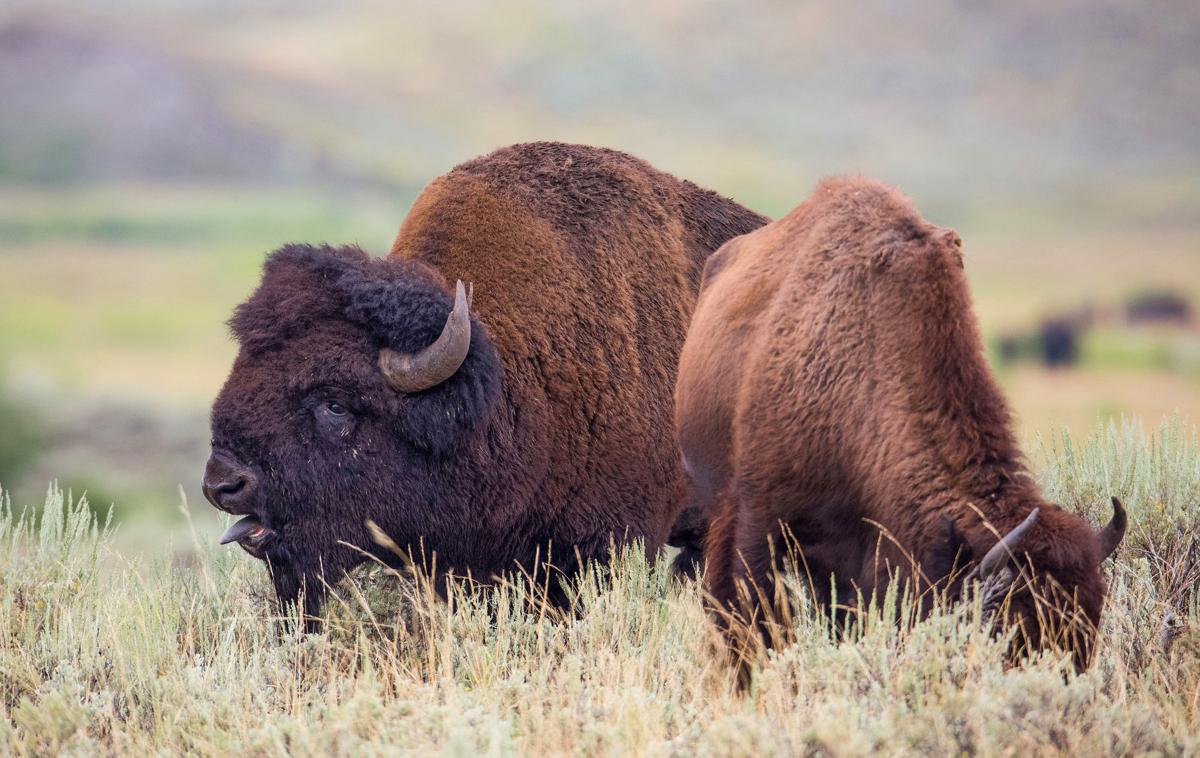 Safe social distancing takes on a different connotation for visitors to Yellowstone National Park during July and August.
Those 30 to 40 days in midsummer are the height of the bison mating season, called the rut — when males compete with each other to breed females. Imagine two bulls — which can weigh up to 2,000 pounds — locking horns and grunting as they push each other across a sagebrush field. These are the largest land-dwelling mammals in North America. It's an incredible sight.
Such interactions make for great photos and videos in the Lamar and Hayden valleys where the animals congregate, but Yellowstone officials are constantly reminding visitors not to get too close. They even hand out brochures at the park entrance with an illustration of a bison tossing a human into the air, which can be the outcome of getting too close.
The recommended distance tourists should stay separated from bison is 25 yards.
"One of the most dangerous situations in the park is to move head on into an animal," said Chris Geremia, bison biologist for the park, in a Tuesday Facebook Live talk.
Walking toward any animal in the park creates an aggressive situation, he explained, like a bullfighter challenging a bull. Just like a bullfight, bison may interpret this as an aggression and charge. Although big, bison are fast. They can run 35 mph, the same speed as a horse.
Geremia found that out when he was riding a horse in the park one day. He saw bison a half mile away and tried to hurry to where the place he wanted to go. A bull bison seeing him approach the herd became aggressive and started chasing Geremia. As soon as he and the horse veered away from the bison herd ahead, the bull stopped because it had prevented Geremia from approaching the rest of the herd.
Two other times Geremia was chased by a bison, once when he was anesthetizing an animal for a study and another time when he tried to beat one to a trail while hiking. In that instance he ended up running around a tree three times to escape the charging bison.
"If a bison charges, get out of there," he advised. "They are trying to get you to move."
That's the opposite of what experts recommend when encountering a bear or other predator. Running away from them can trigger their hunting instinct and prompt them to chase after the person. Bear spray can work on bison, Geremia said. Just make sure to aim it low, since their heads are fairly close to the ground.
Bison account for more injuries to Yellowstone tourists than any other animal in the park. More often than not, it's the human's fault for getting too close. In late June a 72-year-old California woman was gored several times by a bison after getting too close. In May, another woman was knocked to the ground by a bison. Last summer a 9-year-old girl was injured after being tossed into the air by a bison.
Education efforts by park staff have helped drop the rate of bison-related injuries, but they still seem to occur every year. Between May and July of 2015 five people were wounded by bison, including one park employee, according to the CDC report.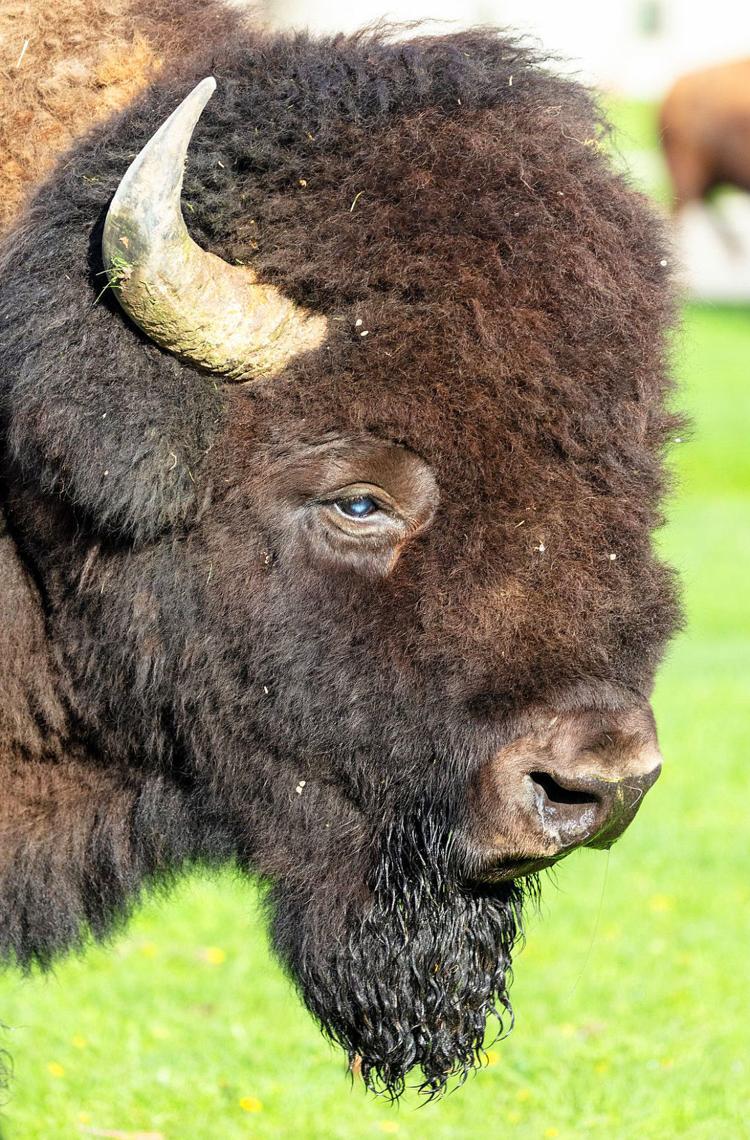 "Every incident occurred in developed areas, such as hiking trails or geyser basins," the report said. "Two persons were gored, and three were tossed into the air. Four persons required hospitalization…"
"All encounters resulted from failure to maintain the required distance of 75 ft (23 m) from bison. Four injuries occurred when three or more persons approached the bison. Two persons were injured while walking on hiking trails. Three persons sustained injuries while taking photographs at a distance of approximately 3-6 ft (1-2 m) from bison, including two who turned their back on the bison to take the photograph; one person reported taking a cell phone self-portrait (selfie), which necessitated getting close to the animal.
"During 1980-1999, a total of 10 of 35 bison encounters (29%) involved photography … The popularity of smart phone photography with its limited zoom capacity and social media sharing of selfies might explain why visitors disregard park regulations and approach wildlife more closely than when traditional camera technology was used."
So Geremia recommends visitors to Yellowstone take some commonsense precautions. Treat bison with respect, which means giving them plenty of room. Although they may appear tame, bison are wild animals. Be ready to move away quickly. If a bison approaches, move back or take cover in a safe place like a car.
There's no place quite like Yellowstone to see bison, an animal that is estimated to have once spread across the Great Plains with a population of 30 million. Although Yellowstone is home to only about 4,800 bison, as of last year, they can still provide visitors with some sense of what it must have been like to see vast herds gathered on a wild landscape. To hear them bellow, watch them fight, romp and roll is a window to a wild world.
Be the first to know
Get local news delivered to your inbox!