For most folks, snow sports are in the rearview mirror, and it's about time to break out the flip flops.
But for some, late spring is instead a delightful and convenient period when roads open deep into the high country to provide easy access for backcountry skiing. In many places, you can now drive right up to snow line, ski your heart out, and barbecue back at the car between runs.
For other, more masochistic skiers, late spring is the time for a grand, grueling outing combining many of the season's finest inconveniences at once. If performed correctly, you won't see a soul — holiday weekend or not — and you'll be treated to all kinds of wonderful hardship.
To do it right, it's best to choose a destination nobody would go to because there isn't a trail for at least several miles of the route. The bushwhacking should be formidable. Half the route must be without snow, and half snow-covered.
Make sure it's far — far enough that the only choice is to camp overnight in the cold snow at the top.
This necessitates carrying everything for backpacking and skiing in avalanche terrain, as well as heavy camera equipment — in case you see something cool, or have to document your last moments like that guy in the movie "127 Hours."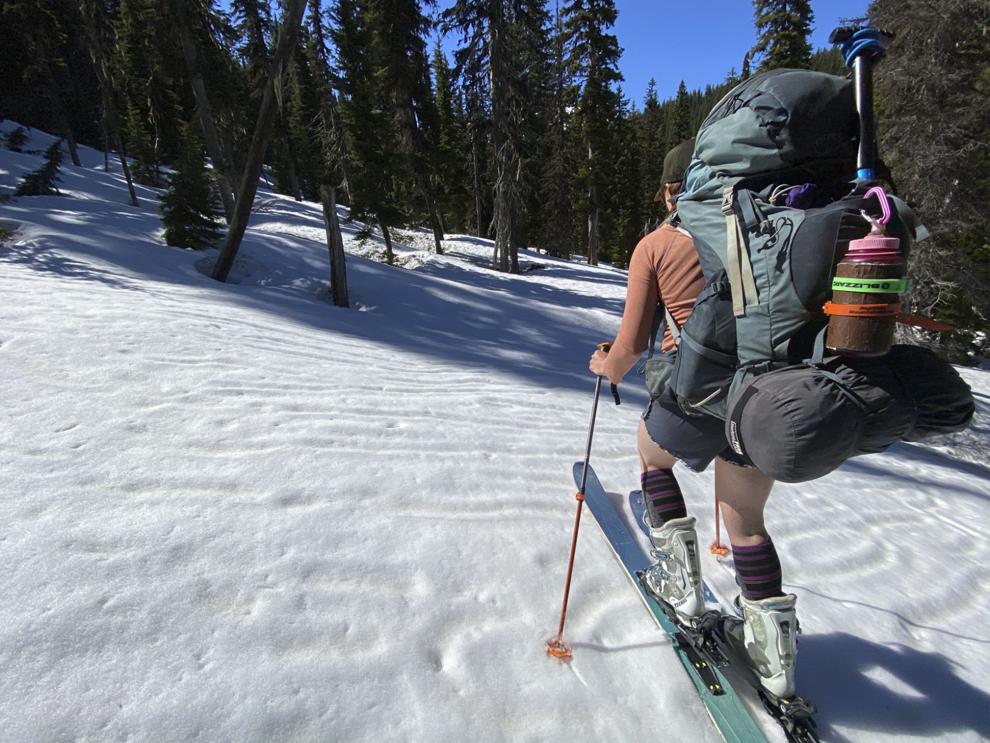 This type of skiing isn't for everyone, but to secure your solitude sometimes the best destination lies in the heart of grizzly bear territory. As an added bonus, that bear spray canister should bring your pack weight to just over 70 pounds.
Logistically, the hardest part of springtime ski misadventures is finding another skier with strong legs. Often it's necessary to trick someone into coming by sugarcoating the details.
Allison Hendryx, known in some circles as Peppy Pistolena, agreed to join me even though I told her precisely what I had in mind.
Pistolena isn't known for her fears, but she's a big fan of survival nonetheless. Having her on-board made me think we stood a better than fair chance of surviving.
She worried me though. I got the impression she expected to have a good time.
"Why do you keep calling it a misadventure?" she asked.
Pistolena is also fond of maps, and pretty handy with her phone. I told her I had a prettttty good idea how to get there, and she immediately marked out a route on an app of some kind.
Despite her excessive planning and preparation, Pistolena's a bit reckless at times. She said she might hike in her running shoes.
I told her only hiking boots would do. It was spring runoff after all, and the route was sure to be wet. Also, with the packs we'd be schlepping, the ankle support would be essential.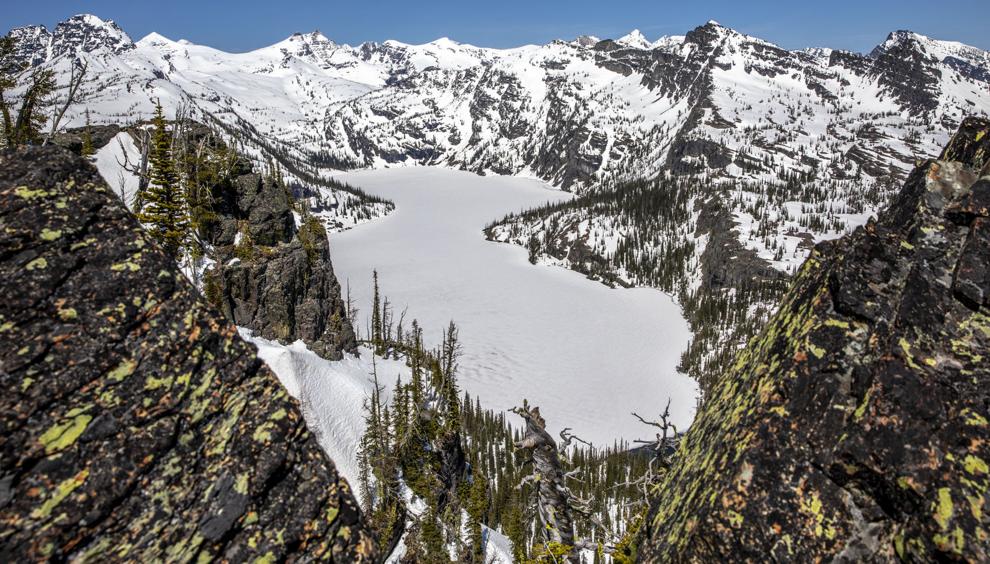 Arriving at Turn Back Trailhead — I changed the names of the landmarks for the protection of anyone fool enough to try and reach them — we organized our gear.
I could see everything was shaping up just right — we were going skiing, and there wasn't any snow in sight.
Pistolena, a wildlife biologist, identified a passing hummingbird as a rufous. Right then, I discovered I was a doofus.
"You haven't seen my hiking boots, have you?" I asked.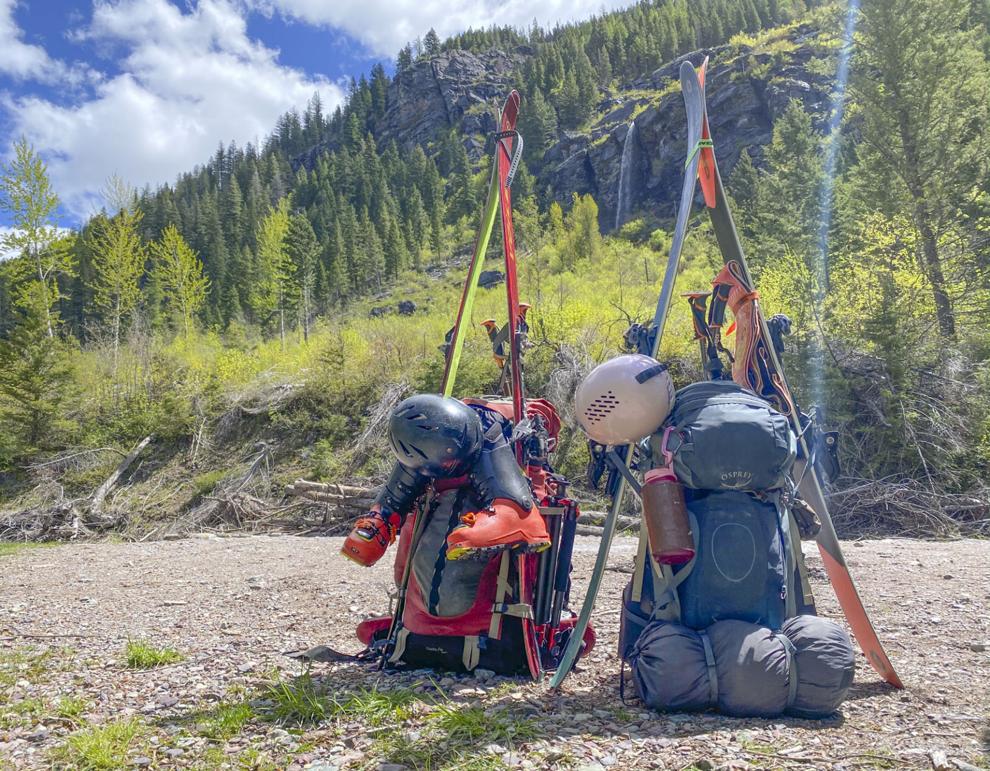 There was nobody around to watch us put our packs on, which is too bad. What with the pandemic and all, I feel like folks could use a laugh.
Skis fastened together at the tips, and ski boots dangling, we strapped our bear spray to our hips and set off like a couple of wobbly, bloated triangles in shorts.
We soon encountered a big group of trees in a clearing. The problem is the clearing was the trail, and the trees were lying across it. We went around by way of shuffling our packs under heavy brush and through a creek.
I tell you now with confidence — my running shoes are not waterproof.
It turns out many trees had fallen over the first miles of trail, and the strain of the pack weight was really setting in as we performed various stunts to get past them.
You can say any old thing to scare grizzlies away, but people like: "Hey bear."
I think it's because it's only two syllables.
"Hey bear" is adequate conversation when there's still no snow and you're limboing under trees and vaulting over them with skis on your back, all the while remembering there will soon be no trail at all.
In silence, I identified the tendons most likely to snap in my knees, hips, and rear end, while Pistolena identified the various flora and fauna — a dusky grouse here, a glacier lily there.
"Schoolmarm," she said of a tree with funky branches.
Schoolmarm, indeed, I thought, chasing but not catching my breath.
With endless pep in her step, Pistolena blasted ahead.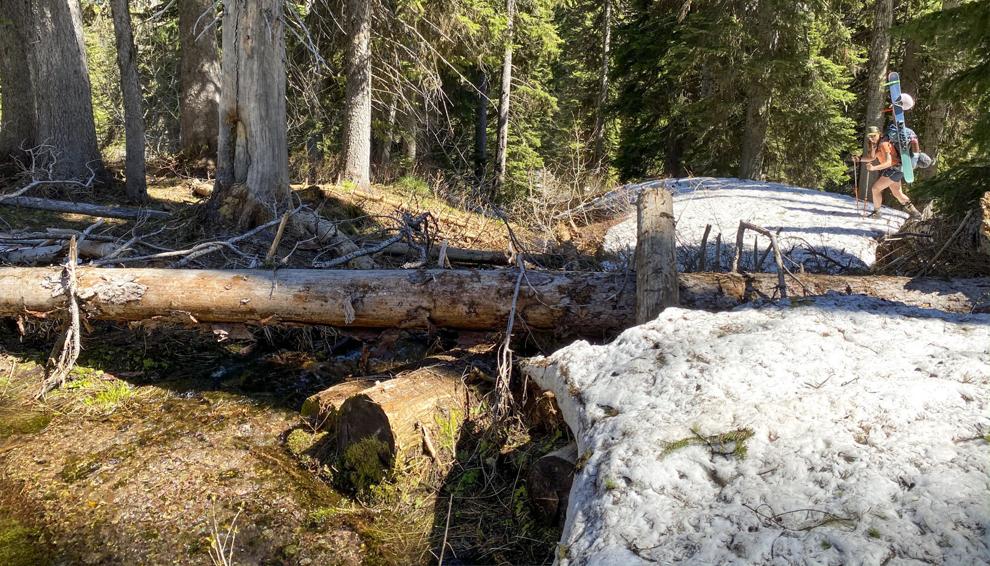 In the film "The Princess Bride" there's this scary neck of the woods full of booby traps called the Fire Swamp. We found its distant cousin — the Bottomless Bog.
The trail went away and in its place appeared the bog, punctuated by snow patches between high, slick logs.
Fat with gear, we were no ballerinas, and had no business on the logs. We instead made our wary way over the snow.
Our nature scientist didn't explain why the snow appeared solid, but was in fact hollow. She did however demonstrate the phenomenon — with a series of dramatic one-leggers. I found I could mostly avoid them by sticking only to her shallow footsteps.
Finally, following Pistolena's directions, we reached consistent snow cover. For this sort of thing you use grippy "skins" on your skis that stick to the slope, and bindings where your heel can be released to walk uphill on the snow.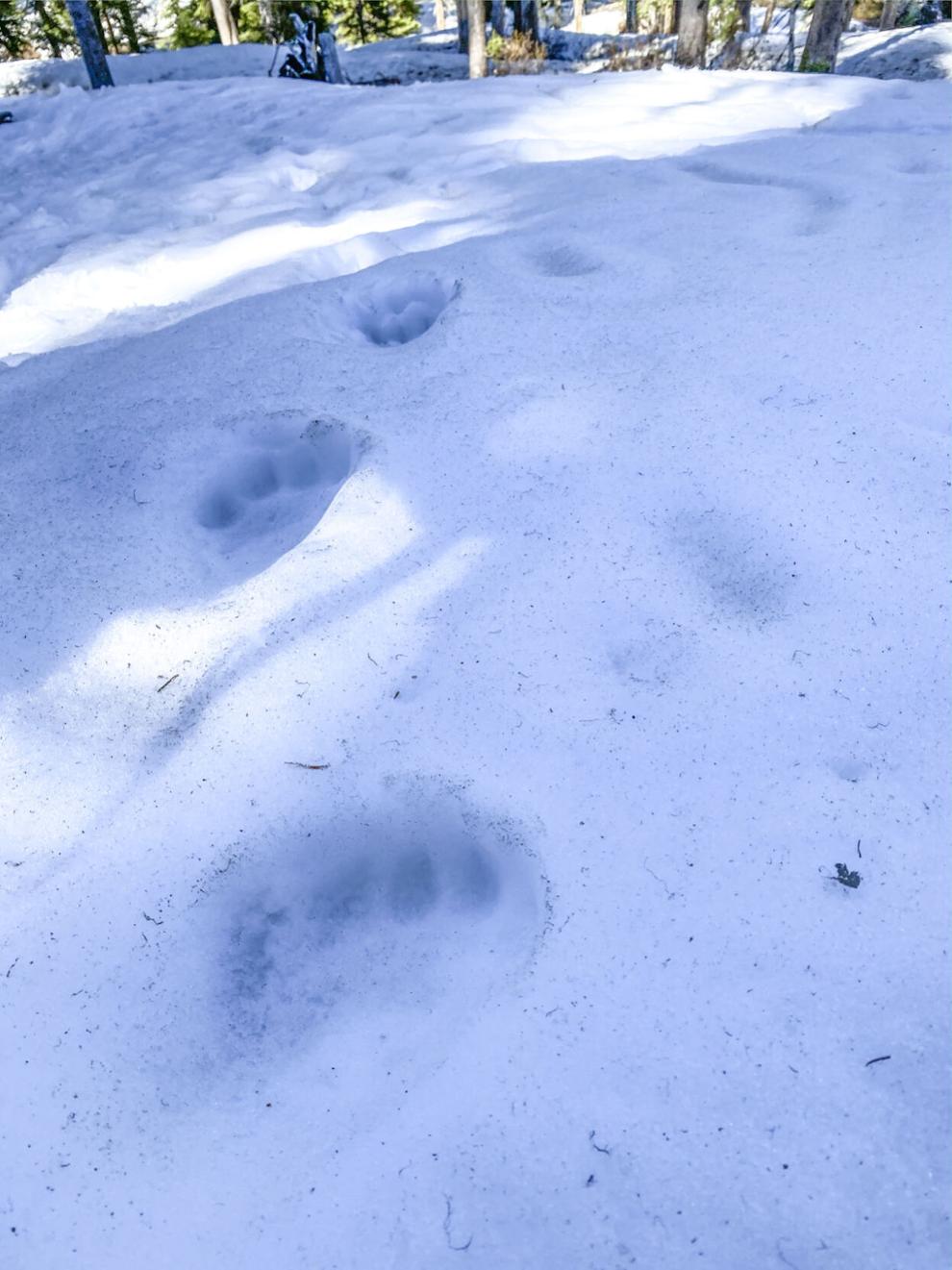 With the switch from soaked shoes to dry ski boots, I began to reluctantly suspect we might make our destination after all, if not ultimately enjoy ourselves.
You can't win them all, I thought.
And that's when we came across the first set of tracks.
"Bear," said Pistolena with conviction, and "Hey bear" was a constant echo through the woods from that point on.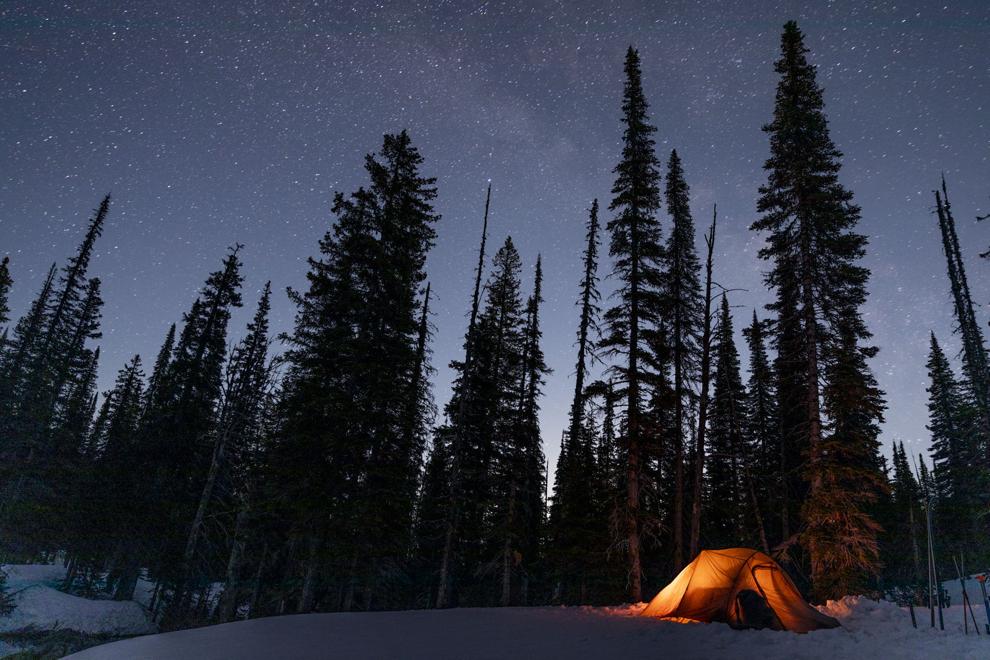 Exhausted, we made camp on the snow not far from You Actually Made It Lake, surrounded by beautiful ski terrain. After dinner, we secured our food high in a tree away from camp, as is prudent in bear country.
As planned, the night was cold.
Come morning, we gathered the essentials — avalanche transceiver, probe, shovel, bear spray, camera, meager rations — and headed for But No Cigar Mountain.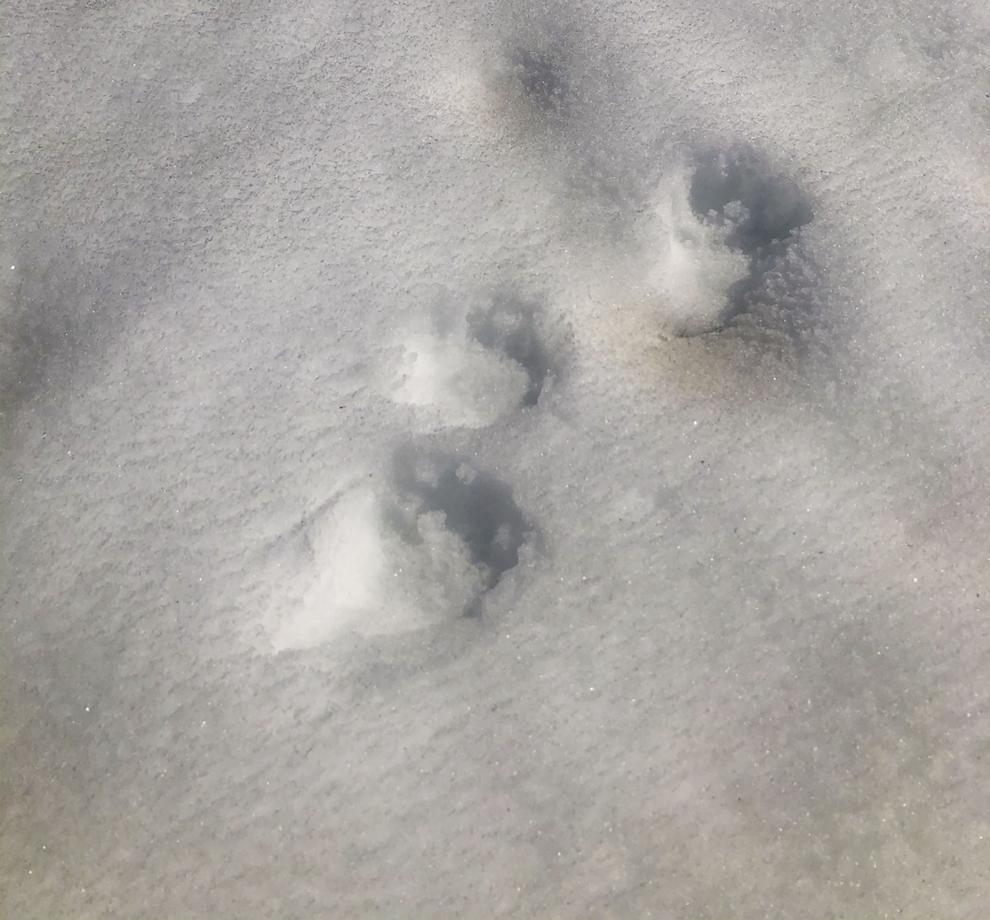 For a while we followed in the footsteps of a pika. Then, to our great surprise, we stumbled upon the tracks of a wolverine — the triple grouping of its lope unmistakable to Pistolena.
"What are the odds we cut the one wolverine track in probably 40 miles?" she said, referring to the solitary animal's vast territory.
The sun was beating down, and the steep slopes on the south and west facing aspects of surrounding peaks were scarred from recent wet snow avalanches. They had mostly broken from the top near rock outcroppings.
As we neared the top of our mountain, it was nearly noon, and the final short pitch above steepened to a concerning 35 degrees.
We'd come an excruciating nine miles, and were just 50 feet from the top. An incredible view beckoned from the summit, but the warning signs were undeniable — hot temps melt the snow, add weight and can release avalanches.
Pistolena suggested we turn back, and I felt the deep satisfaction of failure rush over me. What kind of misadventure would it be if we had made our destination?
It was a personal victory. Finally, Pistolena had let me quit.
The ski down through the spring slush was too good for words — except "Hey bear!" of course.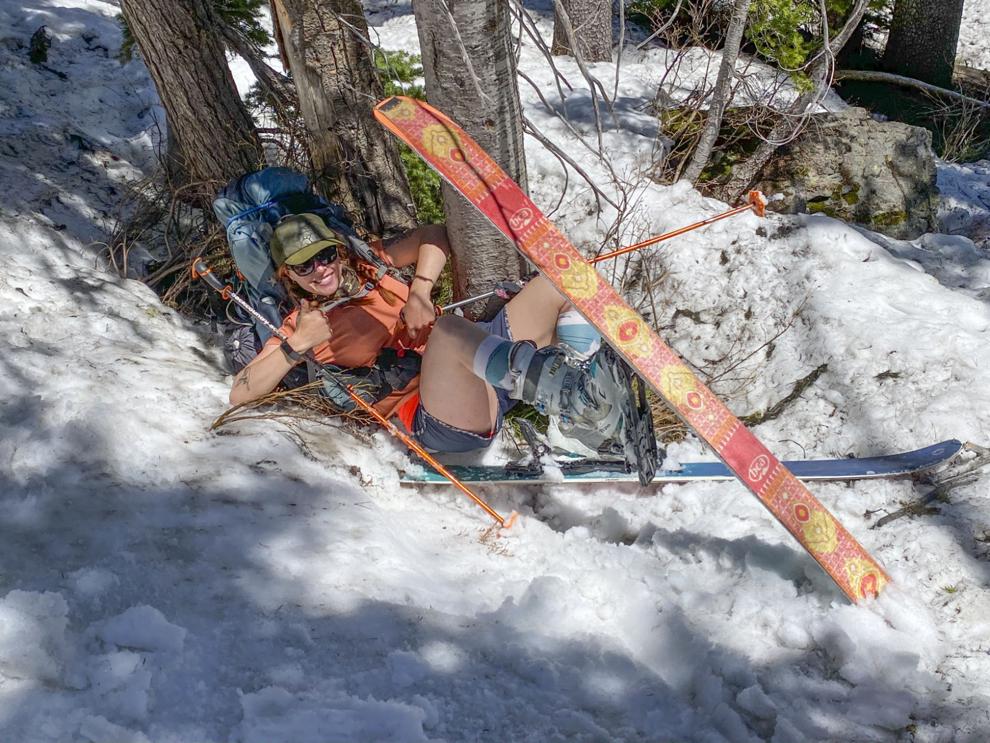 Packing up camp, conversation turned to solitude. We didn't want to leave, and not just because we'd be skiing and hiking under the sinister weight of full packs again.
On the one hand, we decided we preferred the company of bears and wolverines to the crowds of a city. The fact we hadn't seen a single piece of trash or heard another human voice seemed remarkable.
On the other hand, in the city there would be pizza.
We passed another bear's tracks on the return journey, this one a fairly big fella.
We hit an especially unruly stretch of the Bottomless Bog, and Pistolena's legs ran red with blood to prove it.
"We like this," she murmured, and laughed. "But why do we like this?"
We'd been quietly dreading the series of fallen trees at the end, and Pistolena took notice of one last set of fresh tracks as we drew near.
These belonged to a horse, and we wondered how such a beast had gotten around those obstacles. It did not seem possible.
Around a bend, we found our answer. The fallen trees had been cut with a chainsaw.
"Trail magic!" Pistolena said.
We danced to the car and drove back to civilization, spoiled rotten by the fresh memory of the wild.
Then we ordered a big, greasy pizza.