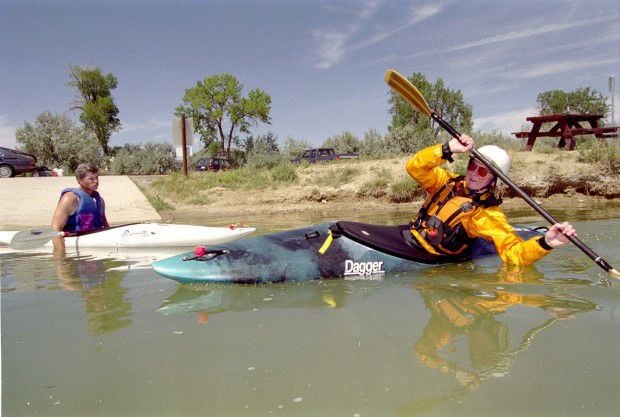 The Montana State Parks Foundation is publishing a weekly showcase of Montana State Parks' 55 properties. 
Inside the city limits of Billings is Lake Elmo State Park. Highlighted by a 64-acre reservoir, Lake Elmo is the perfect place to swim, paddle, fish, picnic, bird watch or hike the 1.4-mile nature trail.
The lake, originally known as Holling Lake Reservoir, was constructed to provide water to irrigated farmland as part of the Carey Land Act of 1894. The modern name of the lake came from Elmo McCracken, who owned the land on the northern shore.
The water that fills the man-made lake is diverted from the Yellowstone River near Laurel and flows through 63 miles of gravity fed canals. Lake Elmo is one of two lakes developed for providing irrigation to farmers in the area northeast of Billings in the early 1900s. The other is Rattlesnake Lake located about 12 miles north of the state park.
Prior to becoming a state park in 1983, Lake Elmo was once the site of a two-story restaurant and night club known for dancing, big band music, and 2-inch thick T-bone steaks. Nearby property owners created beaches for swimming and even cleared snow from the lake in the winter to host ice skating. At one point a thriving boat club was formed by local water skiing and motor boating enthusiasts. The supper club burned down in 1946.
The regional office for Montana Fish, Wildlife & Parks is now located in the park. The office houses a collection of taxidermy birds, fish, and wildlife. You can also purchase conservation licenses and apply for permits at the office, which is open weekdays from 8 a.m. to 5 p.m.
A special feature of Lake Elmo is its Dog Park. The 200-square-foot fenced-in area includes a water area and is located on the west side of the lake. Each visitor is allowed a maximum of two dogs in this special area. Dogs must be 4 months or older. Dogs must be on a leash in all other areas of Lake Elmo State Park.
During the summer the lake is stocked with fish. Roger's Pier is an excellent fishing spot on the south shore of the lake. 
Only nonmotorized boating is allowed on the lake, so you won't find any water skiing here like you could in the 1930s and '40s.
Be the first to know
Get local news delivered to your inbox!