As evidenced by devastating flooding in Nebraska this year, the Missouri River has set a new record for spring runoff.
The total March-April runoff for the upper basin was 18.7 million acre feet, the highest since record-keeping began in 1898 and exceeding the previous record of 15.9 MAF, which occurred in 1952, according to the U.S. Army Corps of Engineers.
The river challenged other records this spring, as well.
April runoff in the upper basin — the Missouri River above Sioux City, Iowa — was 7.8 MAF, the third highest April runoff in 121 years of record keeping. The average April runoff is 2.9 MAF. Runoff in the Gavins Point Dam to Sioux City reach was 2.3 MAF, the second highest April runoff for the reach. 
Looking ahead, the near-record April runoff — which was nearly three times average — increased the 2019 upper basin runoff forecast to 42.3 MAF. If realized, this runoff total will be the third highest runoff in 121 years of record-keeping, only surpassed by 1997 (49.0 MAF) and 2011 (61.0 MAF). Runoff in 2018 was 42.1 MAF, which is currently third highest.
"Gavins Point releases are currently 55,000 cfs, which is about 25,000 cfs above average for this time of the year," said John Remus, chief of the U.S. Army Corps of Engineers Missouri River Basin Water Management Division, in a press release.
Gavins Point Dam is on the South Dakota-Nebraska border.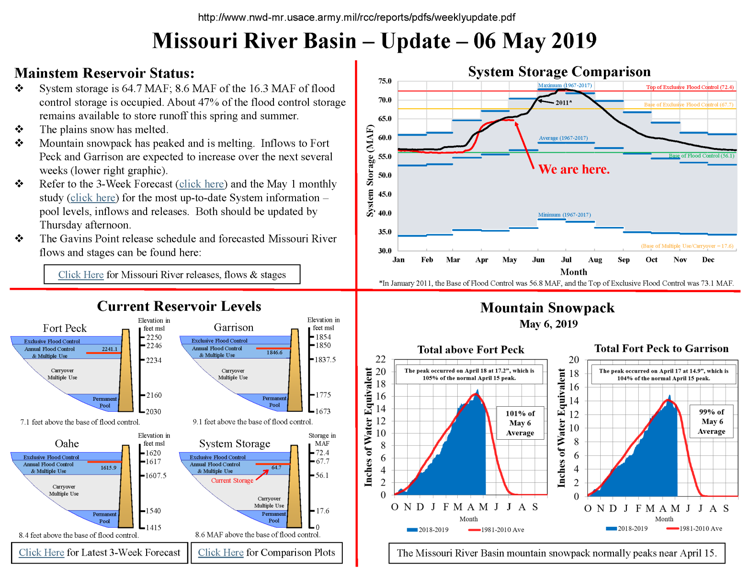 "We will maintain Gavins Point releases at this rate to continue evacuating water from Oahe and Fort Randall, which are using much of their respective flood storage," Remus said.
Register for more free articles.
Stay logged in to skip the surveys.
"We want to reduce the pool levels in Oahe and Fort Randall a few feet to provide flexibility should we need to reduce Gavins Point releases for short periods over the remainder of the spring and summer."
The Corps expects that releases from all Missouri River system projects will be above average for the next several months, and possibly as late as November.
The mountain snowpack has begun melting in the reaches upstream from Fort Peck and Garrison Dams at near-average levels. The mountain snowpack has peaked in both reaches — on April 18 in the Fort Peck reach at 105% of average and on April 17 in the Fort Peck to Garrison reach at 104% of average. The mountain snowpack normally peaks in mid-April.
"Fort Peck and Garrison reservoirs have adequate flood control space to capture and manage the mountain snowmelt runoff," Remus said.
Fort Peck Reservoir has risen to an elevation of 2,241 feet, up 3 feet from the end of March. The exclusive flood control zone starts at an elevation of 2,246 feet.
Once the lake reaches the exclusive flood control zone water may be released from the dam's spillway as quickly as downstream conditions permit.
In the record-setting runoff year of 2011, Fort Peck Reservoir's elevation crested at 2,252 feet. The top of the spillway gates is close to 2,280.5 feet. 
To evacuate that 2011 water, Fort Peck was dumping 52,600 cubic feet of water per second in the month of June.
Right now Fort Peck is holding more than 16 million acre feet of water, with a capacity to hold about 2 MAF more. River inflows to the lake are 19,000 cfs while releases out of the dam are 8,400 cfs.