Missoula resident races to top of Montana's 27 12,000-foot peaks in less than 5 days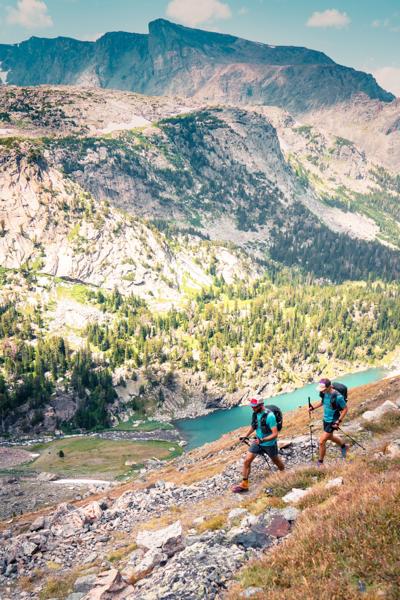 As storm clouds billowed on the ridge below Castle Rock Plateau, two small figures crouched among the boulders, hiding as electricity charged the air around them.
"We ducked into the most overhanging part of the not-very-overhanging ridge," said Missoula ultrarunner Nate Bender. "The static electricity was pinging between the rocks, I'd never heard it so loud — it sounded like hail. With each lightning strike above us it would dissipate, then build again."
On his way toward his 16th peak in three days, Bender had hit a low point. Trapped among the growing storm he admitted, "I'd like to be cavalier that our attitudes were jovial and carefree, but they really weren't. I was nervous about the lightning, and being forced to stop made me realize just how tired I was. I could feel the minutes slipping away."
As the storm passed, Bender still had 11 more peaks to go and another day and a half of mountain travel ahead of him before he would link all 27 of Montana's 12,000-foot peaks in a single, human-powered dash.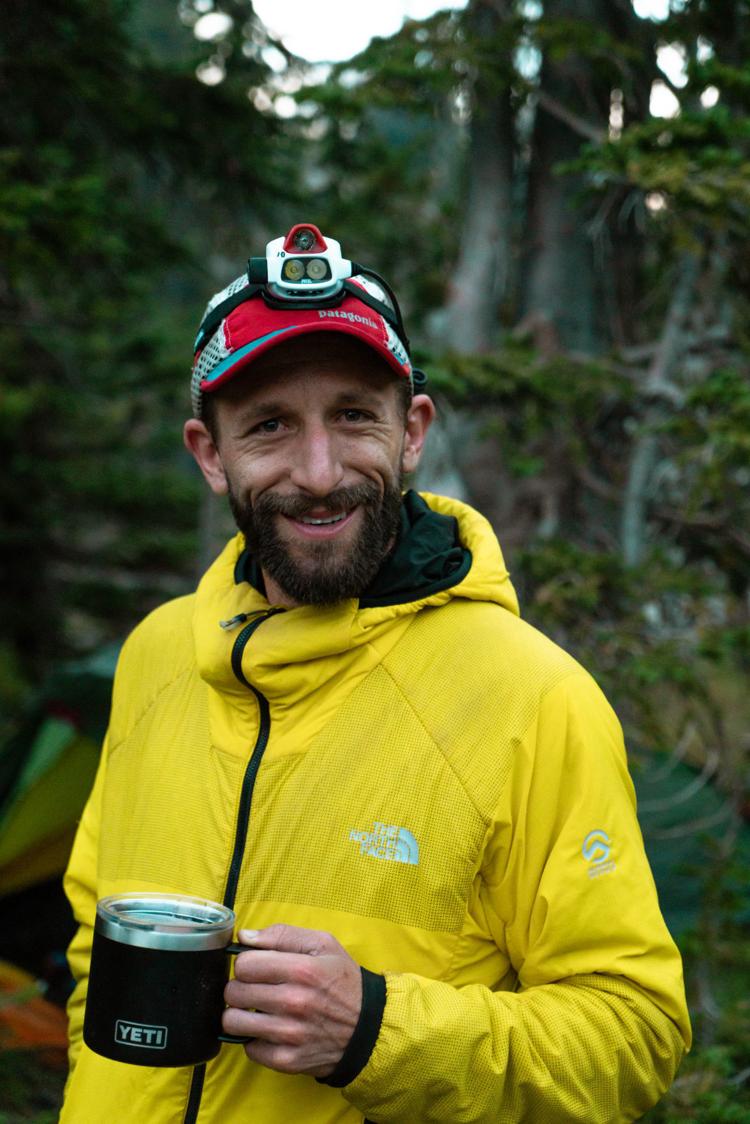 The process
Bender, 30, found himself deep in the nearly 1-million acre Absaroka-Beartooth Wilderness in August thanks to a path years in the making. Raised in Hamilton, he grew up in an outdoorsy family that prioritized river trips, hunting, and shared time in the wild.
"I didn't get into trail running until my sophomore year of college," he said. "I just happened to be hanging out with folks who were into it. But the more I hung out with them the more I was naturally challenged to keep up.
"Before I knew it, a good friend talked me into running a 50-miler called Le Grizz up at the Hungry Horse Reservoir. It wasn't pretty, but I survived the experience. And things snowballed from there."
In 2012, Bender began to look beyond races toward self-defined natural lines and mountain challenges. In Idaho there are nine peaks above 12,000 feet, and connecting these peaks is a prestigious challenge in the mountain running community.
"It's a certain challenge to climb them all, but then there's the speed challenge to climb them in the fastest time possible," he said.
In 2014 Bender made an unsuccessful attempt, and then two years later everything came together when he was joined by professional ultrarunners Cody Lind and Brittany Peterson.
"It was still a huge challenge both mentally and physically," Bender said. They covered "about 43 miles total with 26,000 feet of elevation gain. We finished in just under 38 hours. It opened my eyes to how fulfilling it can be to share these kinds of big, ambitious experiences in the mountains with friends."
From there, he set his sights on the next logical challenge: linking Montana's highest peaks.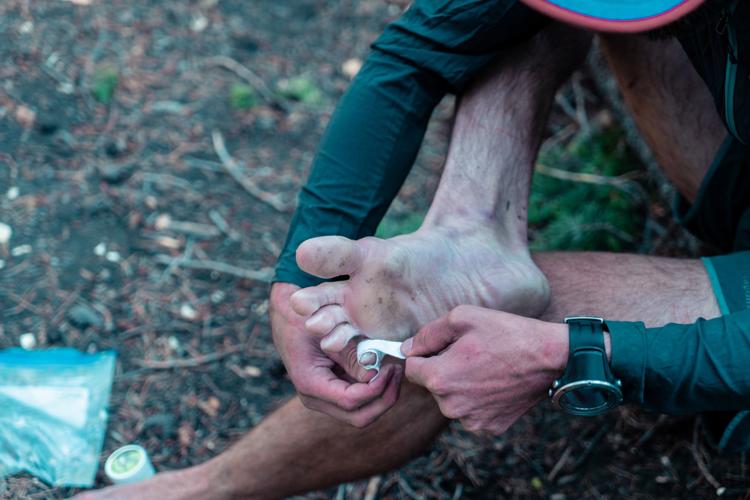 Teamwork
In the winter of 2016, Bender poured over maps and invited friends to weigh in on his plan. The more he researched, the more he was surprised that nobody had yet completed the link-up in Montana.
"It's rare these days that something of this magnitude hasn't been done before. Especially something that is a logical route like the state highpoint challenge."
The route consists of 100 miles of wilderness travel, almost entirely off trail, linking rigelines and summits from Pyramid — in the northwest corner of the range — to Rearguard, just southwest of Red Lodge.
"As a Montana native I loved the idea of pioneering a new route that could help showcase some of the beauty in our state outside of the well-known areas like Glacier and Yellowstone national parks. We truly have some world-class opportunities in the outdoors."
To achieve his goal Bender prioritized putting together a solid crew for support and aid. His support included three groups of backpackers setting up remote camps at the places where the route crosses trails, and also three pacers who ran with him for extensive sections of the route.
After climbing the first three summits alone, Bender met up with Sam Linnet, a longtime friend, former collegiate runner, and accomplished ski mountaineer. Linnet paced him through the next 30 hours for a total of nine peaks — including Granite Peak, the state's high point at 12,799 feet — and on to a remote support camp at Fossil Lake.
"It was just such a profound, fun experience to go and run through the night, share that with friends, and all feel like you're banding together to go and do something that is a little out there, a little crazy," Bender said.
Bender got three hours of sleep at the Fossil Lake camp, then set off with Missoula runner Forrest Boughner — a race director, athlete, Runner's Edge employee, and owner of the new guiding service Alpine Running Guides. Bender and Boughner ran through the next section in the heart of the Beartooth Range.
"The terrain Nate covered for this trip is astounding," Boughner said. "I love standing on top of mountains, but for me the best part was the space in between. The first five miles I was with Nate we traversed through multiple lake basins, up alternately dry, frozen-over, and cascading creeks, and across numerous snowfields. This incredible five miles, and I'm sure the many other miles like this that Nate did without me, made the summits more meaningful."
Boughner helped Bender through day three, crossing the next seven peaks before they woke the Bender family in the middle of the night from their camp at the foot of Sundance Pass.
"My mom brought in chicken soup and bread that she made," Bender said. "Getting to have that kind of familiar comfort food at two in the morning after a huge day in the mountains is pretty tough to beat and pretty fantastic."
Cody Lind, a professional for Scott Running, joined Bender for the final summits and one more night in the mountains. Fresh off a race in Norway, it would be a change of pace for Lind to be moving so slowly through the mountains.
"Nate truly took a step into the unknown and took it to the next level," Lind said. "Very few people realize or understand what the peaks involve and the amount of focus each and every step took.
"Rearguard with Cody at the end — that was rough," Bender said. "There's a 40-foot rock tower guarding the summit that you have to climb. It's a difficult, appropriate capstone to the trip."
Mount Rearguard is the remnant of an immense plateau. Windswept and inhospitable, the mountain rises above the deep gorge of Black Canyon Lake and Grasshopper Glacier. Though most of the mountain is an unconsolidated mass of boulders, on top there is a 40-foot tower of loose rock. At the top of this is a 10-foot-tall cap of solid stone.
"And it's this surreal moment; after five days of moving through the mountains you're blocked by 10 vertical feet of rock that you have to figure out a way to climb" before continuing. "It certainly wasn't the most graceful climbing ever, but I was pretty determined to get up it."
Standing on his 27th summit of the trip, it was all downhill from there.
Together, Bender and Lind charged off Rearguard's plateau, past Moon Lake and its forgiving grassy meadows, and down toward the Glacier Lake Trailhead where the finish line awaited.
"We heard the rest of the crew before we saw them: whooping and clanging the cowbell," Bender said. "We rounded the last corner, ran through the gauntlet of cheering friends and family, and I ran up and touched the trailhead sign to finish it off. After so much effort it was a dream come true to be able to run that last mile and finish strong surrounded by everyone who'd supported me along the way."
Returning home
On Aug. 14, Bender accomplished his goal of successfully linking all of Montana's 12,000-foot peaks in a single human-powered push with a time of four days, seven hours, 44 minutes, 19 seconds. By the time he finished, he had racked up an impressive 48,000 vertical feet of climbing with an average of over 10,000 feet per day.
"The Beartooths was obviously about Nate crushing some mighty goals, but it was way bigger and better because he involved so many friends and family," said his first pacer, Sam Linnet.
Back in the comfort of town, Bender concluded that, "All in all, this was the most intense, amazing adventure of my life so far. It was magical to get out there with pacers and crew in this big experience and have everything come together so well."