Although he has a trophy room of about 100 mounts that feature everything from mule deer and whitetails to bruiser bull elk, one of the newest additions to Scott Chester's collection will be an animal he never hunted.
Montana Wildlife Artistry taxidermy, operated by father and son Mitch and Jim Howe, are preparing a life-sized mount of a bighorn ram for Chester. The base of the ram's horns measured more than 16 inches and stretched out to 44 inches. It would have scored close to 206 inches under the Boone and Crockett scoring system — a trophy-class animal — if it weren't for one large flaw. The ram has a baseball-sized gap burned into the back of the right horn.
"It has a great big hole in it," Jim Howe said. "It's pretty wicked looking."
Chester bought the ram horns in 2013, along with two smaller sets of bighorn horns, at a Montana Department of Fish, Wildlife & Parks auction in Bozeman. He purchased them because they were unusual, and also because in 30 years of applying for a Montana bighorn sheep ram tag, he has never been lucky enough to draw one.
"Obviously if you actually killed an animal like that it would be the trophy of a lifetime," he said.
Struck
The ram was one of nine bighorn rams struck by lightning on Wild Horse Island in Flathead Lake. According to a 2010 Missoulian article, the rams were lounging beneath a ponderosa pine atop a hill when lightning hit. One of the animals was found 30 yards away, probably wobbling off in a state of shock before dying.
The hooves and legs on several of the dead sheep were burned, according to Jim Williams, who was Region 1 wildlife manager at the time, the Missoulian reported. He investigated the kill site and noted that the base of some of the horns on the dead sheep had been darkened by the strike.
Somehow one ram survived. Walking with a noticeable limp, it was photographed with a large hole burned into its right horn, resembling the charred gash in the horns Chester is having mounted.
"It looks like it was blown off, almost," island resident Barry Gordon told the Missoulian in 2010.
FWP Region 1 supervisor Jim Williams said he thinks the sheep died in the fall, not long after his relatives were killed in August. The ram was estimated to be 10 years old.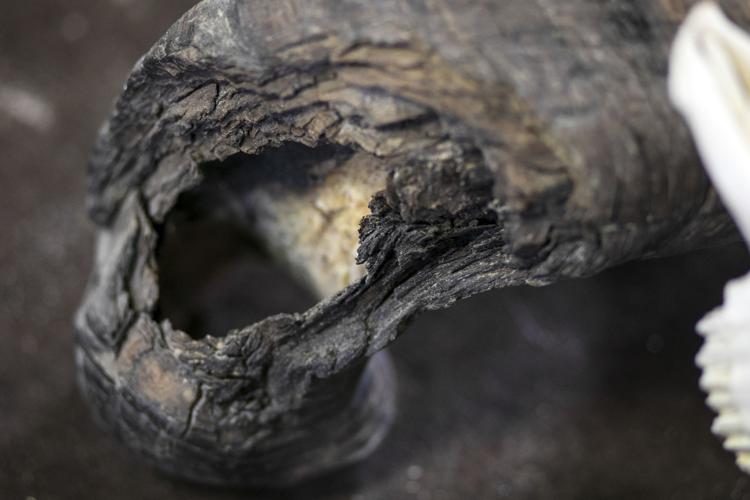 Auction
Every few years FWP auctions off antlers and horns from roadkill or poached animals confiscated during investigations. The money raised goes to the state general fund and then to food banks around the state. In 2017 when two bighorn ram heads were auctioned off, one brought in $2,700 and another fetched $650. 
"The value of wildlife varies so much and is so much about the individual and the aesthetics they like," warden Capt. Dave Holland told the Helena Independent Record at the time. "What I like may not be what you like so it's so hard to put one value on something."
FWP sold the burnt bighorn to Chester for $3,250. He also purchased the horns of two smaller rams that he had taxidermists prepare as European mounts — just the skull top and horns.
Wild Horse Island — the largest island in Flathead Lake, the majority of which is a state park — is known for its superior bighorn sheep genetics. In 2018 a 9-year-old Wild Horse ram that died of natural causes was scored at 216 3/8 inches, breaking the old world record by nearly 7 inches. The massive ram's horns and skull tipped the scales at 48 pounds.
The two other lightning-struck rams Chester purchased scored close to 180 inches. They adorn a wall in his Phoenix home.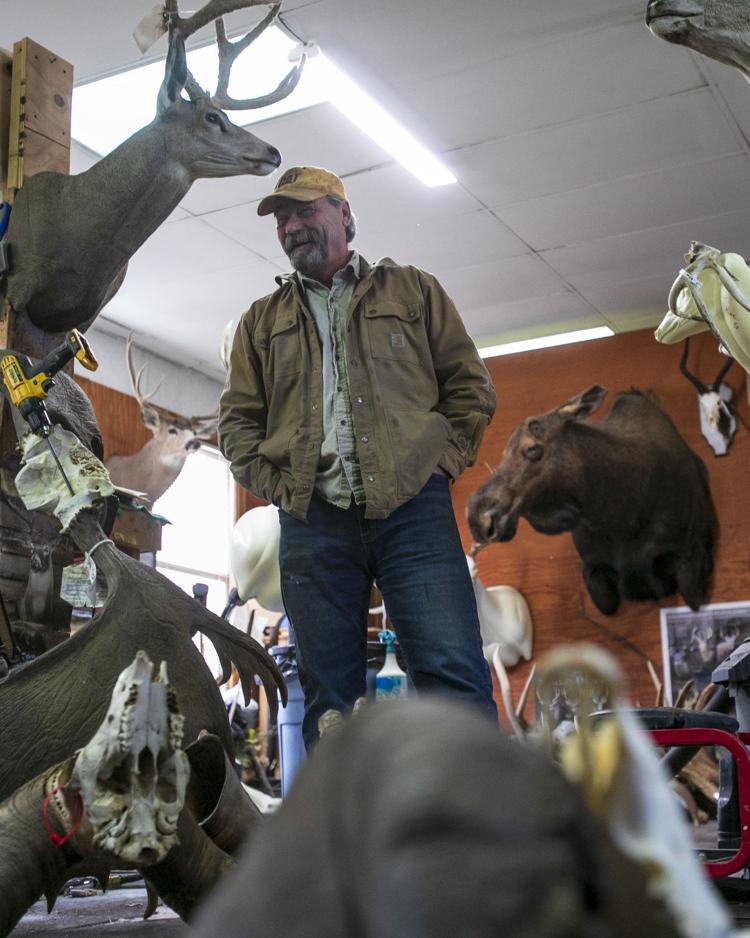 Hunter
A lifelong archery hunter, Chester left his North Dakota homeland as a young man to search for elk in Washington. He later moved to Alaska before relocating to Montana. He's pursued a variety of wildlife, but his favorite hunt is stalking bull elk during archery season.
Chester turned his passion for elk into conservation, working as a Rocky Mountain Elk Foundation board member. While a volunteer for RMEF, Chester was featured in several episodes of the nonprofit group's "Team Elk" hunting videos.
Taxidermy
Although Chester's barbecued bighorn ram is unusual, taxidermist Jim Howe said it isn't the strangest animal he and his father have worked with since the business opened in 1994.
Hollywood prop men used to be regular clients, and they often had odd requests, he said. Petey the Parakeet for the movie "Dumb and Dumber," starring Jeff Daniels and Jim Carrey, was a Howe creation. They also created several animals for the movie "Doctor Doolittle," "Geronimo" and a warthog in the movie "Anaconda," Howe said.
"They used to call us pretty regular," he added. "Nowadays they went digital."
Got away
Chester has a room full of mounts, but he said his greatest hunting memory is of a bull elk he encountered in Montana's Spanish Peaks while archery hunting with a friend. High atop a mountain with nothing but a small bush to hide behind, a herd of about 30 cow elk and satellite bulls passed within 80 yards of him. His comfort range for shooting is about 60 yards, he said, so he sat back and enjoyed the expansive mountain view and wildlife parade.
His relaxation was interrupted when a trophy-class bull appeared, trailing the herd, pausing every now and then to nibble at the grass. The bull was within 30 yards when Chester released an arrow and heard a loud "thwack." The bull jumped, and Chester thought he had struck his target. Instead, as the bull ran off he saw the arrow embedded on the inside of the elk's opposite antler. The antlers were so wide that the arrow didn't stretch across to the tines on the other side.
Chester said he sometimes has a difficult time remembering where he shot a certain animal that now graces his trophy room, but he never forgets the huge Spanish Peaks bull that got away.
When the Howes finish their taxidermy work, the scorched bighorn ram will be positioned on a large rock fireplace in Chester's trophy room. It will become another animal with an interesting story behind it, even if the tale is not of Chester's own making.
"It's kind of cool he ended up staying in Montana," Chester said.