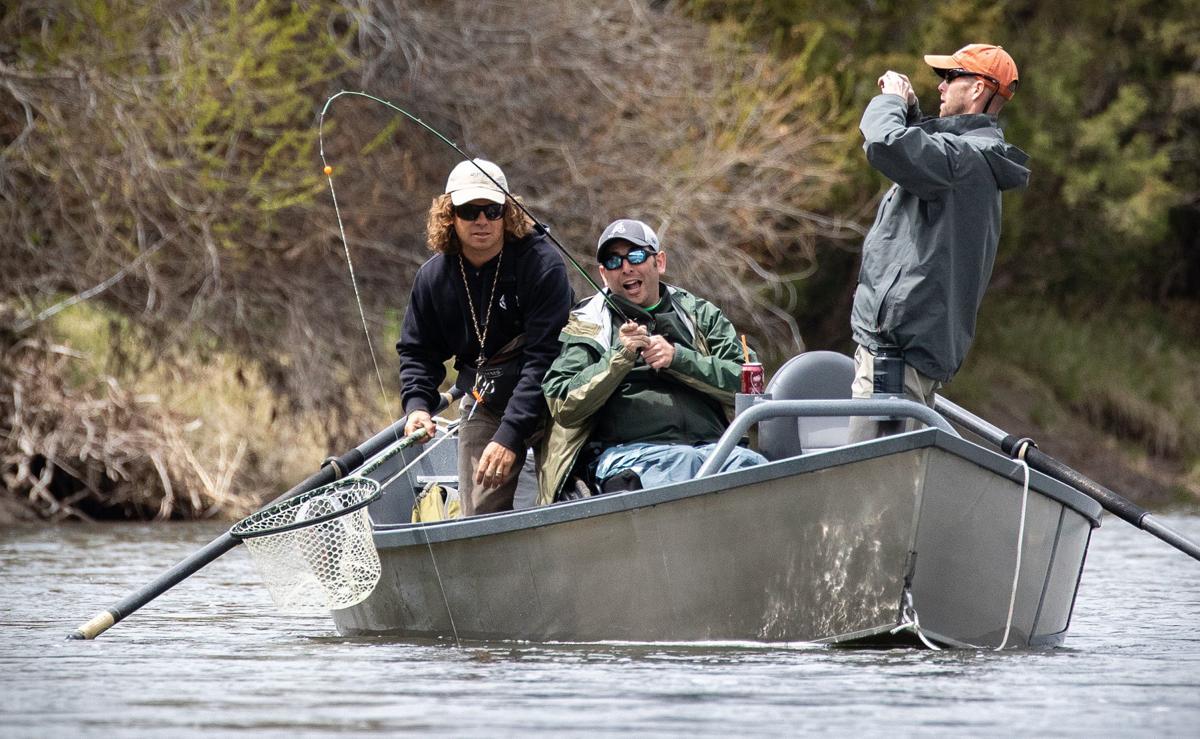 Hanging on the wall in Brett Nienhuis' living room are three 8-inch-by-12-inch photos of an angler in a wheelchair reeling in a fish from a drift boat — an aluminum boat that Nienhuis built in his Lewistown shop.
"I still get choked up when I look at the photos," he said.
The 16-foot boat, named the Inspiration model, was fitted with a door on the port (left) side to which a hideaway ramp can be fitted to roll a wheelchair onboard. Once on the craft, the wheelchair can be fastened down on a non-skid floor. A seat to the left of the wheelchair allows a guide easy access to help the angler fish.
"That's my Mona Lisa," Nienhuis said. "It's hard to describe how good that feeling is. In my mind I don't have to build another boat. I'm a Podunk nobody, but I came up with a way to do something that nobody else has."
He built the boat "a thousand times" in his head before cutting a 27-inch-wide hole in the side and installing a hinged door with a seal at his shop, Big Fish Boat Works. To ensure it didn't leak he loaded 13 people in the front of the craft while it was afloat.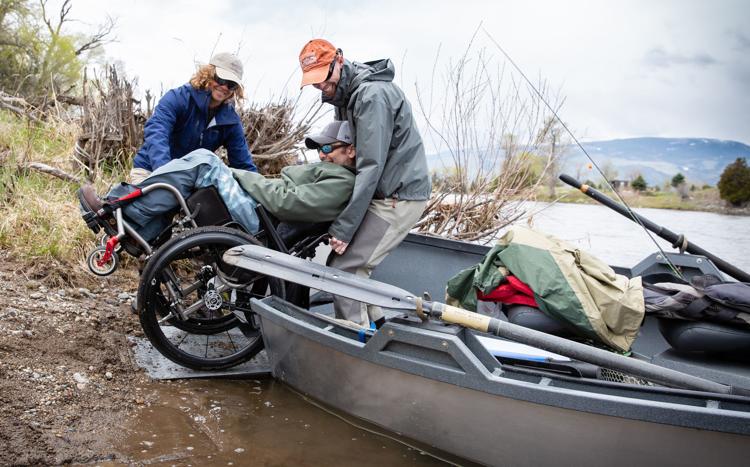 WQW
In May, one of Nienhuis' wheelchair-accessible boats debuted at Warriors and Quiet Waters, a 12-year-old Bozeman-based nonprofit that provides veterans, their caregivers and their spouses a chance to learn how to fly-fish, as well as an opportunity to spend a week fly-fishing in Montana with a guide.
So far the program has served close to 900 people, said Faye Nelson, executive director. From hosting 14 people in the first year WQW has expanded to cater to more than 100 people a year, a $1.8 million endeavor that doesn't include volunteer hours.
"It's a high cost for a high-touch experience," Nelson said.
The cost runs about $5,000 per warrior because WQW picks up the tab for airfare, food, lodging, transportation and also supplies each person with top-end fly-fishing gear they get to keep.
"We want to take every obstacle out of the way for them to continue this peaceful, mindful practice after they leave," Nelson said.
Of those who have attended, 81% have continued fishing, she added.
"Our goal isn't to turn everyone into a fly fisherman," Nelson said. Instead, the idea is to get them to learn a way to experience an activity that's peaceful and relaxing when they get home.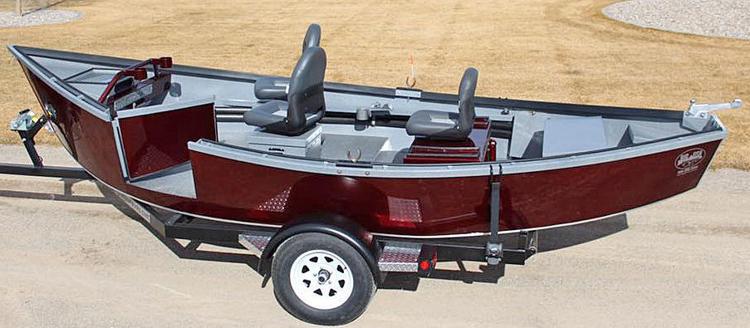 Guide approved
The 50-year-old Nienhuis can relate to WQW's mission. His grandfather had Parkinson's disease, was a veteran and was partially disabled. His father was a veteran who was 100% disabled. The men also taught him how to fish. Building a wheelchair-accessible boat honors Nienhuis' connection to the sport, anglers and veterans.
"As far as I'm concerned, that's the best boat I will ever build in my life," Nienhuis said.
Bozeman guide Jesse LeNeve of Three Dog Outfitters was the first to paddle the boat for WQW. Considering its large size, he was pleased with how easy it rowed and appreciated its durability compared to the fiberglass boats he's used to rowing.
"It's got a really slick bottom on it," LeNeve said. "You almost have to be careful unloading it" because it slides off the trailer so easy.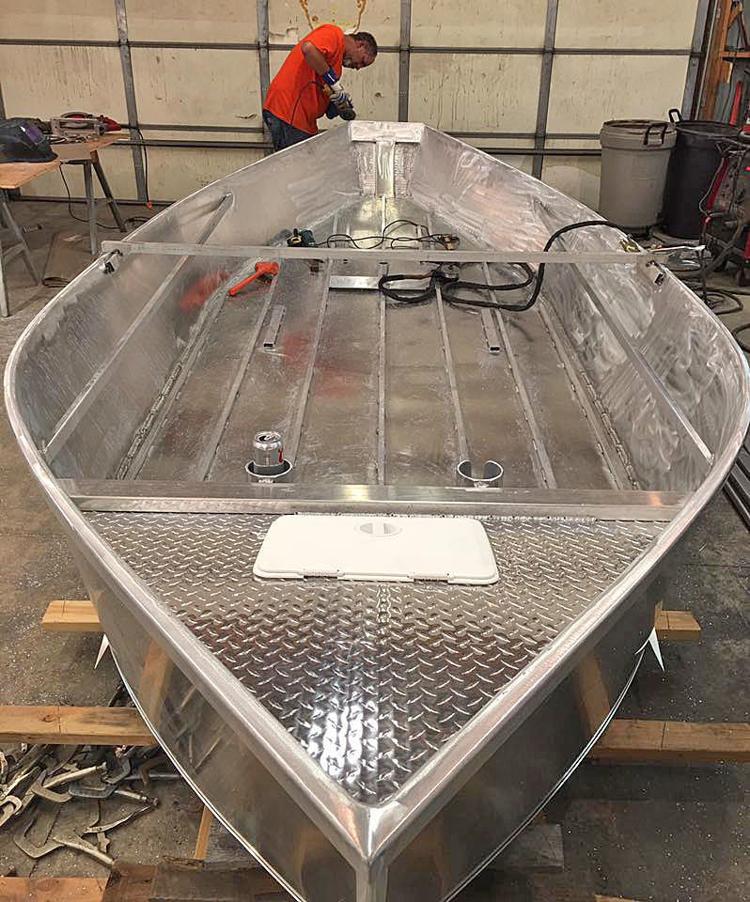 Water boy
Nienhuis grew up on Whidbey Island, just north of Seattle in the Puget Sound.
"We'd go salmon fishing every day after work," he said.
After taking vo-tech classes in high school he got jobs working in boat yards before traveling to Alaska as a commercial fisherman and crabber.
In 2005 he moved to Idaho and began a five-year gig as a salmon and steelhead fishing guide on the Clearwater River. He once landed a 27-pound, 4-ounce, 49-inch-long salmon. Such big fish have spoiled him for chasing much smaller trout on Montana's rivers.
During his Idaho job he rowed a variety of drift boats, getting a feel for what designs suited his needs. After acquiring that knowledge, he built his first boat in 2007. He liked being on the water so much that he even got married in a drift boat.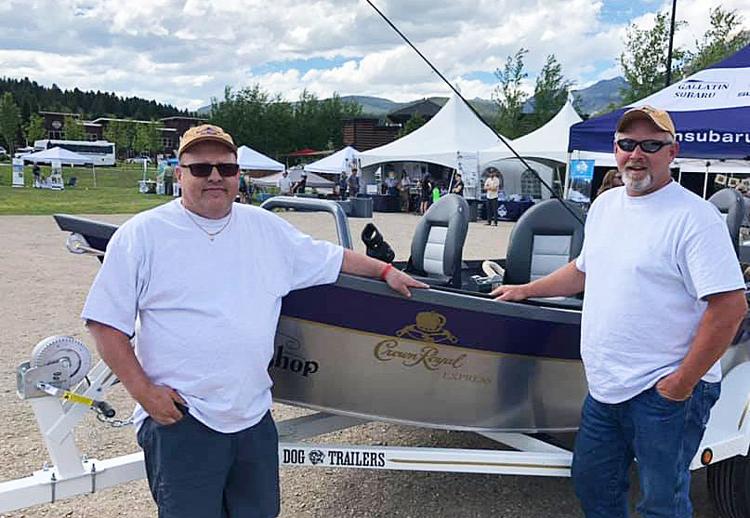 Montana made
Twenty-six years ago he moved his family to the landlocked community of Lewistown while working in the oil fields of Eastern Montana and North Dakota. On his days off he began building and repairing aluminum boats, or anything aluminum.
"I truly love building boats," he said.
Buyers are happy when they pick them up, he added, and they plan to have fun in their boats. What's more, he can custom design them to the buyer's specifications for seats, rod holders, dry boxes and more. From start to finish he tells customers he can build a boat in 30 days. The trailers are manufactured in southern Idaho.
"We've got it set up now where I can build one by myself," he said, although his 21-year-old son Hunter often pitches in when he's not running one of the family's other businesses, a septic pumping service. Nienhuis is also a general contractor.
"You can't do one thing" to afford to live in Montana, he said.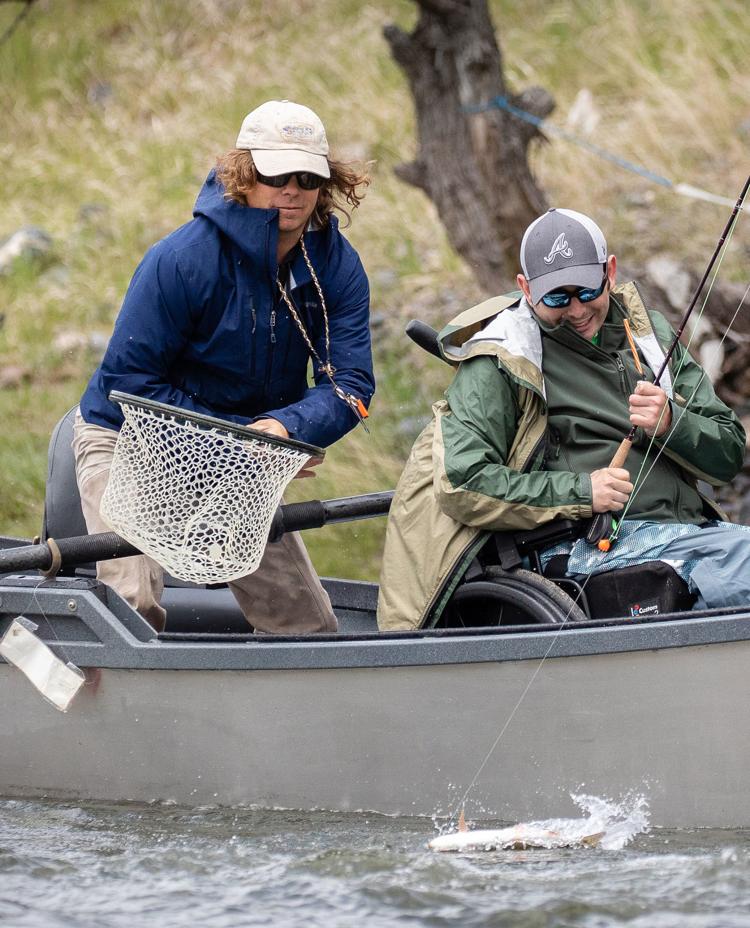 Manufacturing
Nienhuis began by building four to five drift boats a year in his spare time. He even has his own paint shop. His personal boat has a Crown Royal whiskey logo and purple paint to match the liquor's trademark flannel bags.
Prices for Nienhuis' boats start at $10,800 for a low-sided 16-footer with trailer. Adding special touches can raise that price as high as $20,000.
Aluminum drift boats are not a common sight on Montana waters. Part of the reason may be the weight. The state's shallower waters don't seem conducive to an aluminum boat that can weigh 480 pounds, about 100 pounds more than a comparable 16-foot fiberglass boat. Nienhuis' 18-foot aluminum boat weighs around 550 pounds.
"People like fiberglass; they think it's quieter and better," Nienhuis admitted. "But if you crack a fiberglass boat, you can fix it, but you'll never know if it's as strong."
With an aluminum boat, Nienhuis can weld any breakage to make it as strong as the original. A bottom coating can also be added to the aluminum boats to make them row "just as nice and slippery as a glass boat," he said.
Even his 21-foot boat, with three anglers and all their gear, will draft only 4.5-inches of water. His 16-foot boat is 72 inches wide.
"Nobody else makes a bigger 16-footer. The footprint is like a snowshoe," Nienhuis said, spreading out the weight across the water's surface. With less boat in the water, he said it's easier to row.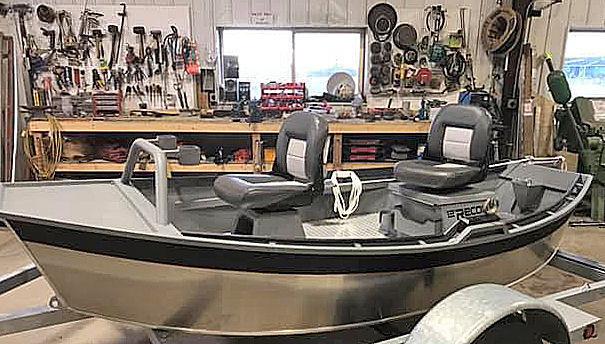 No ads
So far all of his business has been word of mouth. Nienhuis has built a couple of specialty boats that nonprofit groups have auctioned off to raise money. Photos of the crafts can be seen on his Big Fish Boat Works Facebook page.
"I don't advertise, and I stay plenty busy," he said.
Nelson said Warriors and Quiet Waters on average has only one participant a week with mobility issues.
"We've always been able to take them on a regular drift boat, and it's a little more work and makes their experience a little less comfortable," she said. "So the new drift boat makes it more comfortable and enjoyable."
"Everyone is going to be really happy with" Nienhuis' accessible boat, LeNeve said.
Be the first to know
Get local news delivered to your inbox!