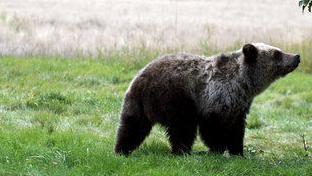 A grizzly bear blamed for killing multiple yearlings on a ranch near Avon was trapped and destroyed Monday.
Ranchers riding horseback were checking cattle when they came across the grizzly on a yearling carcass Saturday evening, said Rory Trimbo, Anaconda-based grizzly specialist for Montana Fish, Wildlife & Parks.
After U.S. Department of Agriculture's Wildlife Services personnel responded to the depredation at the Ophir Creek-area ranch northeast of Avon, FWP personnel inspected the area Sunday.
When they did, they came across another chewed up yearling — a little less recent carcass.
"That one was pretty well consumed," Trimbo said.
FWP personnel set a culvert trap at the site where the first carcass was found, leaving a yearling's leg for bait.
Monday morning, landowners called FWP. The trapdoor was down, and an angry 5- or 6-year-old, 411-pound grizzly was inside, filling almost the entire trap.
"He was not happy about it," Trimbo said. "Sometimes you will poke your head to look in the window at them, and those big ol' finger-length claws will come out through the gate or the bars. So you don't want to get your face right next to it."
While not unusual for a captured bear to be worked up, it's not always the case.
A different grizzly captured from the same ranch on May 6 was comparatively relaxed when FWP personnel approached it in the trap, and even when shot with a tranquilizer to collar and take data. That bear was relocated to a remote area in the upper Blackfoot Valley.
"That one was super chill the whole time. So it really just depends on the individual bear," Trimbo said.
After capture Monday morning, the bear was transported to Missoula in the culvert trap. The bear wasn't tranquilized for the ride, Trimbo said, which is safer for the bear.
In the end, the U.S. Fish and Wildlife Service gave word, and the bear was destroyed, said Jamie Jonkel, west-central Montana bear specialist for FWP.
Officials believed the euthanized bear was responsible for a third incident of depredation and possibly a fourth, in addition to the two yearlings killed over the weekend, Jonkel said.
"Usually when we get adult males that kill multiple livestock on the first incident that's fairly common," Jonkel said of the U.S. Fish and Wildlife Service decision to euthanize the bear.
"If we don't know, a lot of times they're relocated. And if they come back and kill another sheep or kill another calf, then that's a no-brainer. But the evidence was quite clear that he had killed these two last yearlings," Jonkel said.
Background
There were multiple grizzlies confirmed in the area over the past two months, in close proximity to cattle-calving grounds on local ranches, FWP officials said.
The bear that was captured and relocated alive was seen digging in a boneyard at the ranch.
Ranchers often deposit livestock carcasses in one area.
After bears first started showing up in the area this year, Trimbo said landowners put dirt over the boneyards, but it wasn't enough to deter the bears.
"They can still smell it under there," Trimbo said.
When Trimbo and colleagues first heard about the second bear on the yearling carcass, they were concerned it might be the same bear they relocated.
They were relieved to hear the bear wasn't wearing a collar, meaning it was likely a new bear.
The collars don't always work as they're supposed to. After the first bear was relocated on May 6, FWP didn't pick up a signal from the collar until weeks later on Sunday, Trimbo said, the same day they set the trap for the second grizzly.
The first bear was safe and sound in the Bob Marshall Wilderness after all.
"He's in a good spot," Trimbo said.
The Avon area has seen steady grizzly presence in the last three or four years, Jonkel said, but depredations have been uncommon. In 2011, some calves were killed, and a trap was set, but a bear was never captured.
A young 271-pound female grizzly was captured in the area during the summer of 2015 after killing two domestic sheep. Earlier a llama had been killed as well. That bear was given a second chance, relocated way up to the South Fork of the Flathead.
That was the farthest south officials ever captured a female grizzly bear in FWP Region 2, although in 2015, FWP verified the tracks from a sow grizzly and cubs near Basin.
Unfortunately, the Avon female got into a bee yard in the Flathead Valley the following year, and was destroyed.
Prevention
As more bears start to show up, measures to bear-proof the land are all the more important, Trimbo said.
"That's what we're trying to do with these carcass pickup programs," he said.
"A boneyard is kind of like a bar. Trixie's and the Copper Queen and The Filling Station in Seeley Lake are visited pretty regular by all the mill workers and ranchers and locals. Boneyards are kind of like that for bears — black and griz — once they discover a boneyard, they just keep coming back," Jonkel said.
FWP has worked with communities to put carcass removal programs in place nearby in the Blackfoot-Clearwater, Ruby and Big Hole valleys.
Trimbo's been hard at work trying to get a carcass pickup program off the ground in Deer Lodge, which would likely cater to the Avon area, he said. They've acquired grant funding and talks are underway with the landfill.
"Instead of putting it in a bone pile, we'll come pick it up and bring it to these composting sites, and get that attractant off of their land," Trimbo said.
Carcass pick-up takes some encouragement, Jonkel said, but folks are starting to catch on.
"It's a process. It's slow. You know how it is. I hate change, too. But seeing a bear dig it all up I'm sure helped," Jonkel said.
Since the incidents, adjacent landowners have been calling the bear specialists, trying to see what they can do to prepare, Jonkel said.
"I'm just tickled that these guys are calling me and we're starting a carcass pickup program, because it really makes a difference," he said.
It took 10 years for Jonkel to get a carcass program in place in the Blackfoot-Clearwater. It happened much the way it seems to be happening in Avon. Bears trickled in and out of the Blackfoot for a long time until the dam burst.
"Bang, they were on these boneyards, and next thing we knew we had 11, 12 bears working two or three ranches' boneyards," he said.
The carcass program has been going strong ever since.
"We're just starting that process down in the Avon area. So they didn't do anything wrong," Jonkel said of the Avon ranchers. "We've got them on board now."
Producers can also reduce the risk of depredation by electric fencing small calving pastures, pens and corrals.
The ranch where the depredations occurred was very large, however.
"Trying to electrify an entire place like that is probably out of the question," Trimbo said. "But luckily they're willing to work with us."
The landowners weren't entirely in the dark about grizzlies, Trimbo said. Neighbors had reported them before.
"The bears are really showing up all over the place. We're telling people, anywhere in western Montana now, just expect to see some grizzlies," Jonkel said.
Expansion
Last year was Trimbo's first full year on the new job in Anaconda.
He had only one capture, a male grizzly near Gold Creek in the fall. This year two grizzlies were captured in Avon, and the Gold Creek bear, known as Lingenpolter, showed up at a chicken coop in Drummond in April.
Lingenpolter wasn't captured a second time. He made his way to the Garnets for a while, crossed Interstate 90 again, and is now roaming in the Flints.
"That's a good spot for him," Trimbo said.
An interagency effort to track the expansion of grizzly populations is underway, and the future of grizzly management lies in places like Avon, Anaconda-Deer Lodge and the Big Hole Valley where populations from the Greater Yellowstone and Northern Continental Divide ecosystems stand to connect.
As scientists study the bears' movements, Trimbo is trying to prepare landowners for their arrival — for the sake of people and bears alike.
Distributing livestock away from brushy cover and creeks during the spring and summer when bears frequently travel along these areas can also help. Also, putting salt, mineral, and creep feeders out in the open away from brush and water can prevent problems.
In and around towns, attractants can include other things like pet food, garbage, barbecue grills and bird feeders. These sorts of items should be secured to prevent attracting wandering bears.
FWP specialists are there to help landowners and communities avoid bear conflicts. To reach Jonkel, call 406-542-5508. To reach Trimbo, call 406-465-9343. In cases of depredation or wounded livestock, call your local USDA Wildlife Services agent.
Grizzly bears are still protected under the Endangered Species Act, and final authority regarding their management is up to the U.S. Fish and Wildlife Service.
As bears leave behind protected zones to establish new corridors, conflicts are inevitable. Wildlife managers and landowners can work together in the new zones to make the transition as peaceful as possible.