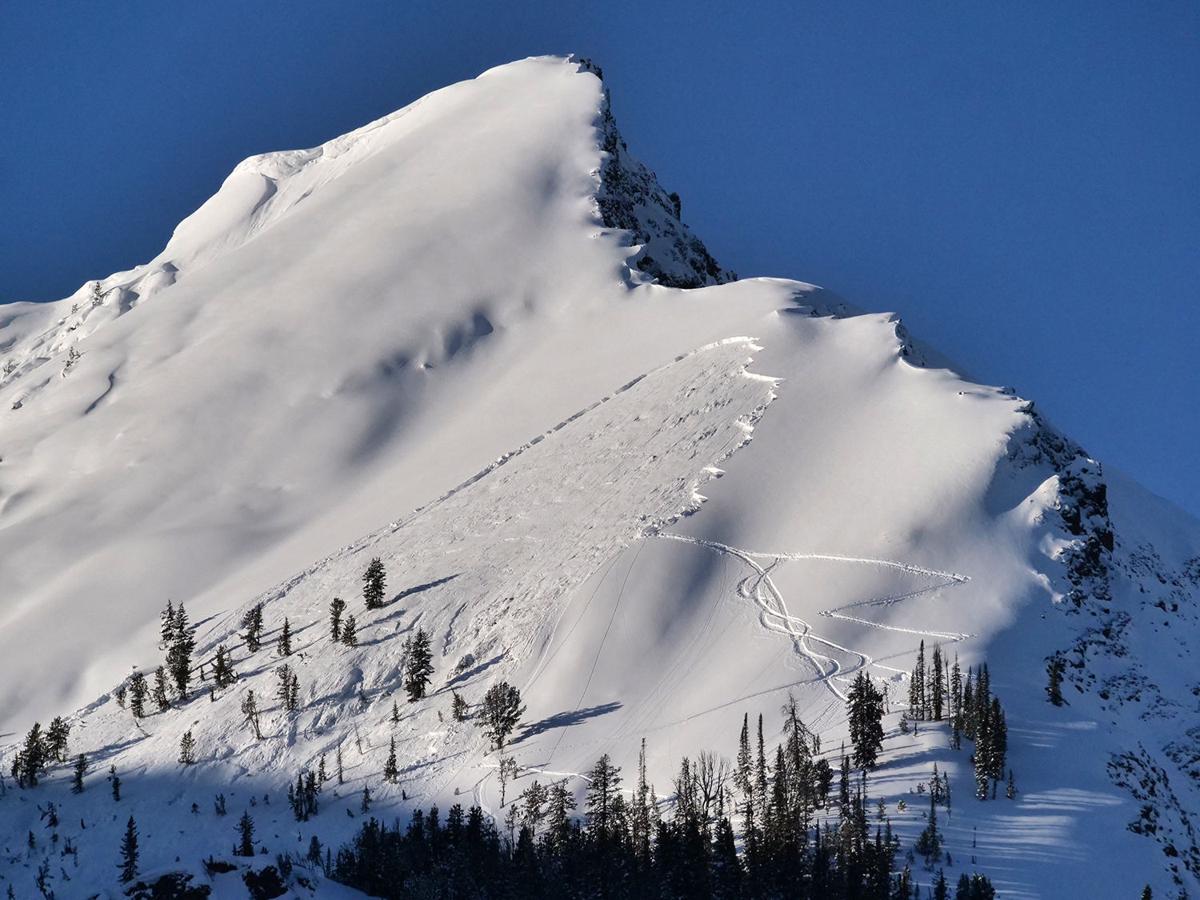 An avalanche on Friday south of Cooke City swept three Bozeman-area skiers down Republic Mountain. One was seriously injured and had to be evacuated by helicopter and another was temporarily unconscious and not breathing, according to a report by the Gallatin National Forest Avalanche Center.
"It's super serious avalanche terrain," said Doug Chabot, director of the GNFAC.
All six skiers involved were carrying avalanche beacons and rescue gear as they climbed up the slope at an elevation of 9,700 feet. They had earlier tested the snowpack by digging a 6-foot deep pit to examine its layers for instability.
"They were doing a lot of things right," Chabot said.
The avalanche broke about 1.5 to 2 feet deep approximately 250 feet above the skiers in an area known as The Fin. Three skiers were swept downhill as the avalanche expanded to 200 feet wide and snow rumbled 700 feet down the mountain.
"This was a large avalanche, and it went through some really bad terrain," Chabot said in a video shot as he investigated the incident on Saturday. "It just made my stomach sink seeing this huge avalanche going through some really bad, complicated terrain. Thank God no one died."
One skier was able to deploy his airbag, which keeps avalanche victims from being buried. He quickly freed himself and began searching for his partners. Downslope he found his fellow skier buried head down, his mouth packed with snow. He freed the skier and cleared his airway so he was able to breathe on his own. Despite an injury to his leg, the victim was able to ski out.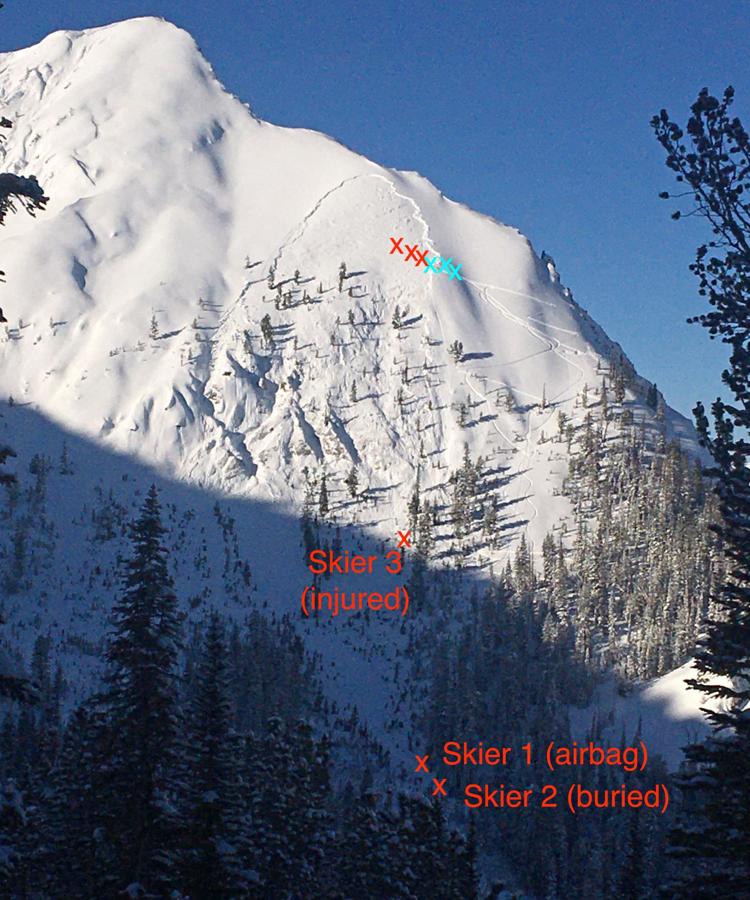 In the meantime, the other three skiers who had avoided the avalanche found the third victim. He was buried higher on the mountain after being pushed across rocks. The tumble had caused injuries to his ribs and a collapsed lung, Chabot said.
The skiers had two-way radios and contacted a person in Cooke City who notified Park County Search and Rescue. Cellphones do not work in the remote area between Yellowstone National Park and the Absaroka-Beartooth Wilderness.
Two members of the search and rescue snowmobiled and climbed to the avalanche zone with medical and survival gear in case they had to spend a night on the mountain. The difficult terrain required a 1,200-foot ascent and then a 400-foot descent to reach the avalanche zone.
The rescuers helped stabilize the injured skier while awaiting a helicopter to fly from Jackson, Wyoming, to evacuate the victim. Normally a helicopter from Bozeman would be called, but the Gallatin Valley was fogged in, barring takeoff, Chabot said.
The avalanche occurred at around noon. By about 4 p.m. the helicopter arrived and used a long-line to lift the victim out. He was then transferred to helicopter and flown to a regional hospital for care. While awaiting the helicopter, the skiers and rescuers made a fire to stay warm.
In many ways, the skiers had done everything right. They were carrying beacons, had rescue gear and even dug a pit to assess the likelihood of an avalanche. Their mistake was not checking the snowpack in the place they decided to ascend the mountain, Chabot said.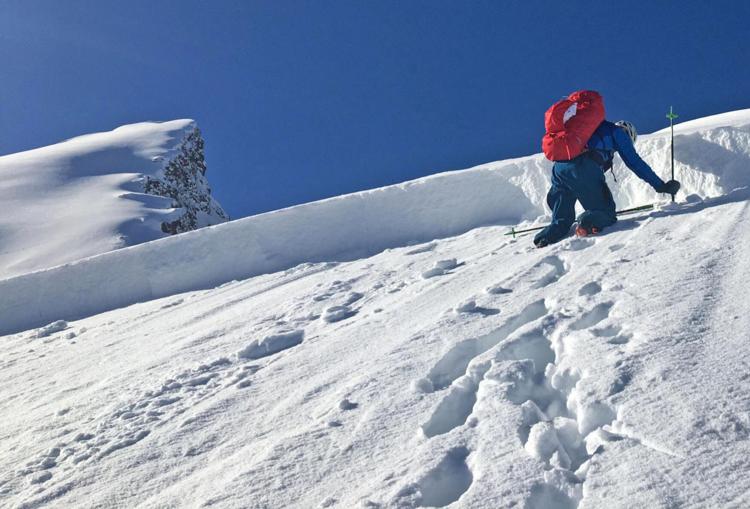 "A hundred feet off to the side the snowpack changed," he said, to an area with much less snow, only three feet. "What catches people off-guard is how quickly things change.
"In terrain like that you have to be 100 percent sure" that the snowpack has no instabilities, Chabot added. All week long in its daily reports, the avalanche center had warned the snowpack was unstable and avalanches had been remotely triggered on even low-angle slopes. However, the Cooke City area had been standing out as a much more stable snowpack when compared to the other areas in southwest Montana.
"It's not going to get better anytime soon," Chabot warned, because a weak layer of snow still sits underneath. As more snow falls, the weak layer has a higher chance for sliding under the increased weight.
"It's different this year because it's not taking a lot of snow" to trigger an avalanche, Chabot said. "The layer is so weak that 4 to 6 inches is enough weight to make it run.
"That makes it a little scarier."
Intensifying the likelihood of more such incidents is an upcoming holiday, Martin Luther King, Jr. Day on Monday. This could mean more people skiing, snowboarding and snowmobiling in the backcountry. Cooke City is already seeing an increase in visitation this year, up about 50%, based on an entry station counter, Chabot said. That counter doesn't include visitation coming in from the east side, closer to Cody, Wyoming.
"Our fingers are crossed that people will continue to get lucky," Chabot said. "But it's a bit of a losing battle if you're relying on luck."
Chabot added that it will take time before the snowpack is stable, because right now even under moderate conditions people are triggering avalanches.
"You have to be really careful about where you're headed," Chabot said. "It's a bit of a minefield."