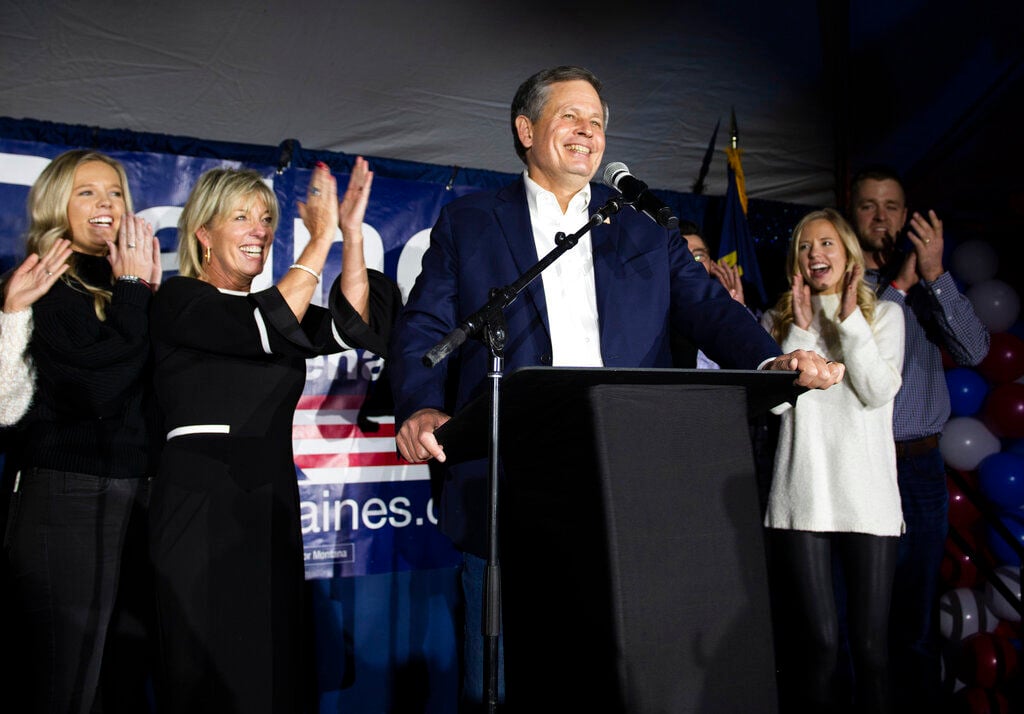 Congratulations, Montana Republicans.
The red wave experienced Tuesday in the Treasure State has been building for some years. The figures are startling: Democrat Mike Cooney received only two percent fewer votes than victorious Democrat Steve Bullock did in 2016. But in winning the governorship over Cooney, Greg Gianforte attracted some 38 percent more votes than he did against Bullock in 2016. "High turnout favors the Democrats" is apparently no longer a truism in Montana.
And Steve Daines won relatively easily over the popular, proven statewide vote-getter Bullock, with a mountain of cash spent on both sides.
Daines has done much for southwest Montana and for the state as a whole in his first term, and his reelection is not a surprise. Bullock, too, has an excellent record, and his public service will be missed in Montana. Although he had the proven ability to split ballots in statewide races, he didn't show that Tuesday. The biggest difference? He got into this race after saying several times he wouldn't, which may have alienated some potential ballot-splitters.
Nevertheless, one thing we saw Friday related to Daines is very concerning. The President of the United States has repeatedly claimed election fraud on a massive scale over the past several days, and has produced precisely no evidence to back up his claim. To accuse many election workers of fraud in the states where he's losing is a very serious matter. And to groundlessly make such a claim is damaging to the country.
Many responsible Republicans were already backing away from Trump on this, even before he was called the winner Saturday by AP and all the major networks, including Fox.
That's why we were disappointed to see Daines' text to his followers Friday asking to help fund the president's legal fight, saying "Dems are stealing the election."
No evidence has been proffered to show "Dems are stealing" anything. Attacks based on disinformation are not a good look, even for victorious politicians like Sen. Daines.
It's one thing to "stand with the President" on matters of policy. But to make a claim of election-stealing with no evidence is the kind of irresponsible, blind partisanship that puts us farther down a road leading away from national reconciliation and toward deep and bitter division. We trust the President also comes to realize this, and ends his strategy of litigation and resistance.
Meanwhile, as Butte-Silver Bow County returns show, this county remains a bastion of a certain kind of Democrats – who believe in organized labor (and hard work), who believe in access to public lands, who believe government can and should make people's lives better. There will continue to be a place in Montana for such views.
We congratulate our Butte favorite sons, Mike Cooney and Casey Schreiner, on running a good, clean race for governor. Cooney has never been anything but an honest, hard-working public servant, and we wish him the best.
We call on Gianforte and incoming Lieutenant Governor Kristen Juras, a native Montanan with a sharp legal mind,  to govern with moderation and restraint. It is time to come together, not further divide.
We understand their philosophical differences with the previous administrations. We understand taking a business approach to government, and we understand the desire to remove regulations that hurt businesses. Businesses have already been hurt badly enough by the pandemic.
But Montana should not now further impoverish public education, weaken access to public lands, or degrade existing environmental protection. And the state is going to need to do more than rely on "personal responsibility" to beat the worsening COVID-19 pandemic.
We will be hoping for the best.
Catch the latest in Opinion
Get opinion pieces, letters and editorials sent directly to your inbox weekly!