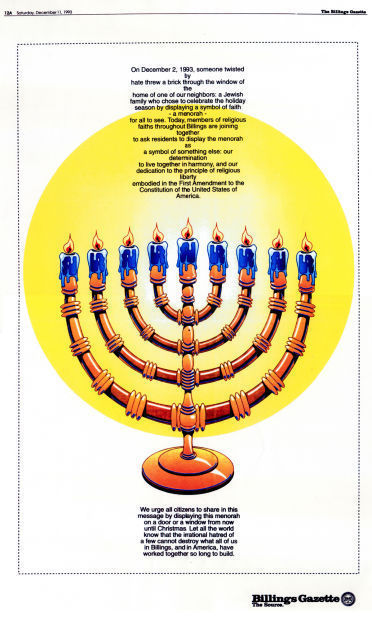 On Dec. 3, 1993, a paving stone was thrown through a Billings window that was decorated at the time with the Star of David and a menorah to commemorate Hanukkah.
Two weeks earlier, Rabbi Uri Barnea, then the music director of the Billings Symphony, had found anti-Semitic literature stuffed in his Sunday newspaper. And a few days later, the front door of his home was smashed.
The city's response would win national applause and start a movement: "Not in Our Town."
Residents across Billings hung a picture of a menorah, published by The Billings Gazette, in the windows of their homes.
And the snake's head of hate was stepped on, and it slithered back into the darkness.
Now, expressions of bigotry and hatred are on the rise again.
In Butte about three weeks ago, cars were papered in the middle of the night with anti-Semitic fliers that blamed Jews for hurting the economy, among other disgusting messages. The perpetrators were clearly exploiting the fiscal crisis caused by COVID-19 in the hope their hateful tropes would take root in fertile soil. 
Travis McAdam, a Butte spokesperson for the Montana Human Rights Network, said it was a calculated white nationalist move.
"When this kind of literature is dropped in communities, the purpose is to spread anti-Semitism and target the local Jewish community," he explained.
Sure enough, last week, similar literature was spread around Livingston — again in the dead of night. And leaflets were also reported in Billings.
"In response, we need to support our Jewish friends and neighbors and condemn these efforts to divide our communities," McAdam said.
That's right. With these efforts spreading, the message rejecting these attacks must be clear and unequivocal:
No hate in our state.
We are confident that Montanans will speak out against hatred wherever it appears. In good economic times or bad, there's simply no room for racial or ethnic or religious hatred here. We must call it out, and shame it back into the darkness.
Not in our town.
Catch the latest in Opinion
Get opinion pieces, letters and editorials sent directly to your inbox weekly!