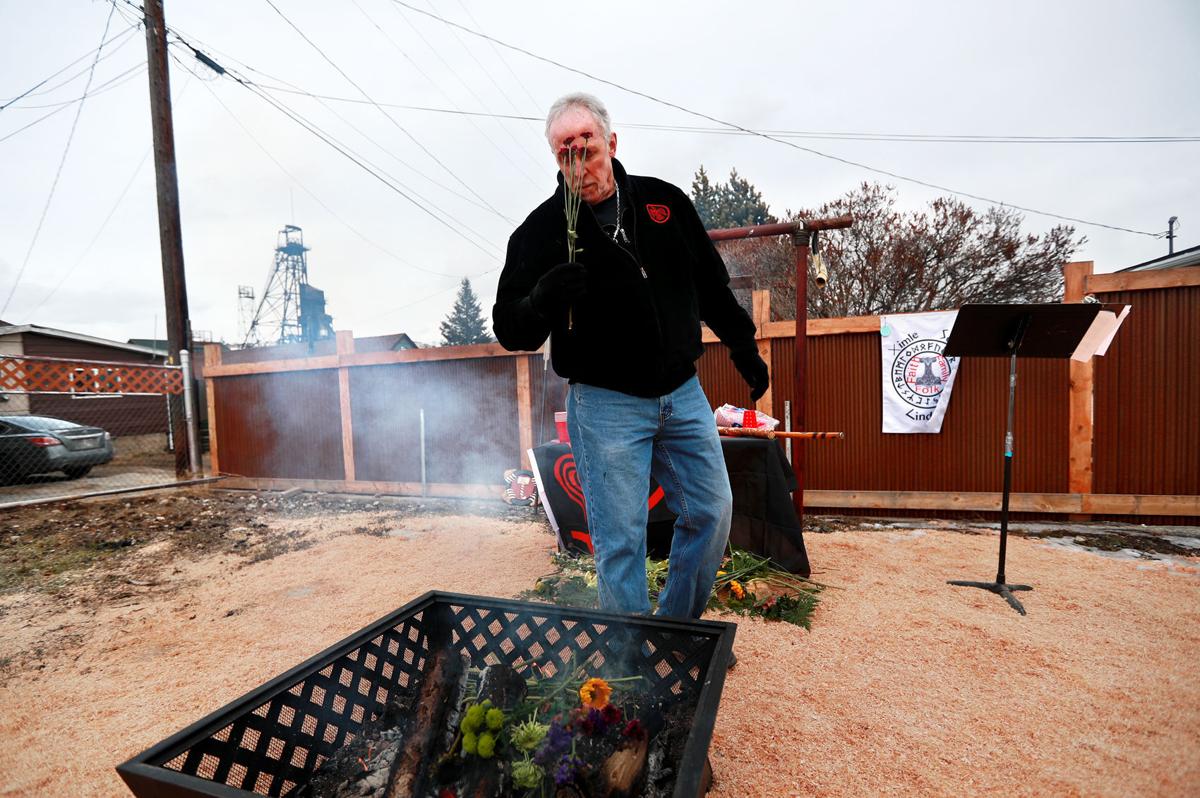 On last Monday's front page, The Montana Standard ran a photograph — reproduced here — of a local resident named Ron McVan, taking part in a pagan rite of spring at an Uptown Butte location.
Staff photographer Meagan Thompson was passing by the yard where the ceremony was taking place. She saw it, approached respectfully, asked if she could photograph the event and was given permission. She knew nothing about it other than what she'd seen.
The group readily agreed to her request, and was hospitable to her. Several of the participants were eager to give her information about the neo-Pagan religion being practiced.
What they didn't tell her was that the religion of Wotanism originated with violent domestic terrorist and white supremacist David Lane, who died in federal prison after receiving a 190-year sentence for crimes that included being the getaway driver in the murder of Denver talk-show host Alan Berg.
And also with the guy in the picture.
McVan moved to Butte sometime around 2005. He had spent much of the previous decade launching the religion with Lane and Lane's wife Katja in St. Maries, Idaho, near Coeur D'Alene. He and Katja Lane operated an entity called 14 Words Press, a reference to the "14 words," a racist creed coined by Lane that has become gospel for white nationalist terror: "We must secure the existence of our people and a future for white children."
There, McVan wrote and published several of his own books on Wotanism, and illustrated and republished a book called "Might is Right," an 1890s screed that advocates male superiority, white superiority and hatred of weakness.
According to the Southern Poverty Law Center, Wotanism and related "Folkish" or "Volkisch" ideologies "veil their ethnocentric beliefs in arguments for the necessity of micro-societies, or tribes, to preserve their ethnicity."
The belief system, according to the SPLC, "is appealing to white supremacists because it mythologizes the virtues of early northern European whites."
Thompson knew none of this as she approached the group and asked to photograph it.
The Montana Standard published the photograph because we believe it is important to know that architects of white hate are in our midst.
We in no way intend to glorify or validate the repugnant beliefs espoused in the works of the "14 Words Press" or its successors. But we do believe we need to report forthrightly on what is happening, particularly as racist, "white separatist" groups have found new harbor in the alt-right over the past few years.
It should be said that many adherents of Norse religion, tradition and heritage have nothing to do with white supremacy and are not racists.
Nevertheless, McVan's association with Lane, the 14 words, etc., are difficult to ignore. Has McVan repudiated Lane's toxic, violent racism? We would be happy to report that if so. We have been unable to reach McVan for comment.
We hereby offer to provide McVan a space to explain his association with Lane and to describe his current racial philosophy.
Wishing to bring light, not just heat, to this topic, Lee Montana newspapers are pursuing a more in-depth look at hate groups in our state.
As Bob Brock of Butte wrote in an excellent letter to the editor last week, "The Nazis didn't win the war and today Americans are free to gather in backyards and worship as they please. The press is free to report on it and those old Butte men and women who met Nazism at full strength in broad daylight are free to read how 75 years later, the beating they delivered to white supremacy has kept it, mostly, in the shadows."
In the meantime, we commend our photographer, Meagan Thompson, for doing her job fearlessly and well.