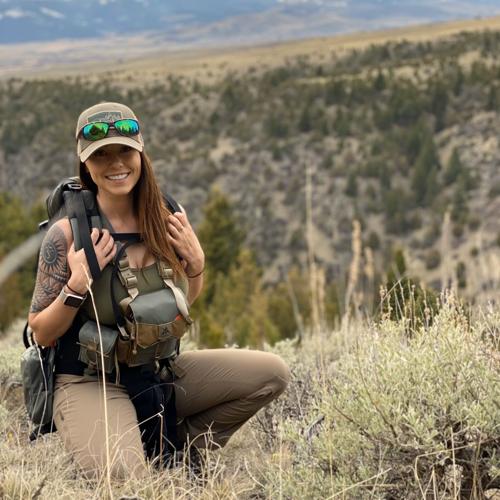 Montana is defined by its outdoor spaces, vast wild landscapes, crystal-clear waters, and abundant wildlife. Another defining aspect of this great state are the people and their steadfast appreciation of those spaces. Sportswomen —  whose voices aren't always at the forefront of what is said or heard in the outdoor arena — are an ever-increasing part of that population. More and more women and LGBTQ members are joining the outdoor recreation sphere and stepping up to protect those pastimes and traditions, as well as the public lands they take place on.
Elevating those voices on national conservation issues was the reason the National Wildlife Federation launched the Artemis Sportswomen initiative three years ago. Now, Artemis has brought together a group of bold, impassioned sportswomen in Montana to tackle state conservation issues.
Launched in mid-June, the Artemis Sportswomen's Montana Alliance hit the ground running with a workday removing hazardous fences on the Mt. Haggin Wildlife Management Area. Eight volunteer conservationists trudged through creeks, marshes and some difficult terrain to reach the site. Under the leadership of Montana Fish, Wildlife and Parks Department biologist Vanna Boccadori, 100 yards of incredibly old, rusted, 4-strand barbed wire was removed along a stream. After a few more miles of hiking, another ¼ mile stretch of barbed wire and metal posts were removed from an area of heavy deadfall, making the passage of moose, elk, and mule deer easier and safer on the wildlife management area.
It seemed fitting that this work occurred in a wildlife area that was funded by the Land and Water Conservation Fund (LWCF), since Congress is poised to pass the Great American Outdoors Act that will permanently fund this important conservation program. LWCF has provided Montana with over $640 million in funding for such cherished places as Glacier National Park, Swan River Valley, the Bitterroot Forest and hundreds of other parks, hiking trails and fishing access sites across the state. I am grateful that Senators Daines and Tester supported this bill last week and urge Rep. Greg Gianforte to vote for it when the House takes it up later this month.
Speaking out in support of conservation is so important. If you are passionate about Montana's wild spaces, now is the time to step up and take part. Why not write our senators and thank them for their vote? Or contact Rep. Gianforte urging his continued support for this conservation bill? Even better, if you are a woman interested in learning more about hunting, fishing or conservation, why don't you join us to get your hands dirty for conservation? The Artemis Sportswomen Montana Alliance has a number of events and workshops scheduled this summer. Please visit https://artemis.nwf.org/ to learn more and get involved.
Rachelle Schrute is a mother, designer, and conservationist based in The Gallatin Valley.
Catch the latest in Opinion
Get opinion pieces, letters and editorials sent directly to your inbox weekly!