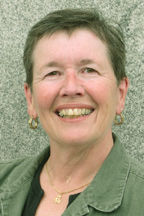 This COVID-19 pandemic is old hat for me. I lived through the polio epidemic. I never got a vaccine. In 1954 there wasn't one. Instead I got the disease, a debilitating neuromuscular disorder leading to temporary or permanent paralysis. Seventeen days in an iron lung at age seven, four months in the hospital, a year of physical therapy, and then I walked away, unlike three kids in iron lungs in the same ward who died. 
So fearful of polio were adults, they said I was a miracle child. So I acted like one. Learned to run and jump like all the other kids. Made straight A's, got a scholarship to college, married, had a child and career,  pushed and pushed to make every minute count. 
Traveled to all the continents save one. Wrote a few books along the way. Paid no attention to the rumor that aging polio survivors were experiencing residual effects of muscle weakness, crippling physical and mental fatigue, disruption of digestive and respiratory systems. That wouldn't be me.
Then I started to get tired, really tired, and in 2019 (more than six decades after the active stage of the virus), I couldn't get out of the swimming pool after only a few laps. Ten months later, I began using a walker to steady my once muscular legs that have lost forty percent of their motor neural pathways along with the rest of my body.  I no longer travel, eat steak, drink red wine, or write novels. I must nap a couple of times a day to conserve dwindling energy, and minimize brain fog.
Post polio syndrome is considered a rare condition now (affecting less than 200,000 individuals) because polio survivors are dying off. I'm among the youngest, in the US anyway. Still no cure, drug, or treatment exists beyond the use of assistive devices and lifestyle adjustment.
Some post polio patients today were asymptomatic as children, or had such mild symptoms of the virus they didn't warrant definitive diagnosis or hospitalization. Their condition, called "non-paralytic" post polio syndrome can be equally troublesome.
So if you're thinking of skipping the vaccine, or having your children do so, consider how you/they might handle the post COVID-19 syndrome decades from now.  Me? I'm getting the vaccine this time around.
Marian Jensen, author of the Mining City Mystery series, lives in Butte.