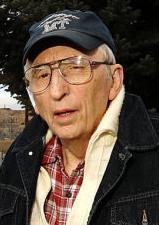 Before herd immunity can be reached through vaccination we are still at war. Looking at the casualties, the virus is winning because so many people are still aiding and abetting the enemy.
Montana with a population of only 1.07 million has already lost more people to death from COVID-19 than the entire country of Australia with a population of 25.5 million. A COVID-19 variant/mutation is already on its way that the current vaccines may or may not protect against. Other coronaviruses have already been detected in other animals. As Fauci says, "The biggest enemy that we have (now) is complacency." Now is the time to change our attitudes and behaviors.
The actions of some of Montana's current legislators show contempt and disdain for the sacrifices and losses of Montanans: health care workers, first responders, families, business owners and workers who have been affected by this pandemic. These actions have undermined much of the efforts of the Montana state and county health departments to provide a clean and healthful environment for the citizens of Montana.
The Constitution of the state of Montana states in Article II, Declaration of Rights, Part II, Section 3, Inalienable Rights: "All persons are born free and have certain inalienable rights. They include the right to a clean and healthful environment and the rights of pursuing life's basic necessities, enjoying and defending their lives and liberties, acquiring, possessing and protecting property, and seeking their safety, health and happiness in all lawful ways. In enjoying these rights, all persons recognize corresponding responsibilities."
Other countries have successfully contained the COVID-19 virus at manageable levels. On 01/01/2021 John Hopkins Universitys mortality monitor showed that seven countries in Eastern Asia (Japan, S. Korea, Malaysia, Singapore, Thailand, Vietnam, Taiwan) and Australia with a combined population of 429 Million have been able to contain this virus to a manageable level. They have had as of 01/01/2021 only a combined total deaths to date from COVID-19 of 5,723, an average of 1.27 deaths per 100K population. The USA has had 345,737 deaths to date, a ratio of 105.68 per 100K, and Montana has had 962 deaths to date, a ratio of 89.9 per 100K. (https://coronavirus.jhu.edu/data/mortality)
These countries early on implemented and strictly enforced mandated mask and sanitation regulations, and gathering, travel, and quarantine restrictions. For the most part the people were/are willing to abide by the mandates, and follow the Three C's; Avoid closed spaces, avoid crowded spaces, and avoid close contact. Thus they have been able, by being selfless for the greater good, to starve the virus to death, and control the hot spots, while we in the USA, and in Montana have been selfish in our attitudes and behaviors and provided the virus a feeding frenzy opportunity. Now these other countries are able to responsibly open back up without the devastating effects on their physical, mental and economic well being, and move farther forward with the benefits of the vaccines.
Thus I must ask the hard 2012 questions:
Why was the local community of Gunnison Colorado able to come together and get through the Spanish Flu without a casualty while B-SB had 48 deaths from COVID-19 as of 12/31/2020, a Rate of 137 per 100K population, and we are still divided as to what should be done?
What is the balance between human and economic welfare?
Who should be determining what should be done to ensure the human and economic welfare of our community?
At what point does blatantly disregarding the laws of nature and the Constitution of the State of Montana, and arrogantly disrespecting the rights of other citizens of Montana to a safe and healthful environment and to life itself become a crime against humanity?
At what point does politicization of a health issue become a crime against humanity?
R. Edward Banderob is president of the Greeley Neighborhood Community Development Corporation Inc.