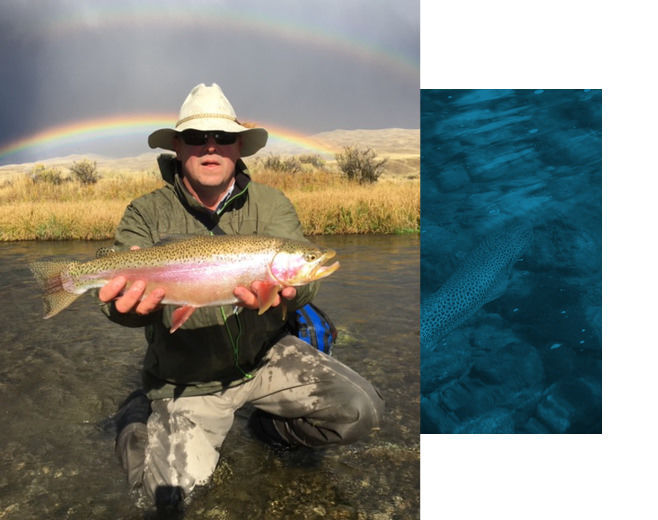 Southwestern Montana's rivers support some of the finest trout fisheries in Montana. They are part of the foundation of our state's outdoor recreation economy and support the livelihoods of thousands of outfitters, gear shop owners, and many others.
For as long as I can remember, Southwest Montana's unparalleled fishing, hunting, hiking, and camping opportunities have attracted outdoor enthusiasts from across the country, boosting Montana's outdoor recreation economy that generates $286 million in state and local tax revenue each year. As an outfitter, I am among one of the estimated 71,000 Montanans who depend on outdoor recreation for their livelihood. Every year, I take hundreds of visitors on trips through the rushing headwaters of the mighty Missouri River, and undeveloped landscapes of our great state. And every year, the awe-inspired looks on peoples' faces remain the same.
But that could all change because of the ongoing threat of oil and gas development on public lands in this region. In 2018, our communities were blindsided by an attempt to lease about 13,000 acres of public land within the delicate watersheds of the Big Hole and Beaverhead Rivers. Now, the U.S. Forest Service and Bureau Land Management (BLM) recently announced they intend to approve a drilling project in the fish and wildlife-rich Tendoy Mountains that could irrevocably harm some of the most important watersheds, landscapes, and wildlife habitats in the region.
The proposed drilling site is perched on White Pine Ridge between Big Sheep and Little Sheep Creeks. Among the dozens of fish, wildlife, and vegetation species that will be threatened if this project is permitted, I am most concerned about our native Westslope cutthroat trout and brown trout, both of which are already at risk. The populations of these fish have already dwindled so significantly, that any kind of spill or pollution from this well could do serious harm to these species. As an angler, an outdoor outfitter, and a fourth-generation Montanan, I find this development proposal irresponsible and unnecessary.
Not only would a project like this be devastating for our most vulnerable fisheries, water sources, and local businesses, but it would also produce very little in return for our communities. The highly sensitive area they plan to drill on was leased for less than $2.00 per acre, and many experts have weighed in and found that the potential for finding any resources that are economically viable is "essentially zero." This type of reckless leasing is not new, either. The issue of selling leases on the cheap, including "noncompetitively," has become a real problem in our state, as BLM sold more than 262,000 acres of noncompetitive leases in Montana in recent years.
What is happening right now in the Tendoy Mountains is unacceptable, and illuminates how flawed the current federal oil and gas leasing system has become. Public lands as priceless as the Tendoy Mountains should have never been put up for lease in the first place — and especially when there is no guarantee that the public would gain anything in return.
By rejecting the Tendoy drilling proposal, the BLM can send a message to Montanans and all Americans that they are serious about protecting our public lands and everyone who relies on them.
Shaun Jeszenka has been an outfitter and guide for over 30 years in Southwest Montana and owns Frontier Anglers in Dillon, MT.