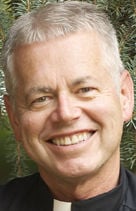 One of my favorite insights into the great American Experiment was brilliantly articulated by Andrew Reed, a British religious minister, who visited the United States in 1834. He writes: "America will be great if America is good. If not, her greatness will vanish away like a morning cloud." Long falsely attributed to de Tocqueville, one the most enlightened observer of the still young America, the quote nonetheless captures several sentiments of the still relevant masterpiece "Democracy in America".
The human condition, though at times cruel and fragile, is often redeemed by the ability of some people to elevate and multiply their contributions to goodness in particularly difficult times. This community is blessed by the high proportion of this kind of remarkable individuals living among us.
On Veterans Day, I went to the Civic Center to be Covid tested. As I waited my turn in the drive-through line, I observed a number of ladies working in the cold while standing in the snow. They were smiling, kind and thoughtful in spite of the uncomfortable environment. It is an admirable gift to be able to do that. These ladies are a gift to our community. The staff collecting the testing samples were equally helpful and gracious just as I invariably found the Health Dept. team to be since I have been deemed a close contact.
There is so much tireless work and selfless dedication invested into trying to keep us safe in this pandemic. This piece is an expression of sincere gratitude to those taking part in this battle. This piece is also an appeal to the community at large to strengthen our efforts and follow scrupulously all the now familiar guidelines and restrictions. They work and complacency destroys.
The staff of Community Health, St James Healthcare, BSB Health Dept., Mercury Medical, nursing homes and others count on our commitment to protect ourselves and others. We owe it to them. We have a sacred duty to help them. Our local businesses deserve credit for having made the necessary accommodations to facilitate all the safety measures. There is absolutely no excuse for not cooperating.
In preparation for a solemn commemoration, in partnership with the Butte Archives, I researched for almost a year the human drama and the emotional landscape of the 1918 Influenza pandemic. One of the clearest conclusions that I was able to draw from the study is that the resistance to relatively minor sacrifices by a few led to the infliction of immensely painful sacrifices on many. That heartbreak is still an element of the trauma deep inside Butte's collective memory.
We must not repeat this tragic history. Wearing a mask, keeping physical distance and avoiding gatherings are insignificant sacrifices compared to having, on a ventilator, someone whom you love and cannot even visit.
The conscientious core of this country seems to me to be unraveling and our ethical compass needs repair. Moral clarity has become increasingly elusive. It should not be this disastrously difficult to distinguish real from illusory, good from bad, true from false, honest from dishonest. And yet, in this atmosphere, I continue to passionately believe in the incomparable power of goodness. It is a power to heal, to reconcile and to prevail against this pandemic.
It is an attitude that sounds quaint, even naïve and unsuited to the age but it has warmed my heart lately to see that so many here share the same belief. It is good to live in a place with a beautiful soul.
Father Patrick Beretta is parish priest at St. Patrick and Immaculate Conception Catholic Churches and is also chaplain to Montana Technological University.