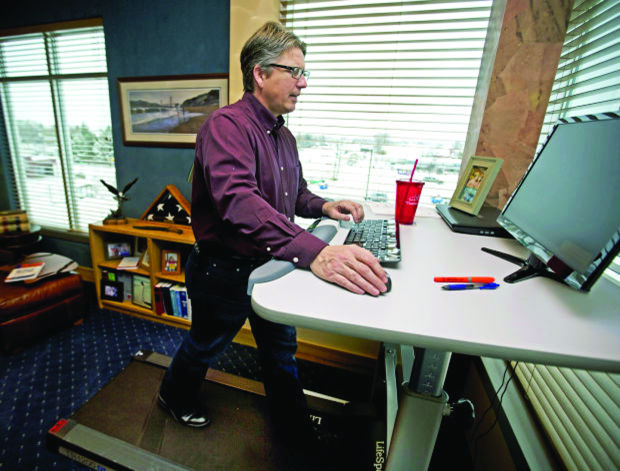 MISSOULA — Quentin Rhoades walks 2 miles to and from work each day then spends a few more hours walking at his desk.
For about a year, he's been able to walk or stand at his treadmill desk, which he found through MT ErgoFit.
Initially, the Missoula lawyer who spent practically all day sitting looked for a standup desk, but models didn't offer enough options. Then, MT ErgoFit owner Ron Veilleux told Rhoades he was looking into offering treadmill desks.
After trying one for a month, Rhoades was sold and in a year has put 400 miles on his desk and burned 45,000 calories.
"It surprised me how easy it is," said Rhoades, who already leads an active lifestyle.
"I've noticed that I'm more productive. I'm not sure that it makes me more fit, although it can't be bad for you in that perspective," he said.
His daily goal is two hours at 1.5 mph, and he avoids the typical after-lunch drowsy spell by walking, Rhoades said. "It really makes a big difference in the amount of work I get done in the afternoon."
The desk is a hit with officemates, he said, and his firm is even considering buying a communal treadmill desk.
Rhoades is one of several Missoulians opting for ergonomic desks, and since 2010 Ron Veilleux has offered alternative desk setups for people in the region through his business MT ErgoFit.
Although more people are showing interest in sit-stand desks, convincing people to try out a treadmill desk can still be difficult.
"For some people it's a little bit goofy," Veilleux said.
People tend to associate sweaty runners with treadmills, when in fact, the treadmill desks move at between 1.5 and 2 mph, he said.
Even at such a slow pace, users burn 160 calories an hour, he added.
People who stand for three hours a day burn an additional 150 calories a day. That equates to losing 12 pounds a year, he said.
Jennifer Straughan sat for about 80 percent of her day working at the Montana Radio Company.
"It had actually gotten to the point where when I got to meetings I would ask people if it would be OK if I stood," Straughan said.
Then, a coworker got a sit-stand desk and Straughan, who had met Veilleux before, decided she wanted one too. Her old desk was retrofitted and an attachment added that allows her to raise and lower her computer monitor, keyboard and mouse.
"So this solution was just very simple," she said.
Now, she spends about 20 percent of her day seated "because now I don't have to stand up in meetings anymore," she added.
She gets more movement throughout the course of her day and feels more energetic at the end of it, she said. "And you do find yourself becoming tired from standing, which is nice."
Veilleux said he hears lots of comments like Straughan's about being more energetic when not at work.
"The thing we hear the most is how they feel when they go home at the end of the day," he said.
At work, people also tend to feel more energetic, he said. "They just feel like they're more engaged."
Alternative desks are ideal for people who have lower back problems or who just want more movement in their days, Veilleux said.
Movement using the desks doesn't replace the need for exercise, he said, but it can help stave off metabolic syndrome, heart disease, type 2 diabetes and other health issues.
The American Heart Association recommends people take 10,000 steps a day, and using a treadmill desk is a good way to meet that mark, he added.
While some companies are jumping on board and offering at least a communal treadmill desk, Veilleux's main customers are individuals, but he's expecting that to change in the future as more companies realize the difference in employee health the desks could make.
"Then I think the companies are going to come along," he said.