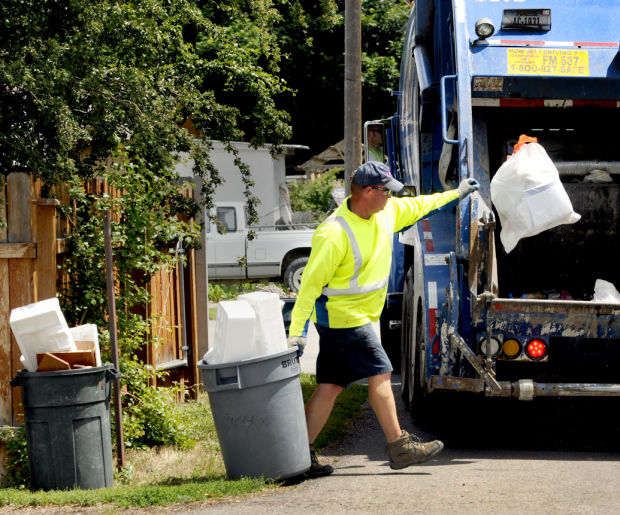 Garbage is notorious for being stinky, but refuse from Missoula's Rattlesnake neighborhood was so toxic that it sent two trash collectors to the hospital late last week, prompting a warning Tuesday by the Missoula City-County Health Department.
The Republic Services of Montana workers complained of headaches and nausea, and were treated and released at St. Patrick Hospital for exposure to a gas coming from Thursday morning's trash pickup in the middle Rattlesnake area, Travis Ross said.
The gas was created when bleach and liquid fertilizer mixed in the garbage truck after being compacted, said Ross, an environmental health specialist with the health department.
No one was hurt in a similar occurrence on Wednesday when muriatic acid reacted to cause strong fumes in a trash bin off Scott Street, Ross said. A passer-by caught a whiff and called 9-1-1. Police, fire and health department personnel responded, isolated the acid, and secured and transported it for safe disposal.
The Missoula landfill was closed for nearly an hour Thursday while the hazmat team worked to stop the reaction that sent the two workers to the hospital.
"Not only are these incidents reminders of the dangers to citizens who use and dispose of them, but they also highlight the safety risk to workers who handle the waste and the first responders who are responsible for identifying the chemicals and determining how to stabilize them," Missoula Rural Battalion Chief Dan Merritt said Tuesday.
Republic Services, formerly Allied Waste Services, provides trash pickup to about 30,000 residential accounts in the Missoula area and trains employees to look for hazardous materials, said Max Bauer, the company's municipal manager.
Workers are told to leave hazardous materials with notes telling people where to get more information about disposal options, he said.
On Thursday, though, the chemicals were in black bags and not visible to workers, Bauer said. Even if chemicals are in containers, all garbage is crushed and can cause containers to break and chemicals to mix, he said.
"It's one of those unfortunate things," he said. Similar instances happen only a handful of times a year, he added.
The recent spate of toxins in the trash can't be tied to one cause, although warm weather and garage cleaning could be culprits, Ross said.
People should store household toxics in secure, dry locations until the health department's annual household hazardous waste collection, Ross said. This year's event is scheduled Sept. 13-14 at the city shops on Scott Street.
"The best option is not to buy extremely toxic substances, and if you do, use it up properly or give it away to someone that can use it," Ross said.
Both Bauer and Ross urged people to call the health department at 258-4890 or Republic Services at 543-3157 with any questions about disposal of chemicals and other hazardous materials. More information also can be found at http://co.missoula.mt.us/wq/HHW/index.htm.