Nathan McLeod keeps having flashbacks of watching helplessly as his 4-year-old son, Sawyer, slipped through his hands and fell off a mangled, malfunctioning chairlift after it smashed into a tower and broke last Sunday at Montana Snowbowl, the ski hill just north of Missoula.
"This is a parent's worst nightmare," McLeod recalled. "I'm just watching him fall and he's looking at me. There's nothing I can do and he's screaming. I just have this mental image of his whole body slipping out of my arms and it's terrible."
McLeod, a Missoula resident, was riding the Snow Park chairlift, which was purchased used from a Colorado ski resort and installed in 2019. The chairlift accesses beginner and intermediate terrain, and McLeod was riding on the outside seat of the lift so that his young son could be helped up on the inside by the lift attendant, who was the only person working at the bottom of the lift. McLeod's other 6-year-old son, Cassidy, was riding a chair ahead with a snowboarder. McLeod recalled the lift operator had a little trouble loading his older son, so the chair was swinging. Then he and his younger son got loaded.
"We're going and I'm watching Cassidy's chair in front of me and it's just, like, huge, violent swings and in my mind, I don't know what to do about that, because I'm a chair behind him," McLeod recalled. "I'm worried he's gonna hit that next tower. And it's like 40 feet off the ground at that point. As that's going through my head, all of a sudden, our chair smashes into the tower, the first one, as it starts going up."
He described the impact as "super strong."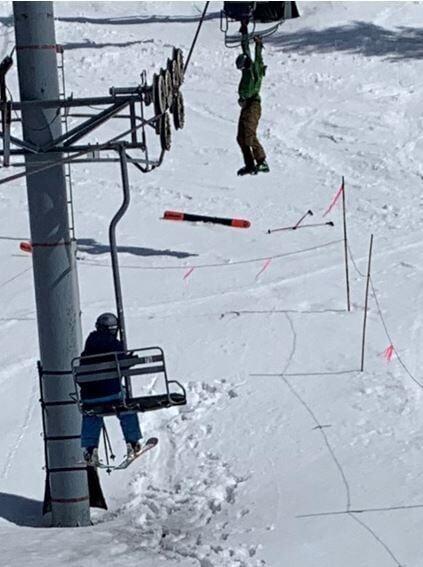 "And just like that, I reach for my son and he just slips from my arms," McLeod said.
He estimates the boy fell 12-15 feet to the snow below, which at least one other witness agreed with.
"I'm yelling like 'someone help us' and the lift stops a few seconds later," he said. "But at the same time, as Sawyer is falling, the lift chair just breaks apart and it just flips backwards. Like the backrest just falls off the back and so I'm like clinging on to the center bar while the chair is swinging. My son is screaming and I don't know what to do. I'm like, 'Do I jump right now?''"
He watched the lift attendant come up and give Sawyer a hug.
"It's still unknown if he's hurt or not," McLeod recalled. "There's zero communication with me at this point. She starts walking back down to the lift terminal with my son and I still don't know if he's OK or not. Apparently he can walk so that's good.
"So I shouted for someone in the lift line to get her attention and I'm like, 'So what's your plan?' She kind of looks at me and she says, 'Oh, I'll just load him in the next chair.' And then at that point she looks up and sees me and sees that the chair's just mangled."
After sitting for a second, McLeod takes his skis off and lowers himself down and jumps off the chair. He's 6'3", and he estimates that with his arms stretched above his head his body stretches to a little over 8 feet. A photo taken from a witness shows several, or more than several, feet of space between his boots and the snow below as he hangs off the chair with his full body extended.
"First thing I do is run up to my son and give him a hug," McLeod said. "And then the attendant is just like. 'Watch out, we're gonna start the lift again'. Not a single person looks at the chair. You don't walk up to make sure the cable isn't mangled? I would assume they would want to like, check it out? She just starts loading the next people in line. I'm just shaking because there's so much adrenaline. And somebody makes an offhand comment like 'Yeah, that's Snowbowl ha ha.'"
That's when McLeod lost it.
"I was like, 'Hell, no.' We have to stop making excuses for this place," he said. "We are so lucky that Sawyer didn't just die and like someone is going to get seriously hurt if something isn't done. We can't have this attitude of like, 'Ha, this is funny, like Snowbowl's a sh-- show.' You can't do that."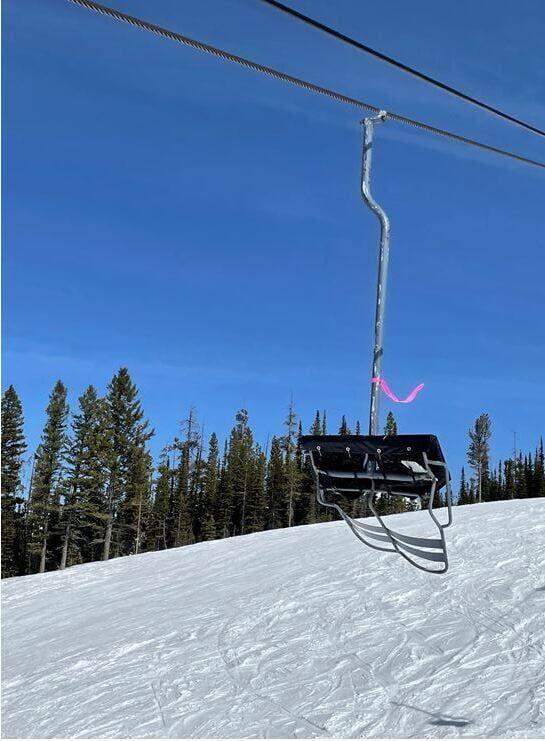 McLeod said some people seemed to agree with him, but then everyone just gets back on the lift, as it's the only way back down to the lodge and parking lot. McLeod's older son is still sitting on the chairlift wondering what's going on. As McLeod rides up, he sees the broken chair pass him by with some pink flagging on it. He finally gets to the top to meet his other son.
"And ski patrol is standing up there drinking a Red Bull talking to somebody," McLeod said. "They do not address me, they don't look at me, they don't address Sawyer, not a single person who works at Snowbowl talks to us or addresses us or really makes any acknowledgment happen. We're standing there for at least 10 minutes."
McLeod notes that Snowbowl has had to shut down lifts this year due to power outages and that many people had to hike out from the bottom of LaValle Lift on at least one occasion this year. On New Year's Day in 2020, a chair was ripped off the haul rope of LaValle Lift after it unloaded skiers on the top. The lift had to be closed for repairs for three weeks.
"What other chairs are deficient and just getting painted over, who knows?" McLeod said. "My worry is we got extremely lucky. If conditions had been different, Sawyer could have been killed. If nothing changes, is someone going to die?"
He was unsatisfied with the response he got at the lodge. The Morris family of Missoula owns and operates Snowbowl, and McLeod said he talked to both Brad Morris and his son Andy Morris.
"Andy showed up and I went through the whole thing with him, and all he could really say was, 'That isn't our protocol. If they had a bad load, they should have stopped the lift,'" McLeod recalled. "And I said, what about the fact that ski patrol never checked on us? What about that they didn't look at the lift and just started loading again and running it? But he really had nothing. He had no idea. No one had called down to the owners or anyone else to let them know."
Overall, McLeod said he's extremely frustrated at the lackluster response to what he believes could have been a deadly situation.
Investigation promised
In a phone call with the Missoulian on Thursday, Andy Morris said that the engineer who designed the Snow Park lift inspected it. 
"There was an unbalanced load that caused the lift to swing," he said. "One chair started swinging and then the next chair — the one the father and son were on — didn't get loaded correctly. If you're delaying the chair, it pushes back and causes it to swing. And the chair struck the tower and caused the back portion of the chair to bend back."
Morris said that "lifties" (lift operators) are trained to respond to problems with the lift, but he wasn't sure what happened with this incident and hadn't spoken to the person involved. Morris also had no explanation for why the chair would fall apart after hitting a portion of the tower.
"We're committed to making sure the lifts are safe," Morris said.
Anyone who has ridden the Snow Park chairlift since it opened knows that the chair often swings violently after it loads and the chairs often bang into one of the first few towers on the way up.
Morris acknowledged that swaying is something that occurs on the lift.
"It's a Riblet lift, and our engineer said Riblet chairs are light and they get to swaying pretty badly when they misload or something causes them to get going," he said.
He said that the lift is inspected "on a cycle" that's required by Snowbowl's insurance provider and the Lolo National Forest, which leases land to Snowbowl. Morris was not able to confirm the exact date the last time the Snow Park lift was inspected for safety.
Snowbowl operates on Lolo National Forest land under a special use permit.
Lolo National Forest Supervisor Carolyn Upton said on Thursday that her agency asked that the Snow Park lift be shut down until an investigation and inspection is completed and that request was granted by the ski area. 
"Public safety has to be, and is, our top priority and concern," Upton said. "There are lots of activities and businesses under permits on National Forest land, and Snowbowl is an important partner and one of our permittees. When we have something happen our first concern is public safety and then we're going to look at the permit and what gets triggered."
Upton said the Forest Service would have an expert examine the lift as soon as possible and that an investigation will be conducted. She also said she was aware of the incident just a few hours after it happened. 
On Thursday evening, Morris said he and Snowbowl's management had met with Lolo National Forest officials and the engineer. Morris said a "minor change" in one of the towers was completed on Thursday.
"The chair that struck the tower, chairs are normally supposed to hit the halo," Morris said. "This one was swinging so badly it caused it to hit a different portion of the tower. The guy that engineered it came and looked and we think the change they agreed to will fix the problem."
When asked if he's confident that the chair will not malfunction again, even if an adult and a child load the same way as McLeod and his son in the future, Morris said that's what Snowbowl is "expecting."
If the Forest Service signs off on it, the lift may be open as soon as this weekend. As of Thursday evening, the Forest Service had not acknowledged the review.
Chairlift safety
McLeod said Brad Morris gave him one adult lift ticket and two child tickets after the incident. A ski patroller had him fill out an incident report and shined a flashlight in Sawyer's eyes.
"And we're walking out the parking lot and Andy runs up and he was receptive," McLeod said. "He listened. He didn't try to make excuses, which I appreciated, but at the same time this is just something that shouldn't have happened and we're so lucky we're not hurt. But the response just wasn't there."
A man who witnessed the accident, Corey Stickle, estimated that McLeod's son fell between 12 and 15 feet.
"It was kind of terrifying," Stickle said. "It's a toddler falling from a f---ing lift, man. That's the scariest thing you can see. The liftie did a good job. She kept her cool. It was the chair that was set up by Snowbowl that failed."
Stickle said riding up the chairlift after the accident was not easy.
"I mean, it was a little scary," he said. "We got stopped while they were taking a check of the chair that fell. I was just holding onto the bar for dear life the whole time."
McLeod said he thinks it was fortunate that the afternoon snow was soft, because if the accident had happened in the morning it might have been a different story.
"I just think there needs to be an investigation into the safety of that mountain," McLeod said. "Because what my fear is that if something isn't done, someone's gonna die. And that's going to be the catalyst to make something happen. And it should never come to that. So maybe this is an opportunity to enforce Snowbowl and change their management practices. Because I would say clearly, they're not taking safety seriously."
McLeod said Snowbowl is an important community asset and that a lot of families and young kids assume that they're safe on the chairlifts.
"I just want Snowbowl to be successful and safe," he said.