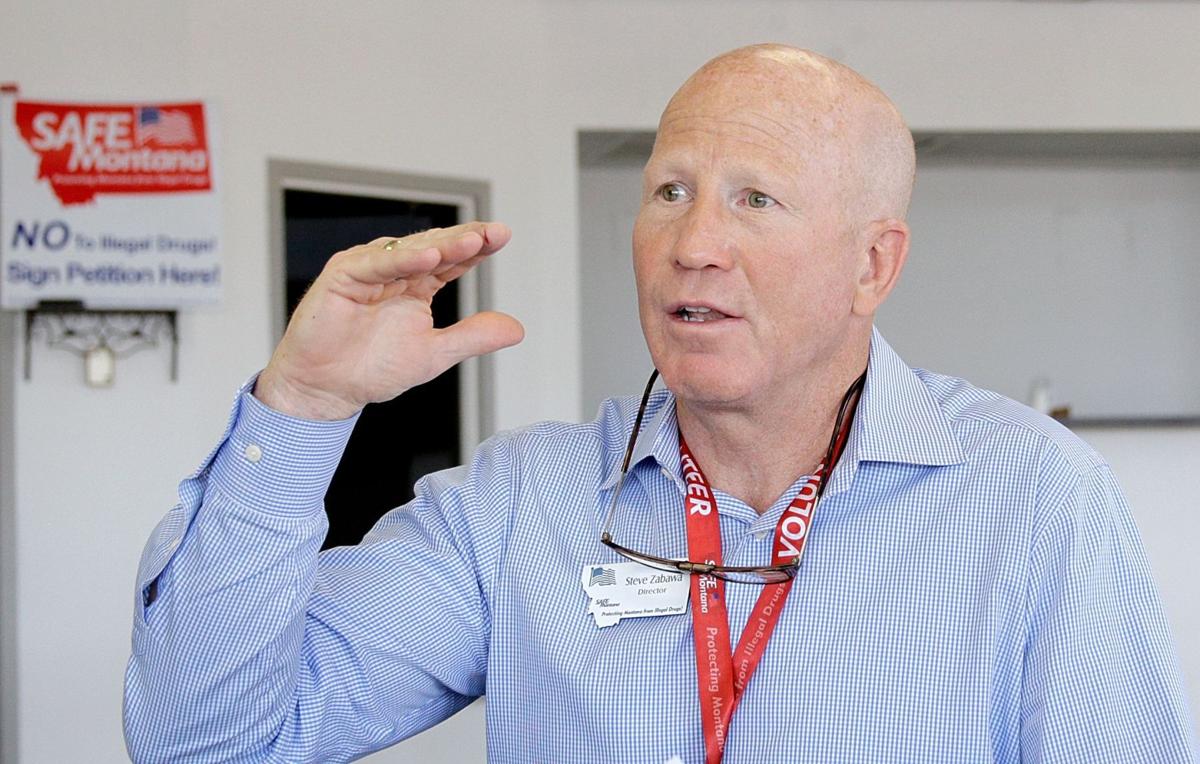 BILLINGS — The sponsor of a ballot measure to repeal the state medical marijuana program said that counties failed to verify valid signatures and lost thousands of others.
The Montana Secretary of State's Office has completed its count of ballot initiative signatures, leaving Safe Montana's I-176 still short of the minimum needed to get before voters. A tally released on Aug. 2 put I-176 at 20,038 verified signatures – short of the 24,175 necessary.
I-176 would repeal the Montana Marijuana Act and defer to the federal scheduling of the substance as a Schedule I drug. About 13,000 people in the state currently get medical marijuana under the act.
For weeks, Safe Montana has been internally reviewing about 8,000 signatures that were rejected from its statewide campaign that's been active since the fall.
"We're finding that a third of those are incorrect," Zabawa said on Monday. "They just kind of pushed through them or didn't take care in finding the registered voter."
Office spokeswoman Emily Dean said on Monday that there are no remaining signatures to be tabulated.
Zabawa said that county election officials failed to match more than 2,000 signatures with registered voters. Most of this happened in Yellowstone and Flathead counties, he said.
Yellowstone County Election Administrator Bret Rutherford said that the records show nearly 70 percent of rejected I-176 signatures were due to unregistered voters.
Rutherford said that it's common for signatures to be rejected if they're not legible and unable to be matched with a registered voter, but not on the scale the Zabawa alleged.
"I find that highly unlikely that there's going to be thousands and thousands of people missed," Rutherford said.
Of the rejected I-176 signatures statewide, 66.9 percent were not registered voters, he said. There were 811 people who signed it twice.
Rutherford said that the rate of rejection for ballot initiatives this year was typical-- 28 percent for I-176.
In addition to the audit, Zabawa said that another 2,000 signatures were lost in Flathead County. He said it amounted to two months of petition work.
"We turned them in, and we didn't get any credit on any of them," he said.
Flathead County Election Administrator Debbie Pierson did not return a call for comment. Recording Manager Monica Eisenzimer said that the alleged lost petitions were not turned into that office.
Zabawa said that he is "in the process" of asking the courts to step in at Flathead County.
A competing initiative, I-182, qualified in July for the fall ballot with more than 27,000 signatures. The measure would remove new restrictions on the medical marijuana program, including a limit of three patients per provider and a review of doctors who recommend more than 25 patients.
The restrictions also allow for unannounced police searches of medical marijuana provider facilities. These provisions go into effect on Aug. 31, putting some medical marijuana businesses on hold as they wait for the November vote.
I-182 is backed by the Montana Cannabis Industry Association, which is supported by providers across the state. The rejection rate for I-182 signatures was higher than that of I-176 – 33 percent – but the net figure still made the cut.
Zabawa sponsored a similar measure in 2014 that failed to collect enough signatures for the ballot. He started his campaign earlier in this election cycle and has spent more than $92,000 on the effort.
In July, he said that Safe Montana had collected more than 30,000 signatures.
He said on Monday that the ballots should be handled more carefully and that his signees were treated like "second-class citizens."
He added that the people who signed the I-182 petition in favor of medical marijuana were not the same as those who signed Safe Montana's I-176.
"They're not stoned, and they're pretty good people," Zabawa said. "They're more accurate with their information than the other initiatives were."
He said he hopes to resubmit the internally audited signatures before Aug. 25.