Rep. Jonathan Windy Boy calls them "my big three."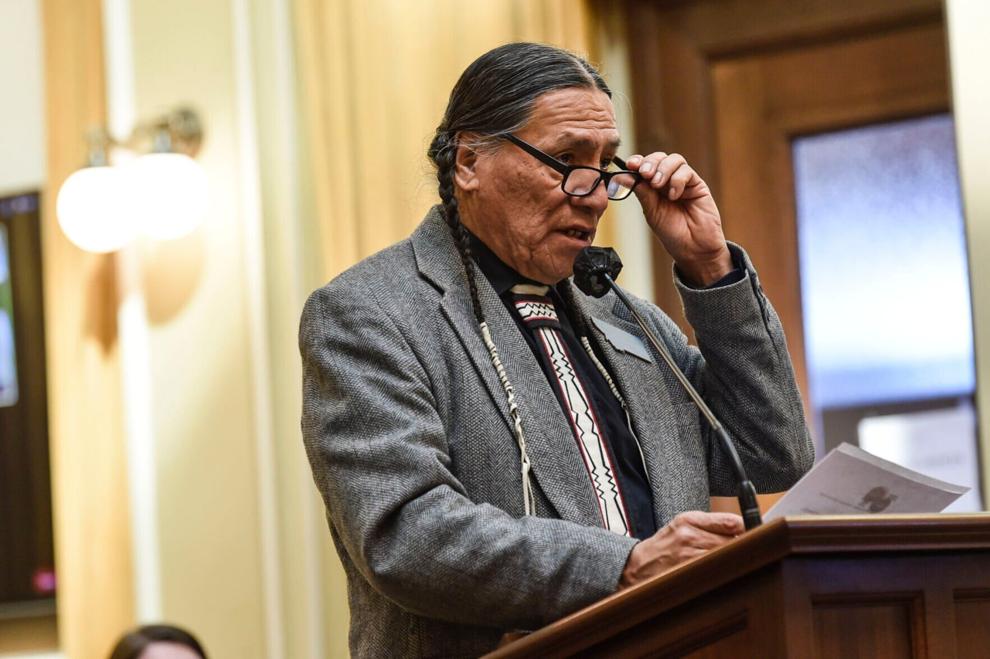 He's referring to three of his bills that were signed into law earlier this week.
One codifies parts of the federal Indian Child Welfare Act into state law. A second brings transparency and accountability to Indian Education for All. And the third revises the Montana Indian Language Preservation program, elevating the role of tribal governments.
"I feel good about it," Windy Boy, D-Box Elder, said about the passage of his legislation. "This session for me has been all about accountability. I think that's part of the reason why these bills were so successful — because people wanted accountability."
Bill 1: Montana Indian Child Welfare Act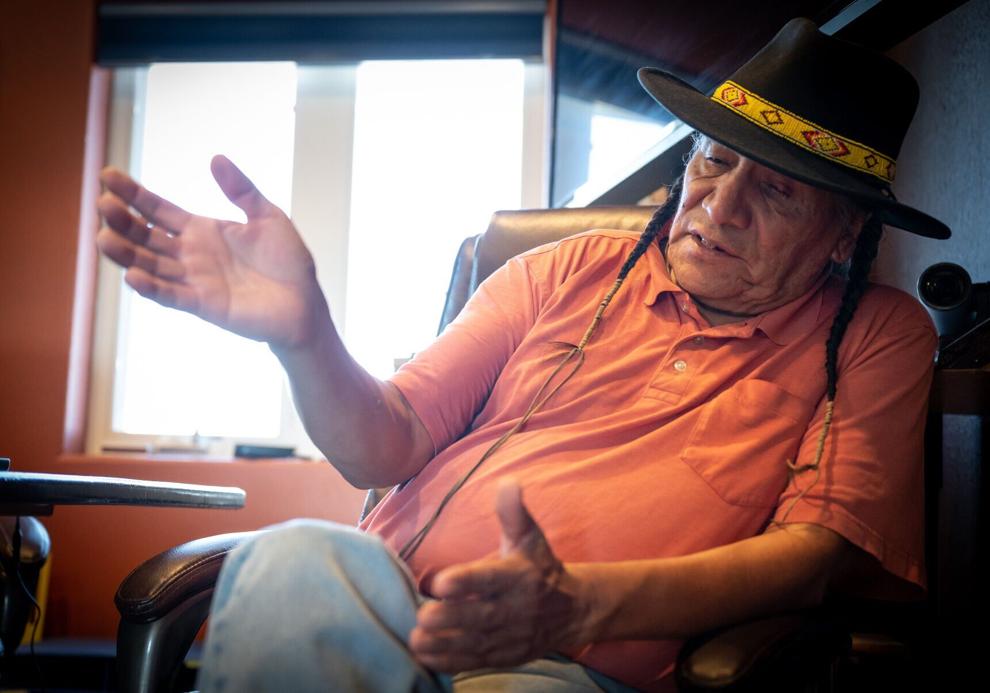 House Bill 317, dubbed the Montana Indian Child Welfare Act, applies parts of the federal Indian Child Welfare Act to state law.
The federal Indian Child Welfare Act, known as ICWA, dictates how Native children are placed in foster or adoptive homes. The law was enacted in 1978 in response to decades of state child welfare and private adoption agencies separating Native children from their families.
Several states have enacted ICWA protections into state law, including Nebraska, New Mexico, Oklahoma, Iowa, Michigan, California, Wisconsin, Minnesota, Washington and Wyoming.
Supporters say codifying ICWA has become especially important as a looming federal Supreme Court case threatens to upend the law. The Supreme Court is expected to issue a ruling in July, and legal experts, tribal leaders and advocates say if the court were to undermine ICWA, the consequences would be dire. They argue Indigenous families would be separated at higher rates, tribes would risk losing members to assimilation, and other protections for Native Americans — including tribal sovereignty itself — could be at risk.
But because Gov. Greg Gianforte signed HB 317, Montanans have additional protection from a Supreme Court ruling. Specifically, this legislation commits the state to prevent, when possible, out-of-home placements for Native children that are inconsistent with the rights of their parents and the interest of tribes. It prioritizes placements that preserve and honor a child's tribal culture and connections.
Windy Boy's bill received strong support from the public in its committee hearings. At one hearing, more than 30 people — many of whom traveled hundreds of miles to the Capitol — testified in support of the legislation. Supporters spoke of harm caused by tactics used to assimilate Native Americans and explained that children play an integral role in tribal communities.
The bill also faced fierce criticism from lawmakers across the aisle. In a heated discussion on the Senate floor, one Republican lawmaker suggested striking the word "Indian" from the bill; others said they wanted to wait for the Supreme Court to issue a ruling.
"The initial opposition had been very strong right from the get-go," Windy Boy said. "I'm glad I had enough moderates and Republicans with common sense that knew this was the right thing to do."
Sharen Kickingwoman, Blackfeet and A'aniii and Organizing Director at ACLU of Montana, said the passage of Montana ICWA "is a true testament to the power of community and grassroots community building."
"Montana ICWA is a much needed answer to the disproportionate representation of Native children in our state's system, and offers key protections to ensure cultural sovereignty and connection," she said.
Frank Edwards, an assistant professor at Rutgers University who studies child welfare, said one of every four Native American children in Montana have a lifetime risk for being in foster care and more than one in 10 Native 1-year-olds are in foster care in the state.
Bill 2: Indian Education for All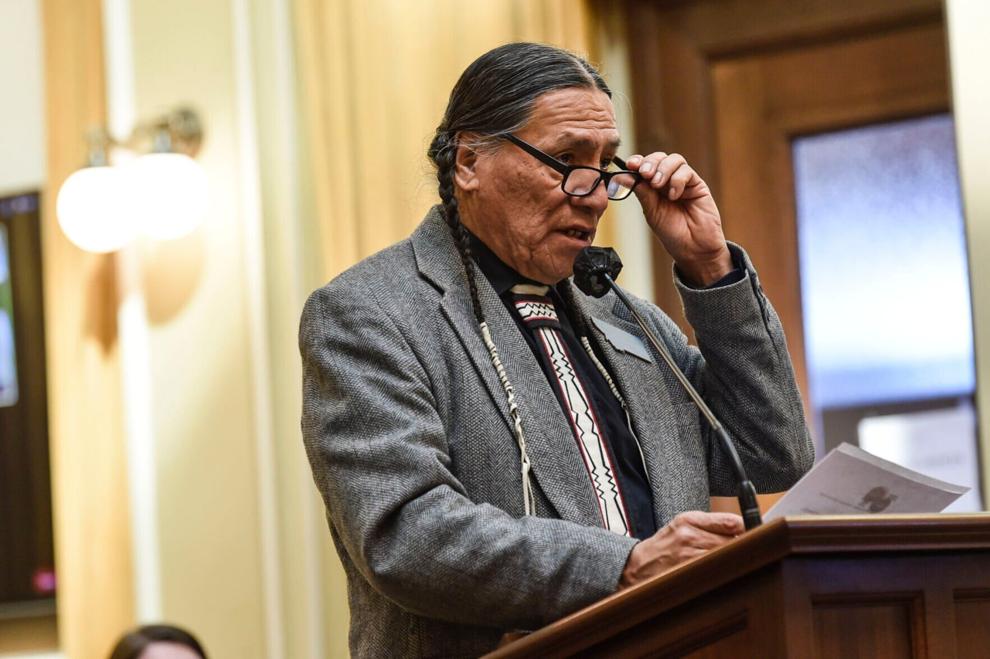 Another one of Windy Boy's bills that became law, House Bill 338, will bring transparency and accountability to Indian Education for All.
Enacted by the Legislature in 1999, Indian Education for All (IEFA) requires recognition of Native American culture and a commitment in the state's educational goals to preserve Indigenous culture and heritage. Montana was the first state to constitutionally mandate Indigenous education, but some say the law has not been adequately implemented.
Windy Boy's bill establishes new requirements, stating that if a district fails to file an annual report, it will be ineligible to receive funding until the report is filed.
"My issue is that these schools received IEFA funds that are supposed to be used for the IEFA curriculum, and they aren't used that way," Windy Boy said, adding that one school allegedly used the funds to give teachers raises.
Windy Boy said the legislation was especially important given an ongoing court case. Tribes in Montana and parents of 18 students in 2021 filed a lawsuit alleging that education leaders failed to teach the culture and heritage of Native Americans, and therefore violated the Constitution. Earlier this month, a judge refused to dismiss the suit.
Sen. Susan Webber, D-Browning, was a strong advocate for the bill and said IEFA "has helped tremendously in revitalizing tribal languages."
Patrick Yawakie, who lobbied on behalf of the Blackfeet Nation this session, said with IEFA, "we have the ability to ensure Native American culture and identity are being taught to students in Montana schools."
He added that even in the Legislature, a lack of education among lawmakers on Native policies, culture and treaties furthered stereotypes and impacted how people voted.
"We need IEFA to ensure future Montanans, especially our political representation, carry these understandings with them wherever they go," he said.
Bill 3: Montana Indian Language Program
Windy Boy's third bill that became law concerns the Montana Indian Language Preservation program.
Established by the Legislature in 2013, the program, called MILP, was created to revitalize Native languages traditionally spoken in the state. The program allows each tribe to produce resources that will help perpetuate language usage. 
U.S. assimilation and termination policies have contributed to widespread language loss in tribal communities. A Montana Budget and Policy Center report states that Montana is home to 12 tribal languages, and of those, Assiniboine, Gros Ventre and Montana Salish are critically endangered, meaning the youngest speakers are elders and they often speak the language partially or infrequently.
Windy Boy, Chippewa Cree, said there are 20 to 25 fluent Cree speakers left, and with the passing of Duncan Standing Rock in 2021, there are now zero fluent Ojibwe speakers.
His bill emphasizes the preservation of Native languages through partnerships among tribal governments and schools and highlights the roles of tribal education and culture departments.
"If we're supposed to teach kids about Natives, where do we get that information?" Windy Boy said. "That was the intent of this bill — to collect that information from the tribes so there's a resource for schools."
The bill also stipulates that any "cultural and intellectual property rights" from the program belong to the tribe.
In previous sessions, funding for MILP had been "one-time only," meaning it had to be renegotiated each session. But Windy Boy said that this year, for the first time, the MILP bill has no sunset date, meaning it will not have to be renegotiated.
"It's become permanent," he said, referencing funding for the program. "That part is huge."
'Super minority'
Windy Boy said as a Native American and Democratic lawmaker, he's part of a "super minority" in Montana's Legislature, which has a Republican supermajority.
When asked how he was able to advance these three major bills for Indian Country, Windy Boy said strategy is key.
"I learned early in my career that the one thing you don't want to do is you don't want to B.S. anybody," he said. "You gotta be real. Be genuine and tell it like it is. I take a position, and stick with it. That's probably why I get along with Republicans. I know where they're coming from, and they know where I'm coming from."
Given the supermajority, Windy Boy said he was surprised to see the "big three" pass.
"But I'm thankful," he said. "Because this legislation is needed."