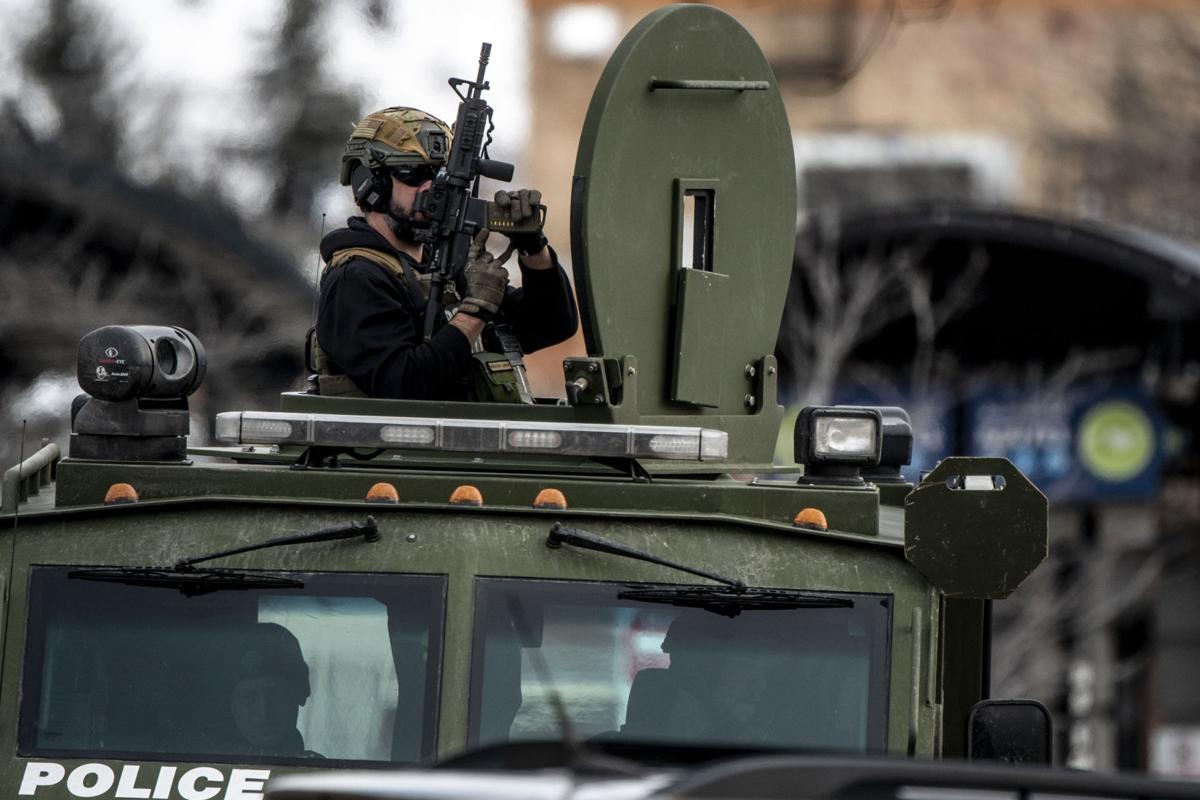 "Without having a suspect, we were dealing with a lot of unknowns," Detective Sgt. Travis Welsh said. "That included motive and intent of shooting at a police car.
"We're still dealing with those unknowns," he added. 
As investigators searched for answers, Welsh spoke with the Missoulian about how Wednesday's events unfolded, the law enforcement response and how the department has determined whether the officer's window was fractured by gunfire or something else.
The officer involved, who is a veteran of the department, was given Thursday off with pay, Welsh said. 
The officer's statement, as well as information gathered from witnesses, has given MPD confidence that Wednesday's incident was set off by gunfire, Welsh said. Witnesses in the area reported hearing at least one gunshot, Welsh said, although he declined to say if more than one was heard. 
Welsh said the patrol car window was immediately sealed up and search of the vehicle will be forthcoming. 
"Nobody here is saying that there was no gunshot," he said. 
Welsh also spoke about the immense law enforcement effort to cover the area Wednesday, which included six law enforcement agencies beyond MPD. Officials have been vocally supportive of the law enforcement response.
Others showed their appreciation with doughnuts and coffee brought to the police station Thursday by employees at the Clearwater Credit Union and the City-County Relationship Violence Services, both located near the police department.
Additionally, Welsh said it "wouldn't necessarily be surprising" if the initial reports in Wednesday's incident elicited memories of the March 2019 incident in which Montana Highway Patrol Trooper Wade Palmer was shot three times in the search for a suspect who allegedly gunned down three others west of Missoula.
Palmer and another victim are recovering, but two others died as a result of the shooting; Jonathan Bertsch has pleaded innocent to two deliberate homicide charges and two attempted deliberate homicide charges.
"We are very appreciative of the agencies that jumped in yesterday," Welsh said. 
But several people on social media were quick to question whether such a muscular response was warranted, given such little information to act on. Welsh rejected the idea, stating the amount of unknown information during a "rapidly developing situation" gave law enforcement reason to worry more people could have become targets.
"We have somebody willing to shoot at a police officer — at least a police car," Welsh said. "If we only respond to the level we did, and someone was hurt, did we not do enough?"
As law enforcement rushed to coordinate a perimeter and lock down buildings in the area, Welsh said he was pulled from his public information officer duties onto two other assignments. Ultimately, the University of Montana Police Department issued the first public notice through UM Alerts of the shots fired at a patrol car. The UM text went out at 10:24 a.m., roughly 45 minutes after the officer reported shots fired at his vehicle.
The Missoula County Sheriff's Office held a press conference outside the perimeter at 11:10 a.m. to update the public on county building closures. The Missoula Police Department issued its first release on the matter at 1 p.m.
Welsh noted that anyone entering the area would have encountered an armed law enforcement officer telling them to avoid the area. But, he added, in an ideal situation, MPD would have been issuing notices from social media and set up a press briefing station to keep media and the public up-to-date.
"The fact that it was right there, we were locking down buildings, things were developing rapidly, there were a lot of unknowns," Welsh said. "If we can learn a little bit more every time something happens, and no one is hurt, it can be a positive."
The investigation continued into Thursday night. Welsh said further information on the law enforcement response may be released in the coming days.
"We're still seeking witnesses and new leads will be investigated," Welsh said. 
Be the first to know
Get local news delivered to your inbox!