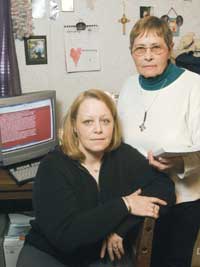 Editor's note: Barry Beach, 45, has spent more time in prison than out. Convicted of murder in 1984, Beach is serving 100 years without the possibility of parole for the 1979 murder of Nees, an 18-year-old Poplar woman. Beach has maintained his innocence throughout his incarceration. His cause has been taken up by Centurion Ministries, a Princeton, N.J., nonprofit organization that specializes in exonerating the wrongfully convicted. This is the second of a two-story package. Visit www.mtstandard.com to read Sunday's story.
Barry Beach knew he was in trouble, but he thought he could explain.
Beach had been brought to the Quachita Parish Sheriff's Office in Monroe, La., for contributing to the delinquency of minor, a misdemeanor charge based on a complaint filed by his stepmother after a family argument on Jan. 4, 1983.
Beach was 19, a few weeks shy of his 20th birthday, and not unfamiliar with the inside of a jail.
But this time Beach figured he had done little wrong. His stepsister had threatened to run away from home. He tried to persuade her to stay, inviting her and her friend to his apartment in an effort to keep them safe. A family dispute had turned ugly, but that was all.
Beach explained the circumstances to sheriff's deputies, and then was booked into the county jail for the night. The misdemeanor charge required a $1,500 bond, and Beach hoped his family would raise the money and take him home once the situation was cleared up.
Beach didn't know that he was soon to become the lead suspect in a serial killing.
In January 1983, law enforcement authorities in Monroe were trying to solve the murders of three young women. The women had died in the last two years, each shot in the head with .22-caliber firearm.
The day after Beach's arrest, his father and stepmother were interviewed by sheriff's deputies about the misdemeanor charge involving his stepsister. During the interview, the deputies learned that Beach had See CLEMENCY, Back Page Clemency …
Continued from Page A1 been questioned in the unsolved murder of a young woman in Montana.
Could Beach be Monroe's serial killer?
On Jan. 6, Beach was brought from a minimum security work release center known as the "pea farm" to the sheriff's office. He was introduced to two detectives.
The detectives began by asking Beach about growing up in Poplar. Did Beach know anything about an unsolved murder?
Beach told the detectives he knew all about the 18-year-old Poplar woman who was murdered in 1979. But did he kill her? No.
"They asked me, I said no, and it wasn't asked again," Beach said.
But the detectives weren't finished. The questions turned to the three murders in Monroe. Did Beach have anything to do with those deaths?
Beach denied any involvement, he said, and the questioning remained friendly. The detectives explained they were just trying to establish a time frame for where Beach was when the women were killed.
Beach said he had no qualms answering their questions.
"To this day, when people want to talk to me, I have nothing to hide," Beach said recently.
The interview with the detectives lasted about two hours and Beach was returned to the pea farm for the night.
*** The next day didn't go as well.
Beach was brought to the main office again. This time he was told he was going home. His father had agreed to post his bond, and after appearing before a judge he would be released. He was told to pack his belongings.
Beach said he was escorted to a small room with a desk, two chairs and the "ugliest orange carpet." After waiting alone for about 30 minutes, four detectives came into the room and started asking Beach again about the three unsolved murders in Monroe.
This time, the questioning wasn't as friendly.
"They were accusing me of doing this, telling me, don't you remember doing this? And, we have the gun you used with your fingerprints on it. We have the shoe prints that match."
Beach repeatedly denied being involved, and at one point asked for a lawyer. The detectives left Beach alone in the room for about 20 minutes, and then returned for another round of questioning.
Beach asked to talk to his mother by telephone.
"I was told that they had talked to all my family members and that none of my family wanted to talk to me, that all my family said they hated me and would not talk to me until I confessed to these murders," Beach said. "They told me that my mother specifically said that I was no longer her son until I talked to them and confessed to these murders."
Beach said the questioning continued for several hours. At one point, Beach agreed to take a "voice stress test," he said. Before the test, Beach signed a waiver of his Miranda rights, which he did several times throughout the questioning.
Beach was told he failed the test, and he was again accused of committing the murders in Monroe, he said. One of the detectives spoke with Beach alone. He asked Beach if he believed in God. When Beach said yes, the detective asked if they could pray together.
"Then, after we were done praying, he told me that God told him that I'd killed these girls and he wasn't going to forgive me until I confessed," Beach said. "I remember telling him that I felt that my forgiveness was a decision for God to make and not him. He just went ballistic. I mean his face turned red, his eyes got big, even to the point the veins in his forehead were sticking out.
"And that's when he started telling me that he knew the judge and that he promised me that I would be executed in the state of Louisiana. He told me that it would be by electric chair. He described to me, in detail, how a person dies in the electric chair, how the first thing that happens is their hair singes and catches on fire, and then their eyes pop out from the pressure of the brain cooking, and then their skin begins to turn black. And he says, I can't wait to see you like that. He says, I'm going to watch every bit of it. And he says, I want to be the one who's going to push the button because you are going to fry. He says, you're guilty of these crimes whether you admit it or not and I'm going to see you fry.
"And at that point I just broke. I began to cry. I mean, I was scared. I would have said and done anything at that point in time to get away from them."
During the next few hours, Beach confessed to killing Kim Nees, telling the detectives he beat her with a wrench and tire iron after she refused his sexual advances. He was ordered held on the Montana murder charge.
A few weeks later, Beach was told he had been cleared of the Monroe murders.
*** The confession on Jan. 7, 1983, is at the heart of Beach's claim that he was wrongfully convicted.
Beach said that before he confessed, he was asked to give a hypothetical description of how he would have committed the murders. Beach and his supporters say he described the Nees murder inaccurately when compared to the physical evidence.
"The primary reason (Beach's case) struck me from the very beginning is the confession," said Jim McCloskey, executive director of Centurion Ministries, a nonprofit organization based in Princeton, N.J. The organization works to free wrongfully convicted inmates, having succeeded in 40 cases since 1983.
McCloskey said false confessions were given in 25 percent of the cases researched by a similar organization that later resulted in an exoneration through DNA testing. People usually don't understand why someone would confess to a crime they didn't commit, McCloskey said, but experience shows some common traits.
The confessor is usually young and inexperienced, scared, alone and unable to assert himself, McCloskey said. The person usually feels isolated, and "would do anything" to get out of the situation, he said.
McCloskey said an expert in false confessions has reviewed Beach's case and will testify at his clemency hearing that it is false.
In its reply to Beach's clemency application, the Montana Attorney General's Office asserts that Beach's confession has been upheld by numerous courts. The Louisiana detectives have testified that Beach was not tricked or coerced, and Beach freely confessed to the murder in Montana, an attorney for the state said.
"It is undisputed that Beach confessed," Assistant Attorney General Michael Wellenstein writes in the response. "Further, Beach has litigated the legitimacy of his confession before the trial court, the Montana Supreme Court, the Federal District Court and the Ninth Circuit Court of Appeals. In every instance, the courts have upheld the voluntary nature and legitimacy of Beach's confession."
Beach's assertion that his confession is false based discrepancies with the evidence found at the crime scene only lends credibility to the confession, Wellenstein said.
"If every aspect of Beach's confession were exactly correct, it may no longer ring true," he said.
*** When Beach was returned to Montana to stand trial for Nees' murder, his family hired Billings lawyer Charles "Timer" Moses, a well-known criminal defense attorney.
Beach's mother, Roberta Clincher, said she has always believed in her son's innocence. She said the family paid $65,000 to Moses to defend her son.
Now retired, Moses declined to comment for this story.
Beach said he was offered a plea agreement before his trial. The deal was negotiated between prosecutors and a public defender appointed to represent Beach before Moses was hired. If Beach pleaded guilty to mitigated homicide, prosecutors would recommend a 20-year prison sentence. Beach would likely serve less than five years.
"I will die in prison before I ever admit killing Kim Nees, because I didn't do it," Beach said recently. "I did not kill Kim. And I'm not going to take a false confession and compound it further by pleading guilty. The confession itself is false."
*** Beach was convicted of murder on April 13, 1984, after a three-day trial. The jury deliberated six hours. Beach said he felt numb when the verdict was read.
The confession was the prosecution's key evidence. Beach said prosecutor Marc Racicot, then a special prosecutor with the Attorney General's Office, and one of the Louisiana detectives presented the confession at trial by having Racicot read the part of Beach during the confession. It was a powerful display, Beach said, that likely had great influence on the jury.
The detective also testified that Beach confessed to the Nees murder a second time. The detective said that just days after giving his first confession and with his attorney present, Beach again admitted to the killing.
The detective's testimony about a second confession is contested by Beach. The attorney in Monroe who was hired by Beach's family in 1983 has written an affidavit and intends to testify at Beach's upcoming clemency hearing that the second confession never happened.
"When a jury is told someone confessed in front of their own attorney, that's powerful," said Peter Camiel, a Seattle attorney who is working on Beach's clemency case. "That piece of testimony is just overwhelming."
Moses did not put Beach's attorney from Louisiana on the stand to testify at the murder trial. Beach also did not testify.
Beach said he was unaware of the claim that he had confessed a second time until the detective's testimony at his trial.
At his sentencing hearing a few weeks after the trial, Beach said he again denied killing Kim Nees. He asked the judge to give him a "chance at life."
Judge M. James Sorte was not impressed. He declared Beach a dangerous offender and sentenced him to 100 years in prison without the possibility of parole.
*** The testimony of a second confession weighed heavy with the Montana Supreme Court when Beach filed his appeal.
"Furthermore, and most importantly, defendant made a statement on January 11 in the presence of his attorney and after opportunity to confer with him," the justices wrote in a unanimous decision issued on July 25, 1985.
The appeal raised several issues and was denied on them all. Justice John Sheehy wrote a three-sentence concurrence, noting that "all other issues fade in fact" as the result of Beach's confession in the presence of an attorney.
Beach said the only conversation he had with his attorney on that date was about taking a polygraph test. There is no record of a second confession, Beach said, and it "exists only in the testimony" of the Louisiana detective.
*** There are other problems with the case, Beach and his supporters say.
The palm print found in Nees' blood on the truck has never been identified. It did not come from Beach or Nees.
"I think the palm print is a huge issue," said Camiel. "If you could identify that person, they certainly would have a lot of explaining to do."
Other issues raised by Beach include the question of still-unidentified fingerprints and footprints from the crime scene. Investigators never matched Beach to any of the prints, leaving a large hole in the murder investigation, McCloskey said.
"Nobody pays attention to that because they got their conviction and they don't want to deal with it," he said.
While attempting to gather evidence to support Beach's innocence, Centurion Ministries has also discovered "substantial" evidence that suggests Nees was killed by a group of female rivals in a jealous rage. Several witnesses recently have come forward and will testify at the clemency hearing about what they know that could help free Beach, Camiel said.
"We think this is pretty powerful stuff," Camiel said.
Beach said 200 people who lived in Poplar at the time of the murder have told investigators with Centurion Ministries that they remember being out and about the night of the slaying. None can recall seeing Beach.
*** For the last 24 years, Beach has remained behind bars mostly in obscurity, waging his quest for exoneration with the support of his family and a few friends. Darlene Peterson, who grew up with Beach in Poplar and now lives in Billings, has been an ally, gathering signatures to support his application for clemency and creating a Web site for Beach's case.
Kim Nees' family has remained quiet. Her sister, Pam, now lives in Billings, and after initially agreeing to an interview, did not return several messages. Peterson said Pam did grant an interview to "CBS Dateline."
Her mother, Diane Nees, lives in Butte and also declined to be interviewed. Wellenstein said in the state's response that Diane Nees "does not have the wherewithal" to participate at the coming hearing.
"She has shared that after the Ninth Circuit Court Appeals denied Beach relief from his conviction, she finally believed the nightmare she had been living had come to an end, and she would be allowed to heal," Wellenstein said. "As a result of this proceeding, she has been victimized again. Her wounds are raw, and now she questions whether her nightmare will ever truly end."
Beach said he understands the Nees family's pain.
"I hope they can find some healing somewhere in their own lives through all of this," he said. "But healing is not going to take place with the wrong man being in prison."
— Greg Tuttle is a reporter for The Billings Gazette, Billings.
Be the first to know
Get local news delivered to your inbox!