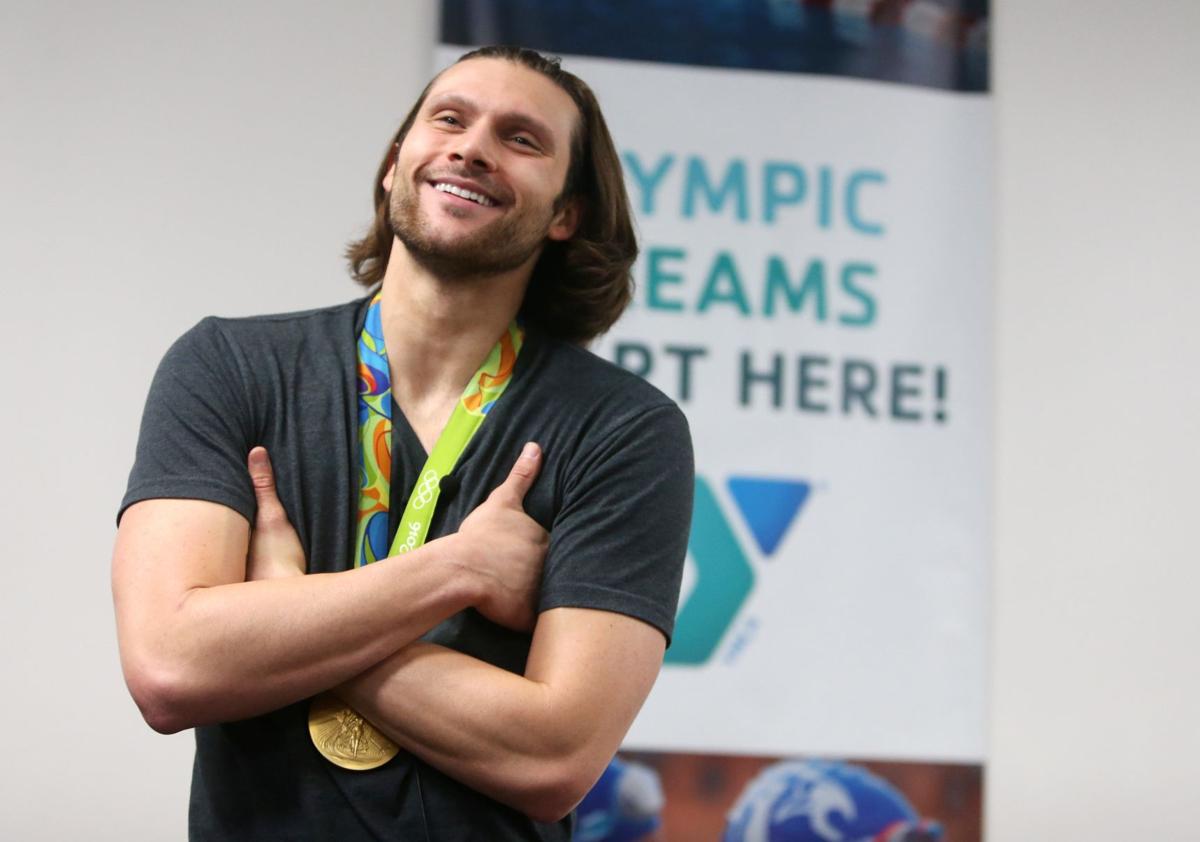 BILLINGS — Billings Seahawks swimmer Kylie Tininenko brought a canvas with her to swim camp last summer in Cody, Wyoming. Together with Maria Bentz and Myah and Riley Kunz, they were going to paint a medal.
Instead, they made a painting for Olympic medalist Cody Miller. They had heard he was from Billings and thought it might be cool to give to him some day.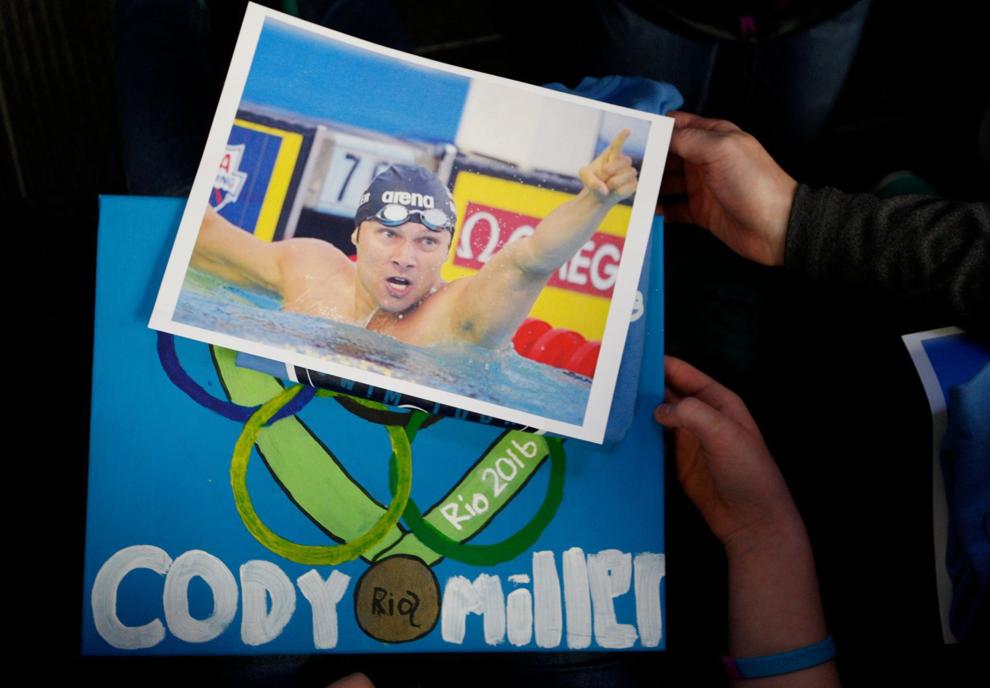 Friday morning in the lobby of the Billings YMCA, they got their chance.
Miller, 24, who is best remembered for his exuberant reaction to winning the bronze medal in the 100-meter breaststroke at this summer's Olympics, was born in and spent six years as a child in Billings. Although he now lives and trains in Indianapolis, Indiana, Miller returned to visit family still in Billings for the holidays.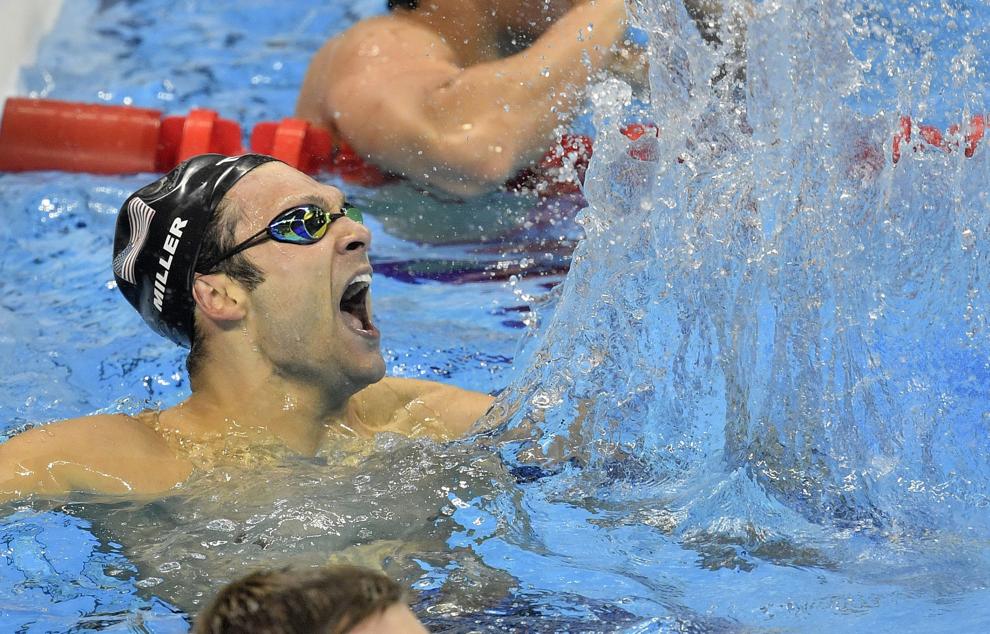 While in town, he met with Billings swim teams.
Miller took his first swim lessons at the YMCA and the Rocky Mountain College pool. At 8 years old he began swimming competitively in Las Vegas.
In addition to his individual Olympic bronze medal, Miller earned gold and set an Olympic record on the 4x100 Individual Medley relay with Ryan Murphy, Michael Phelps and Nathan Adrian. He also earned 17 international medals, five world championship medals and five American records (eight including relays).
"It's not fun diving in the water at 5:30 a.m. every morning," said Miller. "It's not always fun, but it's worth it."
He pulled both his bronze medal and gold medal from their velvet bags to show to the swimmers. 
"They look way different than what you see on TV," 13-year-old Bryn Turnquist said.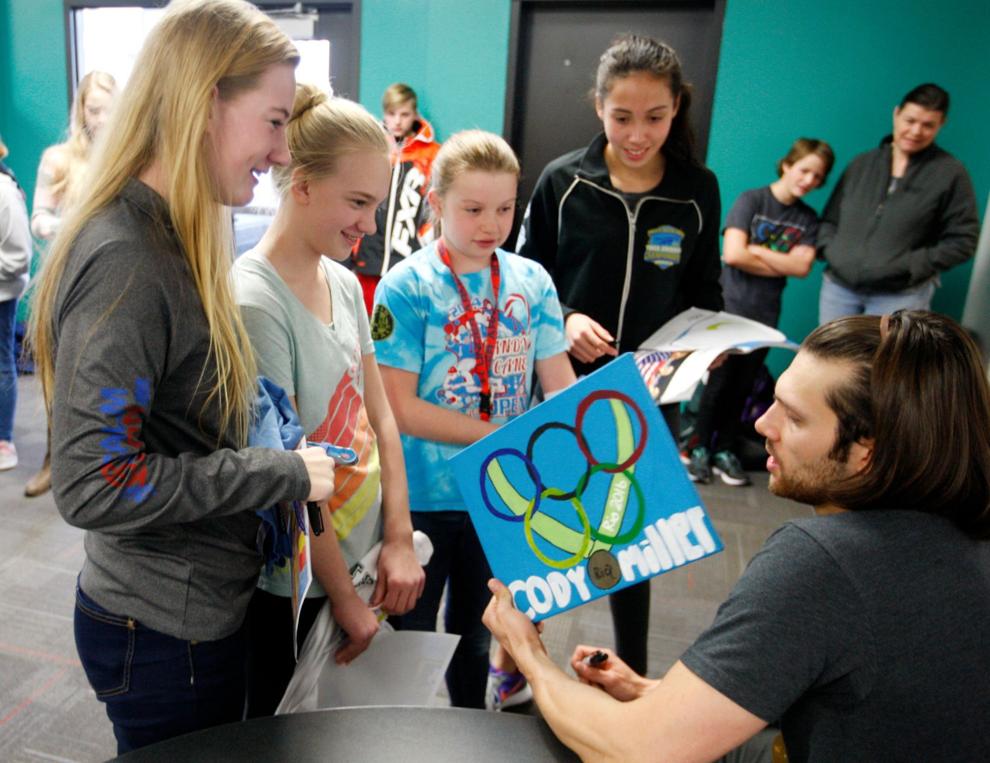 Friday morning Miller described his reaction to winning the bronze to the small crowd of swimmers from teams all around town who had gathered in the lobby of the YMCA.
"That was the fastest heat of swimming in history," he said, noting in that same race Great Britain's Adam Peaty "obliterated the world record."
The silver medalist, South Africa's Cam van der Burgh, was the previous world record holder and Olympic champion.
"Other people were like, 'It's only a bronze medal,'" Miller said. "But I was like, 'How many Olympic medals do you have?'"
At 5'11" Miller is shorter than many swimmers, but used his time Friday to emphasize the importance of hard work.
"You don't have to be super big to be really good, you just have to work really, really hard. It doesn't matter. I'm living proof of that," Miller said.
Miller's story generated interest not only for his enthusiastic reaction, but also because he has 12-20 percent less lung capacity than most other swimmers due to a condition he was born with.
"I have this condition called pectus excavatum, which basically means I have a hole in my chest. So I can put my medal in my chest and look like Iron Man, which is really cool" Miller joked. "I was really self-conscious about it when I was a little kid."
But he reminded them that everyone has things about themselves they are unsatisfied with.
"You just have to work really, really hard and set your goals high and never give up on your dreams," Miller said.
And when asked about the possibility of swimming at the next Olympics?
"I'll take it one year at a time, but I would like to swim in Tokyo," said Miller.
"If he does go to Tokyo in 2020, we want to be there," 13-year-old Maria Bentz said of her team's own Olympic dreams.