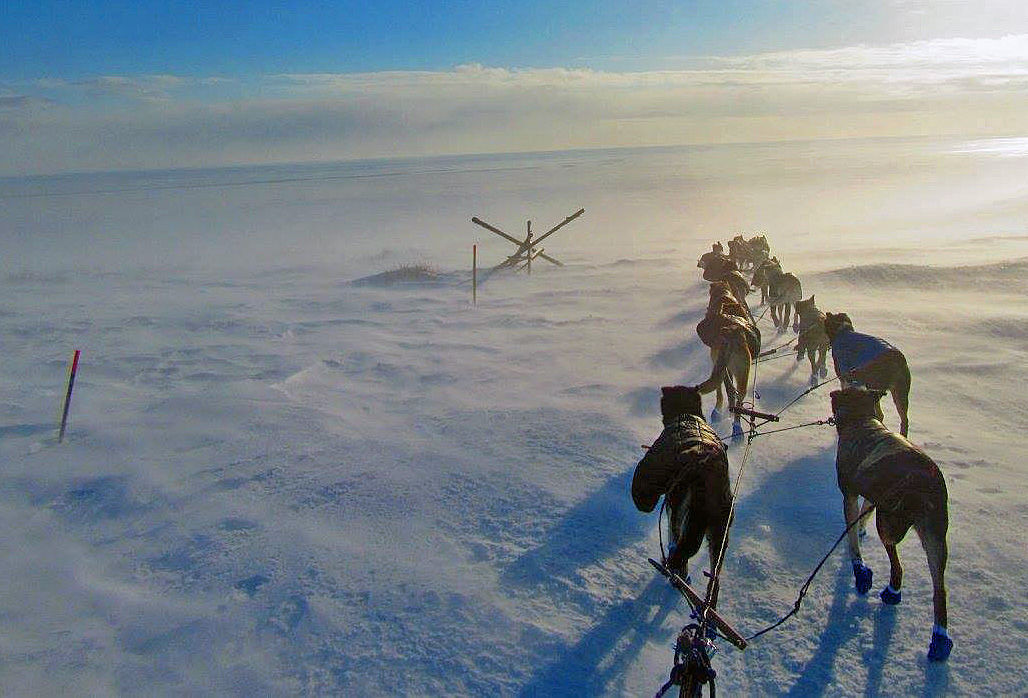 Montana musher Jessie Royer was in third place 4½ hours behind the leader Tuesday evening in the final stages of Alaska's Iditarod sled dog race.
Meanwhile, Brett Bruggeman's run came to a disappointing end.
Bruggeman, of Great Falls, was forced to join the growing ranks of withdrawn teams at Shaktoolik on the Bering Sea, 221 miles short of the finish line in Nome. He scratched at 7:20 a.m. Alaska time, or 9:20 a.m. in Montana.
"I just received a call from Brett with some disappointing news," Bruggeman's wife Suzette posted on the Skinny Leg Sled Dogs Facebook page.
"For the whole race the 'dogs were doing wonderfully.' Yesterday afternoon they left Unalakleet checkpoints 'happy as larks.' Between Unalakleet and Shaktoolik the weather was very warm and they battled a huge storm. By the time they reached Shaktoolik they 'looked like different dogs.' They won't eat. It is still storming there.
"Worried that the dogs cannot keep up with the calorie demands required of them as they face the brutal coast and the sea ice in this storm, Brett has chosen to withdraw from the race. Brett is stunned that the situation turned so fast but feels that his dogs' health and safety are more important than a finish."
Suzette Bruggeman said her husband told her "in a tear-filled voice:" "We were doing so well. This is not how I expected things to turn out. But I enjoyed the battle."
Bruggeman, 48, had moved into 24th place at Shaktoolik. He was coming off his first victory in the 300-mile Montana Race to the Sky last month, and was competing for the second time in the 1,000-mile Iditarod, the world's most famous sled dog race. He placed 38th last year.
Royer, who lives in Fairbanks, Alaska, was chasing Alaskan Peter Kaiser and defending champion Joar Leifseth Ulsom of Norway. They reached White Mountain, 77 miles from Nome, Tuesday at 10:05 a.m. and 10:46 a.m. MDT, respectively.
Royer pulled in at 2:40 p.m. on a pace slightly slower than Kaiser's but faster than Ulsom's. All teams are required to take an eight-hour rest at White Mountain before heading to the last checkpoint, Safety, 55 miles to the west. It's another 22 miles to the finish in Nome.
Kaiser and Ulsom were each down to eight of the 14 dogs with which they started on March 2. Royer, a four-time Race to the Sky winner who has lived at various times in Ennis, Philipsburg, White Sulphur Springs and Darby, had 11 dogs in the harness when she reached White Mountain. 
Her best Iditarod finishes in 16 previous starts were fourth in 2015 and fifth in 2017.
Cindy Gallea of Wykoff, Minnesota, a former nurse practitioner in Seeley Lake, was last among the 42 teams remaining in a race that started with 52.