COOKE CITY — Getting through a winter in Montana's highest-elevation town is not for the faint of heart.
The 80 or so residents who live year-round in Cooke City characterize this winter as a seemingly endless procession of blizzards, with heavy snow driven sideways by winds that can reach 60 mph in town.
Not that local business owners consider that a reason to complain.
"This year, with the snow hitting every week, it's just gobs of people here every Thursday," says Rick Sommers, a born-and-bred Cooke City resident who owns the Exxon gas station and mechanic shop on Main Street.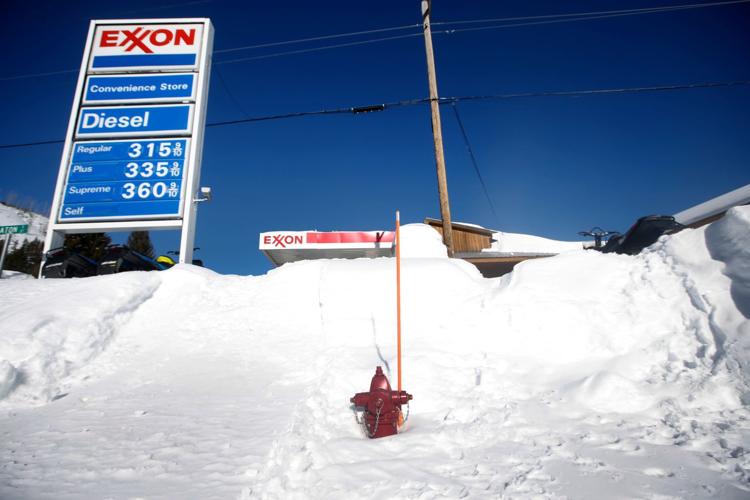 Snowmobiles rumble up and down the town's four-block main drag, stopping for fuel at the Exxon or coming in to the shop for sled repairs. Dogs are largely left to their own devices, running happy and free around town, since very few homeowners bother to build fences in a region where the snowdrifts would simply bury them each winter.
With 15-foot piles of snow along both sides of the street, Sommers says the snowmobilers who drive Cooke City's wintertime economy have responded in kind to one of the snowiest winters he's seen in years.
"It used to always be like this. Every week it's new snow, and people are all happy," he says.
Even in an off year, months of heavy snow define the winters here. Cooke City sits at an elevation over 7,600 feet, tucked between the soaring peaks of the Absaroka and Beartooth mountain ranges that straddle the Montana-Wyoming border. Winter access to the former mining camp is by way of Yellowstone National Park, leaving through the Northeast Entrance and winding along Soda Butte Creek for 9 miles before the highway ends at the eastern edge of town.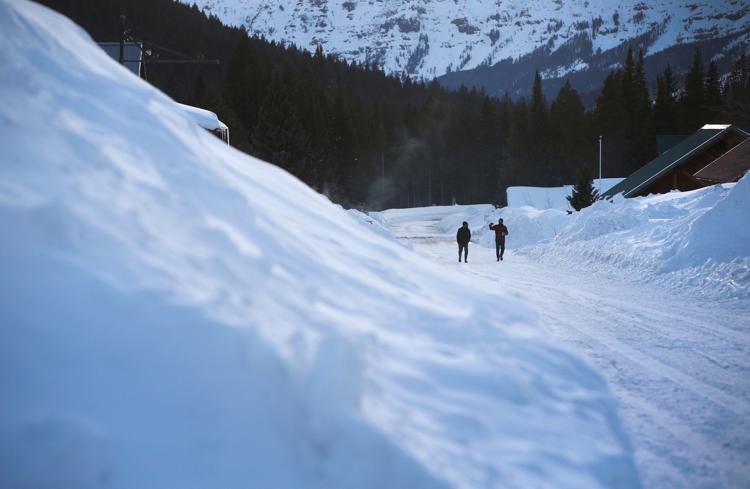 For much of the year, the 68-mile Beartooth Highway is closed to vehicle travel, buried under massive snowdrifts as the road winds southwest from Red Lodge, up to nearly 11,000 feet on the Beartooth Plateau in Wyoming, before crossing back into Montana to make its westward decent to Cooke City.
That isolation creates some challenges in winter. It's 57 miles to the nearest grocery store, in Gardiner. When locals talk about "going in to town," they're typically referring to Bozeman or Billings, a 4- or 5-hour drive.
While procuring and maintaining a stock of food is certainly different for Cooke City residents than for city slickers, Sommers says it isn't that big a deal if you plan ahead.
"Instead of a weekly shopping list, I have a monthly shopping list. And they like to see you when you show up."
Mona Abelseth, co-owner of Cooke City Motorsports, says she makes the trip to Bozeman to stock up on groceries twice each winter, and her daughter sends produce from Billings about once a week.
Across the street from Sommers' shop, Jan Gaertner is sitting just outside the front door of Buns and Beds, one of the few year-round restaurants in town, soaking up a rare sunny day as she waits for the next customer to wander through. Mostly joking, she cautions passers-by, "Don't fall in a hole, we might not find you 'til spring."
Gaertner moved to Cooke City in 1995, and says she quickly fell in love with the bounty of outdoor opportunities the region affords.
"I think we all get here, coming here to recreate, and think, 'Oh my God, I want to live here,' " she says, beaming up at the snow-covered peak of Republic Mountain looming over the south side of town. "But you have to be a non-materialistic person to live here."
Not everyone in town is a snowmobiling or skiing enthusiast. But even for those who are, the isolation leaves little else to do as the days grow shorter and colder. This time of year, locals use her business as a gathering spot, grabbing up copies of the weekly newsletter that provides upcoming meeting dates, advertisements for community events and a other bits of information. This week's news includes a breakdown of how the town's local sales tax will be allocated.
You have free articles remaining.
"You definitely need TV in the winter," she says. "You go out for pizza once in a while, have game night, play cards."
Gaertner recently retired from a 19-year stint with Park County Search and Rescue, but she still volunteers with the local fire department and EMS. Given the dominance of outdoor recreation in the area, medical emergencies and search-and-rescue operations often require long trips deep into the backcountry to extract victims.
"A lot of times, we have to bring patients out with very serious injuries," Gaertner says. "Most of us lock our businesses up and take off, and we're gone for two to four hours."
The area is devoid of cellphone service, so everyone stays wired in to radios and pagers, she says. Patients who are immobilized have to be loaded into a special plastic sled that gets pulled behind a snowmobile, which can be a rough ride when the moguls, or "whoops," start building up on the trails.
Many of the seasoned searchers, like Sommers, can divine a more or less exact location of the victim from a rough description of the area they were injured. Still, it can take a while to get to them, and then to get them out.
"So many times, we're just fighting hypothermia (in the patients) by the time we get there," she says. Once back in town, it's 51 winding miles by car to get to the walk-in clinic in Mammoth, if it's open. If the patient requires more extensive care, it's a 2.5-hour ambulance ride to Livingston.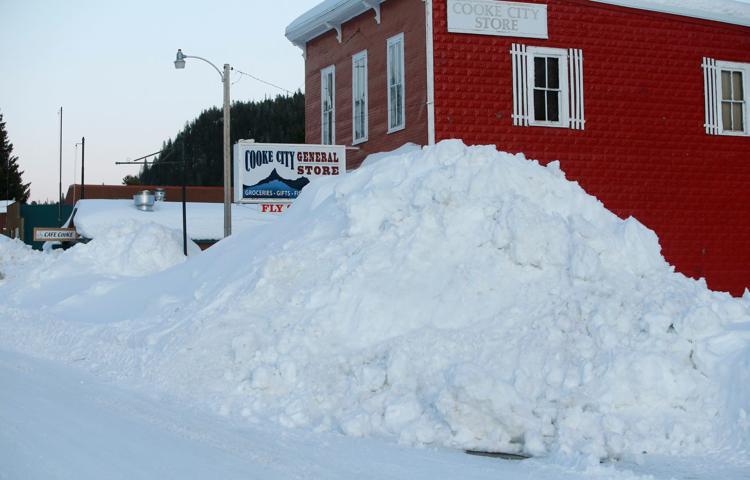 Gaertner jokes that she seems to have "this invisible sign here that says 'Jan's Walk-In Clinic.'" She recalls working with another EMS volunteer one day when a trauma victim with a dislocated shoulder was brought in. They cleared the cash register off the counter, set the patient on a the impromptu operating table, and "bloop" — popped the arm back into place.
"There's probably 80 people that live here year-round, so we all wear many hats," Gaertner says. "What we do in a small town is a lot, for not a lot of people. It's a lot of dedication."
Sommers' son, Lucas Jack, is also a lifelong Cooke City resident, and another wearer of multiple hats. He's president of the Upper Yellowstone Snowmobile Club, a member of the local fire, school and water-district boards and a former vice president of the chamber of commerce for the Cooke City-Silver Gate-Colter Pass area.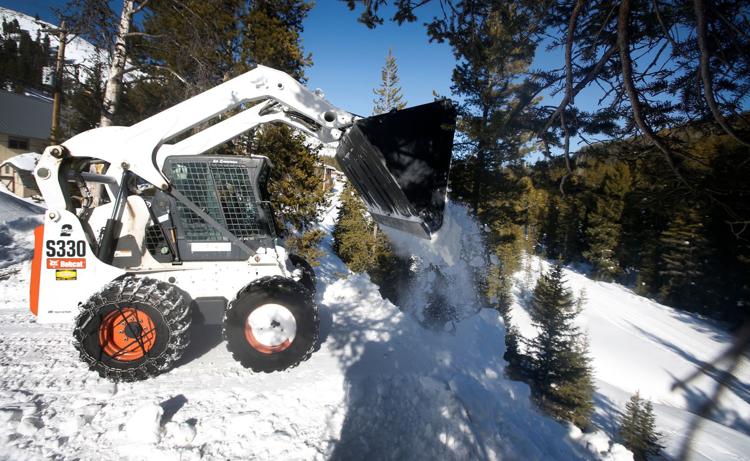 "Growing up here, we used to have everyone in town" volunteering to keep the various boards and organizations running, Jack says. But now, "Just finding volunteers is getting harder, because everybody gets burned out from doing it every year."
Jack's schedule, which includes working 11-hour shifts followed twice per week by another seven or so hours grooming the snowmobile trails outside of town, is about to finally slow down.
The tourist-driven local economy gets its biggest boost in the summer, when the seasonal population swells to around 300 residents and around half the businesses in town re-open to accommodate the spike in travelers from the Beartooth Highway and Yellowstone. The shoulder seasons, Jack says, offer a short reprieve "when everybody's nerves start to calm down."
But for Cooke City's year-round denizens, the brutal winters also provide a year-round livelihood. Standing in line at the Bearclaw Bakery, Colten Sunde said his group of six snowmobilers made the 16-hour trip from Pequot Lakes, Minnesota, because they knew the snow would be worth it.
"Pretty much everybody knows — anybody that's in the sport, I should say, knows about Cooke City," Sunde says. "Pretty much, the two destinations that come up in conversation are Cooke City and West Yellowstone."
Shannon Abelseth, Mona's husband and the other co-owner of the snowmobile shop, believes that reputation is what keeps the town alive.
"Yellowstone doesn't generate enough traffic to keep this place open in the winter," he says. "Without the snowmobilers, this town would be boarded up."