Madison County, in southwest Montana, was named healthiest in the state, based on 30 different criteria. Roosevelt County, in the northeastern part of Montana was deemed least healthy, and Yellowstone County landed in the middle, at 19th place.
The report released Wednesday was produced by the University of Wisconsin Population Health Institute and funded by the Robert Wood Johnson Foundation. It includes both health-released data and statistics linked to other factors, including education, income, alcohol use and level of activity.
Of the 47 counties ranked (out of a total of 56), the five healthiest are Madison, Gallatin, Jefferson, Carbon and Fergus counties. Roosevelt was least healthy, and the four just above it included Glacier, Big Horn, Rosebud and Blaine counties.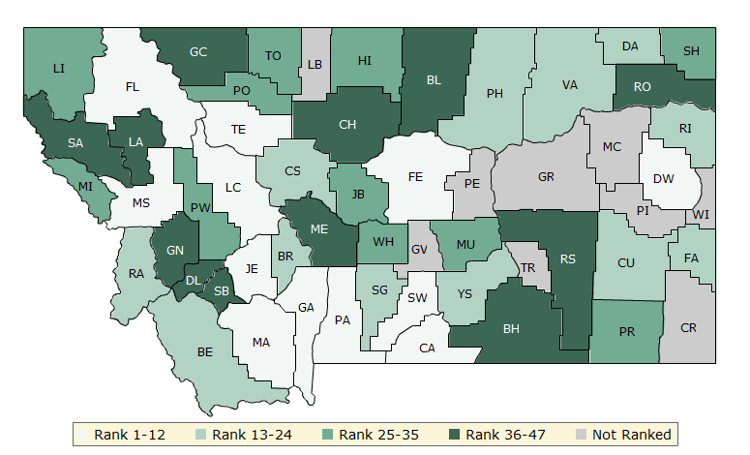 Comparing Madison and Roosevelt counties reveals some of what the report calls meaningful gaps that explain the disparities in their rankings. The estimated population of Madison County, as of 2016, is 7,924, and 11,305 in Roosevelt County, according to the Montana Association of Counties.
In Roosevelt County, 37 percent of adults smoke, more than double the 15 percent of adult smokers in Madison County. The number of sexually transmitted infections documented in Roosevelt is 1,573, more than 10 times higher than the 116.7 in Madison. Yellowstone County falls in between the two on smoking, at 16 percent, and sexually transmitted diseases at 450.2.
In Roosevelt County, 25 percent of the population is uninsured, compared with 18 percent in Madison. 
At 15 percent, there are fewer uninsured in Yellowstone County, whose estimated population is 158,437, than No. 1 Madison. When it comes to violent crime, Roosevelt County totals 541, versus 318 in Yellowstone County and 108 in Madison. 
You have free articles remaining.
You're out of free articles
Sign in or create a FREE account to keep reading.
In Roosevelt County, 33 percent of children live in poverty, compared with 17 percent in Madison and 14 percent in Yellowstone. Forty-seven percent of children in Roosevelt County live in single-parent households, compared with 14 percent in Madison and 30 percent in Yellowstone.
According to the report, if residents of all counties in Montana had the same opportunities for health, there would be:
39,000 fewer adult smokers.
25,000 fewer adults who drink excessively.
29,000 fewer people who are uninsured.
17,000 fewer children in poverty.
2,000 fewer violent crimes.
Laura Williamson, senior public health epidemiologist with the Montana Department of Health and Human Services, said the data differences might not vary much from county to county. The report also just "brushes the surface" when it comes to mental health issues.
The report's value comes in what it can tell local communities, said Williamson, a point of contact for the report who had nothing to do with its creation.
"There's a lot of areas locals can look at their own data and start to identify areas where there's opportunity for some improvement in housing or education," she said. 
Or maybe it will bring together different jurisdictions in a community, she said — local government, schools, law enforcement and health care — to decide where to start to make a difference.
Montana, as a whole, ranked 22 in America's Health Rankings in 2017. DPHHS recently completed its own state assessment to see health-wise where Montana stands.
In terms of unintentional injuries, including motor vehicle accidents, poisonings and falls, Montana is doing much worse, she said. But regarding heart disease and cancer, the state is seeing fewer deaths than the rest of the country.