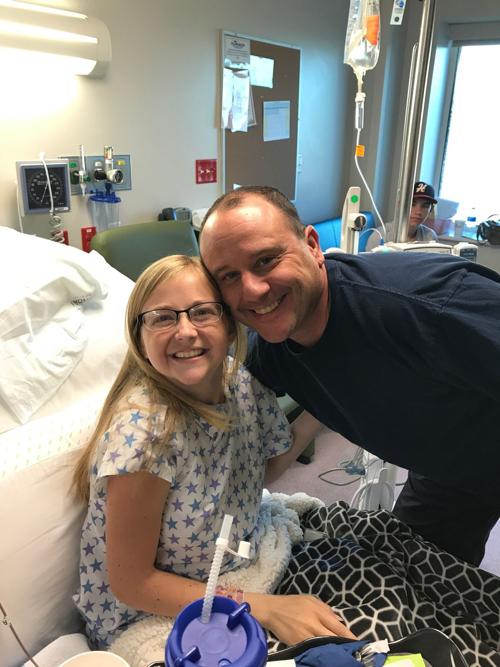 HELENA — On the second floor of a Primary Children's hospital in Salt Lake City, doctors wheeled Ashley Lindgren, 19, into the operating room just after 1 p.m., Tuesday, June 20. She was about to get another chance at a normal life.
For the last 10 months, Ashley had undergone near daily dialysis, the exhausting process of removing her blood, filtering it, and returning it to her body.
In early August 2016, Ashley's single functioning kidney flipped over, twisting the arteries connecting to it, cutting off the flow of blood. She was life-flighted to Salt Lake City, where she underwent emergency surgery to try and save it.
Ashley had just graduated from Capital High and was set to begin studying theatrer in Missoula at the University of Montana that fall. She was in the midst of performing in Montana Shakespeare Company's rendition of "King Lear" when all her plans suddenly came to a halt.
"I lost all of it overnight. All of my plans for the future, all of the people I left behind in Helena, it just all fell apart."
For 10 months, Ashley's life revolved not around gaining her education, hanging out with friends or pursuing her passions. It was centered around early morning dialysis, a process that after three hours of filtration, left her so worn out that she slept until 3 p.m. most days. But this summer, Ashley received a glimmer of hope.
Ashley first met Ryan O'Connell at her uncle Jay's wedding. She was only a toddler, and he was a groomsman.
Ashley had been diagnosed at 6 months old with autosomal recessive polycystic kidney disease, a disease that leads to the growth of cysts on, and eventual failure of, the kidneys.
O'Connell, a friend of the family for about 30 years, said he knew she had kidney problems as a child, but had not heard much about it in years. He came across a GoFund.me page created for Ashley's family last September, learned her kidney had failed, and needed a transplant.
"I had just lost my job at New West Health when they closed down. And something just told me I was in the right place in my life to do something that really made a difference. Once we got the process started, I just knew it was going to happen."
A dancer, golfer and actress at Capital High, Ashley was an outgoing, model student.
Ashley had her first transplant at age 14. Her mother, Tammy Lindgren, was a match and successfully donated one of her kidneys to Ashley. Doctors think that because Ashley was still young at the time, space was made as she grew, and her mother's donated kidney moved around, and ended up flipping over and failing last year.
Her father, David Lindgren, did not have the same blood type, so could not donate to Ashley. He enrolled in a crossmatch program, where he would donate to someone who he matched in exchange for receiving a donation from someone who matched with Ashley. Unfortunately, the crossmatch never materialized.
In February, O'Connell started the process of becoming a donor for Ashley. He was a match, and passed the extensive exams, questionnaires and interviews.
His family was hesitant at first. O'Connell has two teenage boys of his own, and said his family was concerned about him volunteering to go under the knife.
"They were supportive once we did the research about how safe this process is. I think they also came on board once they saw my passion for doing this."
On June 19, O'Connell, his girlfriend and sons caravanned with his parents down to Salt Lake City. That night, the night before the transplant surgery, the O'Connells and Lindgrens picked up dinner to-go from Ashley's favorite restaurant, Olive Garden, and headed back to the hotel to eat.
"They don't have one in Helena, so it's really a treat for me. Chicken fettuccine alfredo. You just can't beat that," he said.
Ashley said the dinner conversation wasn't overly emotional, even though it was the culmination of so much struggle and pain.
"The word 'surreal' kept coming up," O'Connell said. "Even now, just thinking we did that, you know the conversation just stops."
On Tuesday morning, O'Connell went into Utah University Hospital, on the same campus as Primary Children's. The surgery took less than three hours. O'Connell said he heard some voices as he slipped under the anesthesia, and woke up to his family waiting for him.
Later that night, he found out that Ashley's surgery was a success.
By 7 p.m., Ashley said she could feel her new kidney working. After almost a year of constant tiredness, she felt alert and focused, even after a four-hour-long surgery.
"I could finally take it all in, like everything had been blurry for so long."
The surgery left her with 19 staples and a crescent-shaped scar on the left side of her abdomen. She calls it her moon scar.
Ashley will be in and out of Salt Lake City until July 25 for follow-up tests to make sure everything is working properly. After that, she will finally pick up where she left off a year ago, and will be off to the University of Montana for a theater degree.
O'Connell said he never could have imagined the feeling of self-satisfaction he got after the surgery. He asked others to keep the Lindgrens in their thoughts while Ashley heals, and to keep an eye out for all she will be able to accomplish now.
"I'm really just a guy with an extra kidney. Ashley and the Lindgrens are the true heroes with what she has been through. I'd really like to raise the awareness of being an organ donor. Not everyone can donate a kidney or a lung or whatever, but if it is something you are able to do, there are options out there to help offset some of the costs. I would just hope everyone can find something that brings them this level of deep satisfaction that I have."