The state's prosecutors are pushing four proposals for next year's legislative session.
Five members of the Montana County Attorneys Association addressed the Law and Justice Interim Committee in Billings on Monday to outline their legislative priorities for the 2019 session.
Pretrial diversion program
MCAA wants to create a program for lower-level drug offenders to help them get out of the criminal justice system and into treatment more quickly.
Under the proposal, first-time felony drug possession defendants would be eligible. They would agree to plead guilty, and prosecutors would suspend proceedings.
The defendant would then need to complete the terms of the agreement, which would likely include a chemical dependency evaluation and recommended treatment. The defendant would pay for their own treatment, and would have roughly 12-18 months to do so.
If successful, the defendant would avoid a criminal conviction and charges would be dismissed. If unsuccessful, prosecutors would resume proceedings.
The proposal would save money long term, MCAA says, by avoiding the expenses of a pre-sentence investigation, Probation and Parole services and additional overall Department of Corrections commitments.
Custer County Attorney Wyatt Glade called the proposal a "pressure release valve for the criminal justice system."
Lawmakers voiced support for the concept, but some questioned whether existing treatment resources were sufficient to handle the influx of people likely to be seeking services under the proposed program.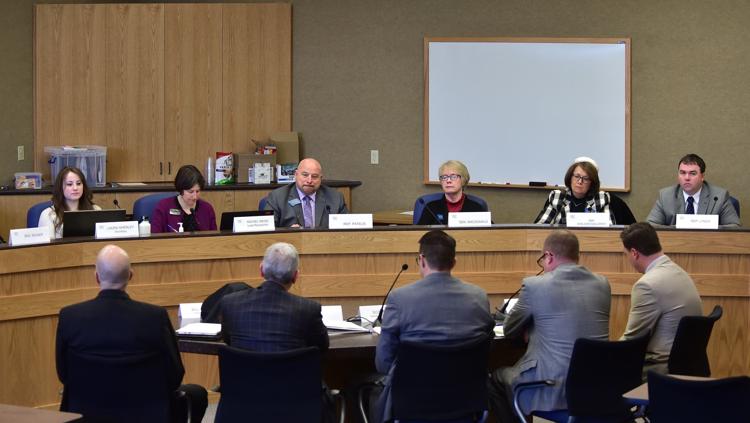 Double victims' witness surcharge
Prosecutors want to double the crime victims' witness surcharge from the current $50 to $100.
Gallatin County Attorney Marty Lambert said he believed the surcharge had been set at $50 for more than 20 years, and that the increase was overdue and would help pay for the increase in crime victims the state has seen over the past two decades.
Those funds are critical in domestic violence situations, Lambert added, and can help cover costs as basic as food and transportation for victims.
Currently, the surcharge does not cover the full cost of providing victim services, prosecutors said. County, city and grant funds also pay into the fund, but those sources "will soon be insufficient," MCAA said in a memo on the proposal.
Raising the surcharge would also help ensure that the people who commit crimes are paying to help their victims, the group said.
Sen. Margie MacDonald, D-Billings, asked what safeguards were in place to make sure the new revenue didn't get spent on incarceration.
You have free articles remaining.
You're out of free articles
Sign in or create a FREE account to keep reading.
"Because a lot of the people who land in your system, it's like squeezing blood out of a turnip," she said.
Lambert, the Gallatin County attorney, said judges can choose not to impose certain charges or fees if they believe the defendant cannot pay. But, he added, often a person will find a way to pay those court-ordered costs when they realize the judge isn't going to "allow them to shirk that responsibility."
"My best answer is, we have to trust the judiciary," Lambert said.
Sentences for repeat DUIs
Prosecutors want to extend the sentencing range available to judges for repeat drunken drivers.
Reforms passed during the 2017 Legislature changed a sentencing tool called the "persistent felony offender" status, which allowed judges to hand down lengthier sentences for someone with more extensive criminal history.
Under last year's changes, a person can't receive the designation now unless they commit three felonies, instead of the previously required two, within a certain time frame. (Typically, that's five years between the current offense and the most recent one.) One of the three felonies must be a sexual or violent crime.
Previously, judges could impose a sentence on a repeat DUI offender of 10 years, while now the most they can impose is five years with the Department of Corrections, Twito said. 
Prosecutors said the change has made it too difficult to get dangerous drivers off the roads, and that some version of the old setup needs to be reinstated.
The PFO designation was used "sparingly," said Yellowstone County Attorney Scott Twito — roughly 20 times in the county within an 18-month period.
The PFO designation is intended for people who have previously been through addiction treatment programs, monitoring or specialty treatment courts and failed, Twito said.
"This is the person that's got 12, 13 (DUIs), despite all our efforts, both at the community level, the state level, everything," he said. 
Rep. George Kipp, D-Heart Butte, said a lot of criminal activity boils down to the problem of alcohol abuse and questioned whether existing treatment programs in Montana are effective or accessible enough. 
Minimums in child sex abuse cases
MCAA proposes to return to the previously required 25-year mandatory minimum for sexual crimes against a child age 12 or younger, according to the group's memo. The 25-year provision was enacted under Jessica's Law in 2007 but reduced to a 10-year minimum last year.
Rep. Jimmy Patelis, R-Billings, who is vice chair of the interim committee, said he would support the proposal, and that he had wanted to prevent the change from taking place last year.
"But I'm here to tell you I think that's an embarrassing, embarrassing bill, to drop that 25 years to 10 years," he said, referencing the change made last year. "And I'm sick about it, that we couldn't get it changed at the last minute."