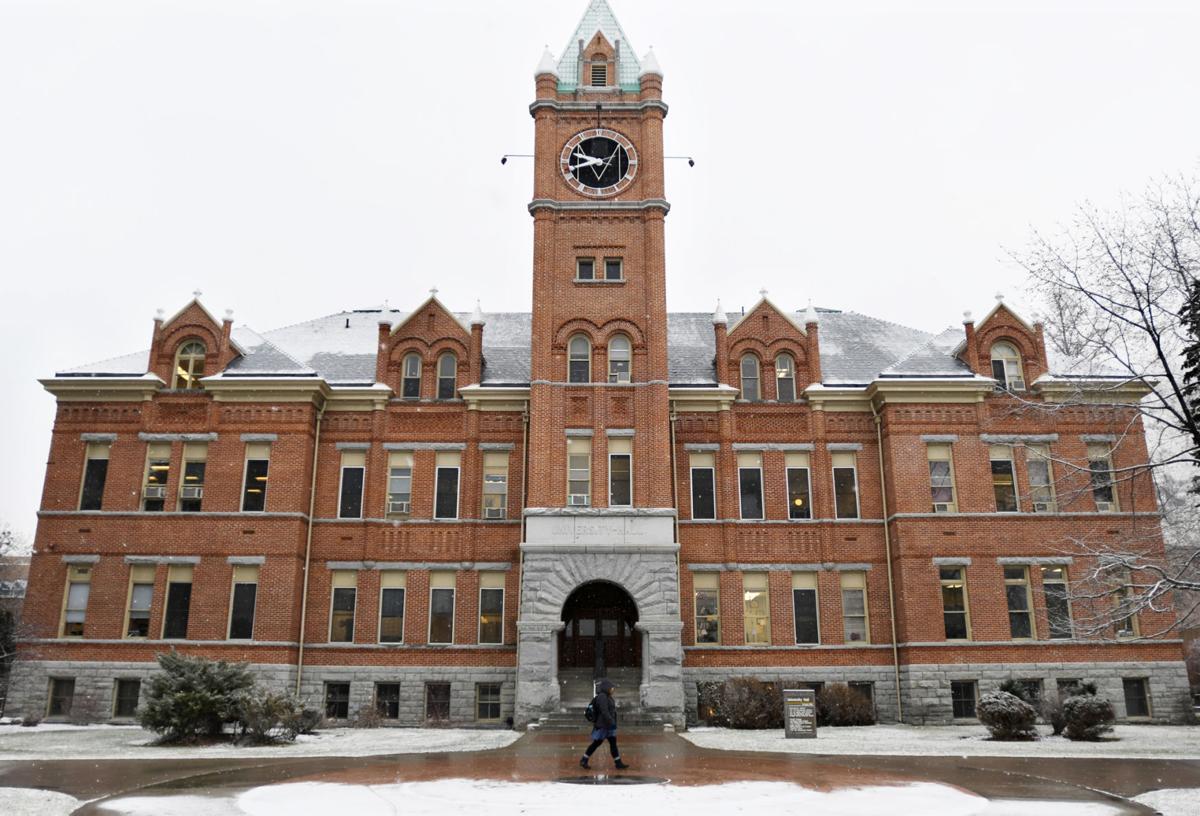 Wrap your head around this.
In the last decade, Montana has done a far better job than most states in holding the line on tuition.
Yet Montana continues to rank near the bottom in college affordability.
On tuition? A report from the Center on Budget Policies and Priorities estimated that Montana's tuition increased the third least of any state in the country from 2008 to 2014.
"I think it's important to keep that context in mind, that Montana has had relatively lower tuition costs than many other states over the last 10 to 12 years," said Bill Johnstone, on the Montana Board of Regents.
But in the Treasure State compared to many others, higher education is more out of reach for the students who can least afford it.
The state helps, but it directs little to the students who need the most. At one of the flagships, a Montana student will pay $7,047 in tuition and fees a year, and roughly $20,000 in total expenses.
An estimated 83 percent of resident students receive $4,300 on average in financial aid, according to data from the Montana Office of the Commissioner of Higher Education. The data covers first-time, full-time residents, and the amount doesn't include loans.
When it comes to assistance based on need, though, Montana will offer just $41 per student from state coffers this coming year, according to the Commissioner's Office. The national average per student was $539 just a couple of years ago.
In fact, Montana ranked No. 40 in affordability in a 2016 study from the University of Pennsylvania. Here, a family would have to pay 32 percent of its annual income on average for a child to attend college full time.
The Treasure State's "dearth of financial aid leaves Montana near the bottom of the national college affordability rankings," the report said.
At a meeting of the Montana Board of Regents last school year, an official from the Commissioner's Office said the university system provides much financial aid to students. However, Tyler Trevor, deputy commissioner of planning and analysis, also shared an observation about the way the state distributes the funds.
"We don't do it very strategically," Trevor said.
In 1972, Montanans adopted a new constitution, and in doing so, promised to honor the people's values. Equality of opportunity was among them, a foundational ethic presented in the preamble of the document.
"We the people of Montana grateful to God for the quiet beauty of our state, the grandeur of our mountains, the vastness of our rolling plains, and desiring to improve the quality of life, equality of opportunity and to secure the blessings of liberty for this and future generations do ordain and establish this constitution."
Article X, called "Education and Public Lands," pledges "equality of educational opportunity."
"It is the goal of the people to establish a system of education which will develop the full educational potential of each person. Equality of educational opportunity is guaranteed to each person of the state."
Just seven years earlier, President Lyndon B. Johnson had signed the Higher Education Act of 1965 to "swing open a new door for the young people of America." On the day he signed the legislation, the president talked about its import to youth at a college in Texas.
"For them, and for this entire land of ours, it is the most important door that will ever open — the door to education ... 
"It means that a high school senior anywhere in this great land of ours can apply to any college or any university in any of the 50 states and not be turned away because his family is poor."
Or because her family was.
Tiffany Matthews grew up poor in Missoula, and she would not be attending college at all if it weren't for merit scholarships. To pay for school, she successfully applied for many awards, and she economizes.
The University of Montana student shops at garage sales and thrift stores for the things she needs.
"If I have a friend in the same class as me, we just get one textbook and share it," Matthews said.
The growing costs of higher education — and in Montana, stagnant wages — have put stress on many students, and it's coming at the cost of stability in life and success in the classroom.
Amanda Randall moved into a motel with her children after no longer being able to stay at her parents' place. "When I was homeless last summer, I didn't think I was going to go back to school." She couldn't afford a deposit on an apartment, much less contemplate a return to college.
Kevin Ginoff will work 50 hours a week this summer to pay for tuition and fees at UM. Over the school year, he was working nearly full time, 32 hours to 36 hours a week, and taking a full course load until his car broke down. Then, the student from Frenchtown dropped to working just 27 hours a week. "I qualify for some (scholarships), but I haven't gotten any yet because I just don't quite have the grades." Toward the end of the school year, he had maintained a 3.75 GPA, but he was competing against students with 4.0 GPAs.
Just 36 percent of students who come from families with lower incomes graduate from the Montana University System after six years, according to a snapshot of Pell recipients from the Commissioner's Office.
The grants are based on a complex federal formula. As examples, a student from a family of four earning $50,000 and having just one child in college would get a Pell grant of $1,565; the same student whose family earned $20,000 would earn a Pell of $5,815, according to the Commissioner's Office.
Once those students do graduate, they're saddled with three times the debt incurred by students who don't receive those grants — but are deemed able to afford the rest of the costs.
Even students who consider themselves relatively privileged also are racking up loans to get their degrees and living in questionable conditions to pay for school.
Topher Williams, who graduated from UM this year with an estimated $30,000 in student loans, has lived in at least one place he didn't consider safe. But it was cheap. "I have had a car, but sometimes, I haven't always been able to afford to operate it."
Read more about Matthews in a separate story, and hear from Randall, Ginoff and Williams later this week.
In recent years, many public leaders in Montana have demonstrated dedication to higher education.
Here, tuition for residents increased just 16.6 percent on average from 2006 to 2016, according to Commissioner's Office.
By comparison, the cost of tuition rose 72.8 percent on average among 15 states in the West. Four of those states counted increases of more than 100 percent — Nevada, California, Colorado and Hawaii.
The Montana Legislature also increased support for colleges and universities from $126 million in 2007 to $194 million in 2017 as part of the deal to keep tuition level, according to the Commissioner's Office. Tuition stayed level in three of the past five bienniums.
Despite all those resources, Montana lags in funding higher education and in helping students least able to afford a degree to actually earn one.
Regent Johnstone is among those interested in looking for ways the state could do better when it comes to opening that door to higher education for all students, not just those with means.
"I think it's maybe the most important public good of our society," Johnstone said. "(And) I am concerned that people might be limited in their ability to take advantage of that opportunity by financial considerations."
In recent years, political debates on the national stage have put the spotlight on college affordability and increased rhetoric around "free tuition."
In that regard, Commissioner Clayton Christian said Montana's problem isn't in fact tuition. In reality, tuition has been "free" at some of the smaller schools in the state, based on the same measures other states use to describe it as "free."
For example, even with increases, tuition at Helena College will cost $2,476, this coming school year, and tuition and fees together will be $3,197. But the average Pell grant in Montana was $4,123 in 2015 and 2016, and the maximum will be $5,920.
For a resident student receiving the average Pell grant, then, Missoula College has "free" tuition. So do Gallatin College, Highlands College and Great Falls College, smaller schools in the Montana University System.
The flagships aren't free, but tuition and fees at those schools increased just 23 percent in a decade compared to an average hike of 79 percent percent at comparable schools in the region, according to the Commissioner's Office.
Christian said he doesn't want to diminish the fact that some students struggle to get through college, but Montana has done well in keeping tuition as affordable as possible.
"I think that's a marketing challenge for us," Christian said.
At the regents' most recent meeting, the commissioner also stressed the need for campuses to contain costs, another piece of the affordability puzzle. In an interview, he said administrative costs, from the print shop to the main offices, should be reduced to the extent possible to spare cuts to education.
Before President Johnson started the War on Poverty, access to college was limited, said Darlene Samson, director of UM's TRiO Student Support Services. TRiO offers services such as tutoring and a book loan program to help first-generation students and those from families with lower incomes.
"If you think back, in 1964, who was going to college? White males, and males who had money to go to college," Samson said.
Once Johnson signed the Higher Education Act of 1965, the door opened to other students, young women, such as herself, and those whose parents never went to college. A few years later, Pell grants allowed a new generation to attend.
"College enrollments went up because there was now access for a lot of people who didn't have the opportunity to think about going," she said.
Now, the tide appears to be rolling the other direction. Students start their college careers, but campuses aren't holding onto those with less income or granting them degrees.
"Somewhere in there, we lose students ... for various reasons," Samson said. "Probably one of the biggest ones is financial."
At its most recent meeting, the Montana Board of Regents set state appropriations for the campuses.
The Montana Legislature ties a portion of the money to each school's performance with measures such as retention and graduation. The formula is weighted to ensure campuses aren't neglecting Pell students, Native Americans, veterans, and non-traditional students, those ages 25 and older.
After all, the Montana Constitution ensures equality of educational opportunity.
At the meeting, Regent Casey Lozar pointed out that none of the three largest campuses in the state — with some 70 percent of the total student enrollment — had earned points for increasing graduation or retention for under-represented groups.
Not UM, not Montana State University-Bozeman, and not MSU-Billings.
"Based on this year's data, I don't think we're cutting it," Lozar said.
Be the first to know
Get local news delivered to your inbox!