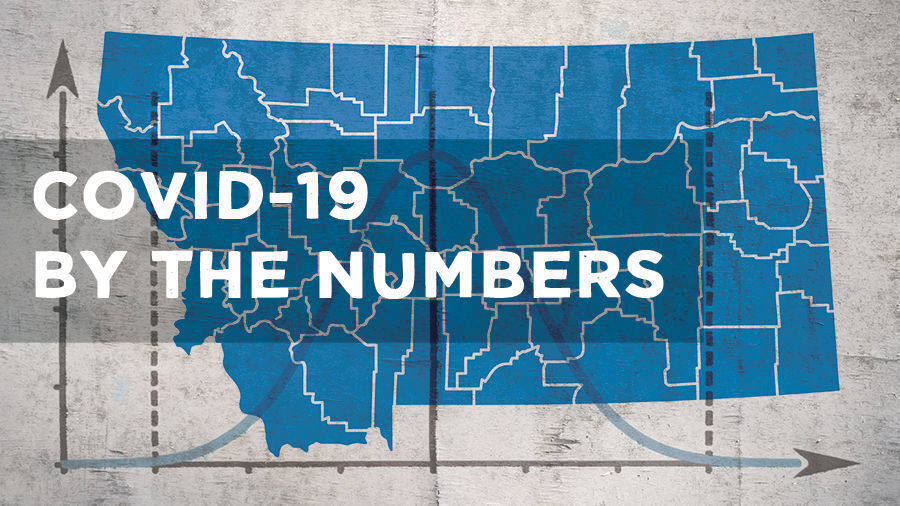 Montana added 1,086 cases of COVID-19 and 26 more deaths Saturday, according to an update to the state's case mapping and information website.
The new cases bring the number of active cases in Montana to an all-time high of 14,678, with more than 3,000 cases confirmed since the start of November. During that same time, the state reported 69 residents dying due to the virus.
Information on the state's COVID-19 tracking website relies on data provided by the Montana Department of Public Health and Human Services. The daily update provided by the state on the total number of deaths is often behind what is reported by individual counties.
For example, Cascade County reported that 42 of its residents had died as of Friday. The state's website, however, is reporting 34.
The steady increase in COVID-19 cases in Montana coincides with the rest of the country. The United States set a record with more than 126,400 confirmed cases in a single day Friday. The total number of cases in the U.S. since the start of the pandemic has nearly passed 10 million, according to data from Johns Hopkins University.
In Montana, 38,948 people have tested positive for COVID-19. Of those who have contracted the virus, 23,825 have recovered, meeting the guidelines from the Centers for Disease Control and Prevention for a person with COVID-19 to be released from isolation.
The state reported 446 people hospitalized because of the virus as of Saturday. ICUs across the state are at about 72% capacity, according to the latest status update on Montana's hospitals released Friday. Of the 209 people occupying ICUs, 80 are getting treated for COVID-19. The largest hospitals in Billings, Helena and Great Falls have over 90% of their beds occupied. Those figures reported include all patients, COVID-19 and otherwise.
The snapshot report showed the total number of statewide ICUs available at 78, with 878 beds available.
In Pondera County, the Great Falls Tribune reported Wednesday that the county's entire four-member health department staff resigned, citing the need for better pay, more staff and additional contact tracers. The chief of staff for Pondera Medical Center released a statement that same day reporting that the county's "rate of infection per 100,000 people is 10x higher than in Los Angeles and New York City."
The state completed an additional 1,580 COVID-19 tests by Saturday to bring the statewide testing total to 525,176.
Counties added the following number of cases in the Saturday update:
• Flathead with 243 (976 total)
• Gallatin with 138 (1,261 active)
• Yellowstone with 138 (3,269 active)
• Missoula with 111 (1,396 active)
• Cascade with 51 (1,879 active)
• Lewis and Clark with 48 (1,048 active)
• Carbon with 34 (91 active)
• Ravalli with 30 (392 active)
• Big Horn with 22 (344 active)
• Powell with 22 (373 active)
• Sheridan with 21 (59 active)
• Lincoln with 18 (98 active)
• Roosevelt with 15 (447 active)
• Valley with 14 (101 active)
• Glacier with 13 (197 active)
• Dawson with 11 (91 active)
• Park with 11 (117 active)
• Jefferson with 10 (112 active)
• Madison with 10 (70 active)
• Musselshell with 10 (57 active)
• Stillwater with 10 (74 active)
• Beaverhead with nine (37 active)
• Lake with nine (259 active)
• Hill with eight (455 active)
• Richland with eight (77 active)
• Deer Lodge with seven (110 active)
• Fergus with seven (123 active)
• Sweet Grass with seven (50 active)
• Blaine with six (149 active)
• Chouteau with six (84 active)
• Rosebud with five (178 active)
• Toole with five (32 active)
• Broadwater with four (83 active)
• Carter with three (36 active)
• Pondera with three (17 active)
• Powder River with three (18 active)
• Custer with two (107 active)
• Daniels with two (11 active)
• Fallon with two (55 active)
• Judith Basin with two (nine active)
• Meagher with two (15 active)
• Phillips with two (36 active)
• Liberty with one (five active)
• Petroleum with one (two active)
• Silver Bow with one (256 active)
• Teton with one (21 active)
Concerned about COVID-19?
Sign up now to get the most recent coronavirus headlines and other important local and national news sent to your email inbox daily.