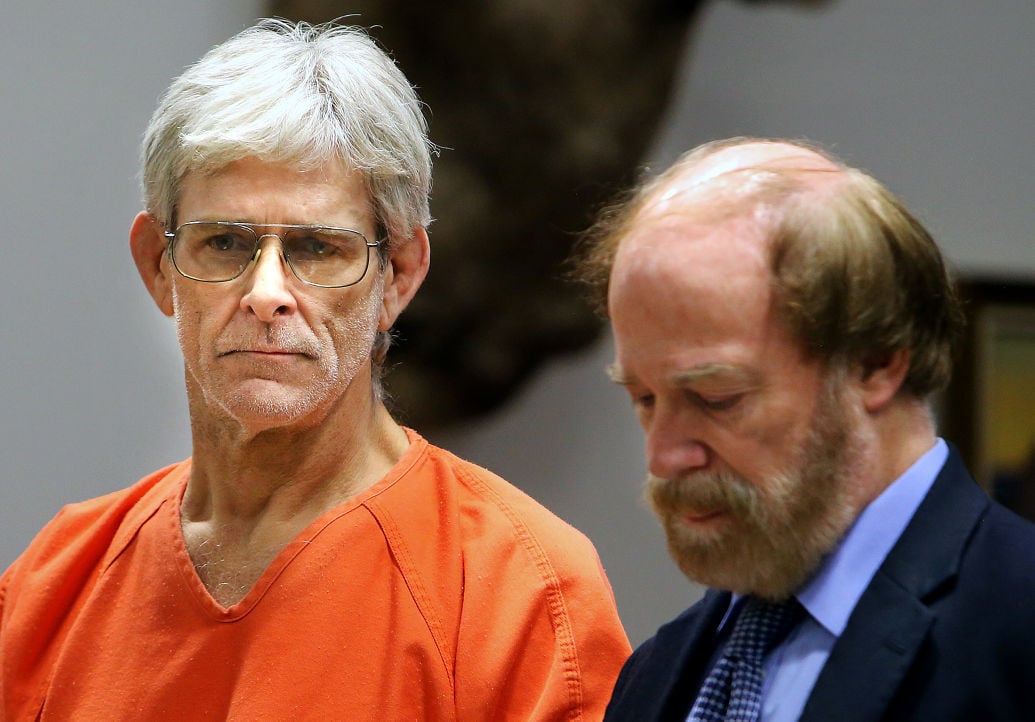 DEER LODGE — A handyman and probationer who murdered a Deer Lodge man and his mother received two life in prison sentences Tuesday in Deer Lodge district court.
David Wayne Nelson, 54, of Deer Lodge, killed Greg Giannonatti, 57, and Beverly Giannonatti, 79, after they confronted him over the theft of 1,700 ounces of silver. He hid their bodies near Gold Creek, and eventually led authorities to the site.
Nelson must serve at least 30 years in prison before being eligible for parole, District Judge Ray Dayton ruled.
Nelson pleaded guilty to two counts of deliberate homicide last September for the Giannonattis' deaths.
Judge Dayton, during Tuesday's sentencing hearing, condemned the brutality and useless of the crime, the futility of the death of two prominent Powell County citizens motivated by money and Nelson's criminal history of violent crime.
Bernadine Johnson, Beverly's sister, in a letter read by attorney Mike Grayson, expressed concern that parole could occur sooner than later, possibly because of prison overcrowding. She wants closure and doesn't want to monitor Nelson's status for the rest of her life.
The life sentences will run concurrently and consecutive to the remainder of a term Nelson is serving out of Ravalli County for aggravated kidnapping and aggravated assault. He was on parole at the time of this crime.
In Johnson's letter the family wanted to limit restitution for $11,000 in funeral and burial expenses saying it is highly improbable either estate would ever receive any such payments and they don't want Nelson involved any further in the deaths.
Judge Dayton ordered Nelson to reimburse the Crime Victim Compensation Program for $7,000 the family will receive to defray part of the funeral costs and $1,545 to the Missoula Gold and Silver Exchange for one silver bar, belonging to Gregory that Nelson sold, and the family will recover. Nelson must also pay $150 in court fees.
Nelson told the family he was sorry for their pain and for Beverly and Greg. "I pray for you and will continue to pray for you," he said.
Twenty friends of the Giannanottis attended Tuesday's hearing, which opened with Powell County Sheriff Scott Howard describing the investigation that included cooperation from a host of agencies.
Beverly, who worked for many years as a court reporter for district Judge Ted Mizner, was a businesswoman with rental properties that a manager took care of for her.
Greg was severely injured in an accident and had moved back to Deer Lodge about four years ago.
Howard said Beverly was reported missing on Nov. 1, 2015, and Greg was missing the next day.
"We were asked to go through the three residences where I was disturbed to find their beloved dogs left unattended, something they would not do, and a roast was totally cooked in a crockpot at Greg's,'' the sheriff said.
Officials interviewed numerous friends and business associations, but didn't have any suspects. Nelson said he last saw them at the Larkspur residence.
Beverly had been amicably separated from her former husband, Bill, who died in August 2015. Nelson was remodeling the Larkspur home she and Bill occupied when they were married, and Beverly planned to move back in.
"Beverly and David became pretty close,'' Sheriff Howard said. "She told him many things, including that she had removed valuables from the home and wanted to cover up the scars of memories in the home by remodeling."
During the investigation, officials obtained search warrants and discovered that a large amount of money was transferred from a Missoula bank to Nelson's account in Deer Lodge. It was unusual for Nelson and his wife to receive that kind of money, the sheriff said.
The money came from Grizzly Gold and Silver, Inc. in Missoula where the owner and another man identified a photo of Nelson as the one who sold them the silver bars with serial numbers matching Greg's records.
County attorney Lewis Smith asked about a gold bar that a cleaning lady reportedly found in a bedroom closet.
Howard said a gold bar was never located among estate records and there was no evidence a gold bar had been purchased, adding the Giannanottis kept meticulous records.
By this time Nelson was a person of interest, and was picked up on a probation hold from Ravalli County. When Nelson was questioned in the beginning, he always had an answer that led to a dead end, Howard said.
Nelson finally admitted finding the 17 silver bars and thought they belonged to Beverly's dead husband. He sold them, using the proceeds to pay bills and hiding the remainder in the basement and in a radio in his bedroom.
He told Howard he was working upstairs at the Larkspur house when Greg came through the basement door screaming "Where is my (expletive) silver?" Nelson realized they knew about it and "froze."
The fear of his past and the time he'd served in prison put him in a "fight mode," he told authorities, and he hit Greg several times with a hammer, killing him. When Beverly came into the bathroom, he grabbed her and threw her against the wall. When she fell against the vanity he didn't know if she was dead or alive so he wrapped an electrical cord around her neck and strangled her. Then he removed the bodies and other evidence from the home.
"Our main goal was to recover the victims to return to their family and friends, but also as evidence,'' the sheriff said. "He took us to where the bodies were and it was his first show of remorse. He became physically ill and wished he could turn the clock back, but he can't."
Nelson did a good job of concealing the bodies, Howard said, and it would have been difficult to find them without his help. It was extremely cold and the remains were frozen solid; they would have decomposed when it warmed and probably would never have been found, except for maybe bones.
Nelson also disclosed where he threw the hammer -- used to kill Gregory -- into the Clark Fork River and a bag of rags, rugs and other evidence he disposed of between Anaconda and Georgetown Lake.
"It was a very complicated investigation with false leads and lots of things that didn't pan out," Howard said. "For months we worked on the investigation after Nelson was charged. Always in a homicide self-defense must be ruled out. This was a double homicide – Beverly and Greg were brutally murdered. We were looking at the death penalty, but the attorney general said it did not reach all the elements for the death penalty and the county attorney agreed."
At the time of the incident, Nelson was on probation during the suspended portion of a sentence issued on Jan. 5, 2000, to serve two 10-year consecutive sentences in Montana State Prison with five years suspended for robbery, aggravated kidnapping and aggravated assault out of Ravalli County (Hamilton) in 1998. His crime record also shows a conviction for burglary in Beaverhead County in 1981.